There remains a great deal of sellers who choose to go down the merchant fulfilled route.  They label their own price, price them accordingly, and sell on Amazon.  Ebay is the king when it comes to merchant fulfilled sellers.  But where Ebay did well with this model for years, Amazon saw the fulfillment process as a huge opportunity to make it easy and simple for sellers to do what they do best which is sell their product versus handling logistics and inventory management.  Amazon now has over 150 warehouses around the world storing, shipping, packing, and picking seller's products and shipping them to happy customers.  They have almost perfected the fulfillment process thus wiping your hands clean of managing it all.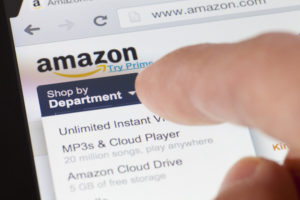 We've seen sellers increase their sales by minimum of 30% when they switch to Amazon FBA versus Merchant.  We understand this switch is not always easy but here are a few of our reasons for selling FBA versus merchant.
Amazon Prime Badge (More Sales Guaranteed)
When you are an Amazon FBA seller, all of your listings automatically get the prime badge when people search and find your products.  There are many more millions of customers who are signing up to Amazon Prime and many of them will only buy items part of the prime family.  The prime badge helps with both click through rates as well as credibility.  It is a no brainer if you want access to those prime customers.
Better Reporting
You also get incredible inventory and order reporting from Amazon if you are FBA fulfilled.  The reporting systems take a little time to navigate, but you can literally view everything from sales, to orders, conversion percentages, and a lot more.  You can even message buyers from the internal platform within Amazon.
Similar to Drop Shipping
FBA is very similar to dropshipping products.  You literally do not have to hold any of the inventory in your own place of business.  Amazon's fulfillment warehouses will store and manage the inventory for you.  When you get a sale, their people will pick and pack the items when it sells.  They have an entire logistics process that you don't even have to worry about.  You can even view the tracking of the items after they have been shipped.  So you don't have to manage any inventory…leaving that work to Amazon.
So What It Costs More To FBA
Yes….it does come at a price.  The price on average that we see for say a $20 item is $3 – 4 per unit in fulfillment costs.  Some people will say to themselves that "I could save that by doing it myself."  But here are the real costs associated with doing it yourself:
Time to label your products that you sell
No automated system to alert you when the sale occurred
Time to take product to UPS to ship
Time to create the labels
Time to pack the box with the inventory
Increased costs in shipping
Customer does not have Amazon Prime advantage in zero shipping costs
Potential for more mistakes in shipping and labeling
These are real costs that both you and the customer can experience as a result of going merchant fulfilled.  Only time merchant fulfilled makes sense is when you are selling 1 or 2 items on Amazon.  Not 1 or 2 products and each product has 50 – 500 units associated with them.
Amazon FBA is the next wave of ecommerce selling and logistics for even brick and mortar stores that want to expand online.  If they do, Amazon FBA is the best way to go.