Expanding To Selling On Amazon
Google use to be the best platform for retailers and product companies who sell their goods online. Amazon beats Google hand over fist. Anybody brand can expand to Amazon USA or their international markets and grow their business. As amazon consultants and experts who have consulted for Shark Tank companies and expanded our own Amazon Ecommerce brands, our amazon marketing can assist with the following:
FBA Fulfillment Consulting – Our amazon experts have seen companies that sell via Amazon FBA (Fulfilled by Amazon) versus Merchant Fulfilled see at minimum a 40% increase in volume and sales. We work with companies that need FBA assistance.
Amazon Keyword Research – It's not enough to throw up your product on Amazon and hope it sells. You need to perform extensive keyword so you're ranking on the first page of Amazon for multiple keywords, not just your brand or one keyword.
Getting Reviews For Your Products – More "good" reviews translates into more sales and better conversion rates. There are many ways to generate reviews and we know how to do it in a way that will both boost your rankings and generate 4 – 5 star reviews for your products.
Amazon SEO & Amazon PPC – Getting Your Product Ranked & Found
Amazon SEO & Ranking Your Products – Similar to SEO in world of Google, Amazon is simply another search engine for buyers. Our extensive knowledge on Amazon SEO and our understanding on Amazon's ranking factors, we will ensure you are ranking well on Amazon and getting as man page views and sessions that's possible.
Amazon PPC Advertising – Do you want to show up for your primary money terms on Amazon on Day 1? Amazon Sponsored Ads allows advertisers to accomplish this. We manage many campaigns and are capable of achieving a strong return on Ad Spend better than 30% in many cases.
Product Promotion Management – Our amazon consultants know that promoting products and doing product giveaways are part of the ecommerce selling process. However, we see many sellers make mistakes in this area. We can ensure you avoid these mistakes and put yourself in the right position to sell well on Amazon.
Expanding Into Amazon Markets From UK To Germany
International Expansion Markets – Ever had an interest in expanding in Japan, or England, or Germany? Amazon FBA makes that entire process possible. With those markets being easier to sell in and rank for keywords in, our global amazon consultants will enable those who are interested to expand existing products into global markets.
Getting Into Gated Categories – There are many gated categories including clothing and health/personal care. We know what's required to get your products into gated categories so you're able to sell on Amazon.
Copywriting & Listing Optimization – As an existing Amazon seller, we see many listings and know what works from a sales perspective. We're capable of executing the proper copywriting and optimizing your listing so you're able to maximize the total number of keywords you should rank for and enabling your listing to maximize the conversions.
Our extensive knowledge both with Google and Amazon has allowed us to consult with many brands and businesses looking to expand into the biggest search engine for buyers. Whether you want to sell as a merchant or send your inventory to Amazon's fulfillment centers, our amazon marketing experts are capable of boosting your product sales. Our services include the following:
Amazon SEO

Amazon Advertising (Sponsored Ads)

Amazon Listing Optimization

Conversion Rate Optimization
Keyword Rankings
Competitor Analysis

Amazon FBA Management

Amazon Keyword Research

Review Acquisition Strategies

Seller Central Dashboard Training

Global Market Expansion (North America, EU)
Whether you're a retailer, ecommerce seller, or brand looking to sell on Amazon, our team is ready to grow your company on Amazon.
Amazon Marketing Launch & Management Process
We want to under your product, it's audience and your business. This gives us an idea on the strategy and how we'll capture market share.
Yes, more research is needed. Nothing is better than researching competitors already doing well on Amazon. And we have tools that can dissect how they're doing it.
We provide an arrange of services including Amazon PPC, Amazon SEO, Keyword Research, Listing Optimization, Review Acquisition, etc.. We determine what's needed and execute on it.
How can we determine our levels of success without reporting and of course sales. We can report on Sales, PPC ROI, Keywords You rank for, and conversion rate.
This is part of our iterative process in improving on the levers we mentioned in the prior steps (keyword rankings, conversion rate)
Amazon Marketing Analytics Reporting
This is an area we love to talk about. With analytics, we can determine what's effective and what's not and turn ineffective campaigns into positive ROI campaigns for our Amazon product based clients. You will receive regularly reports highlighting the most important functions of your Amazon campaigns and we will report on everything from Amazon Rankings, PPC, Conversion rates, all in one dashboard.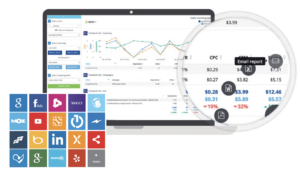 Eighty percent of online growth comes from Amazon sales."
"Currently, there are approximately 80 million Amazon Prime members – that's 64% of households in the U.S."
Amazon is a critical channel for brands and organizations that want to connect with active searchers looking for products to purchase.
Why would you not want to be in front of those active buyers? We can get your company ranked.
Fill Out the contact form or call us at 1 (877) 776-7358.