Wow…An Agency That Does Amazon Advertising…For Themselves
As an agency who originally started with their own ecommerce company on Amazon, we use our own product business as a testing ground for best practices, implementing new strategies, and creating campaigns that translate into strong (ROI) campaigns for our clients. Building amazon ppc campaigns are not difficult, but they do require a well thought out and research process, allowing companies to build granular campaigns similar to Google Adwords.
Our work within an Amazon PPC campaign does not begin with Amazon Ads. It actually begins with the listing. Without an effective high converting listing with great images and good copy, and competitive research, your campaigns will not perform as well without that initial legwork.
For Propellant Media, we live and breathe Amazon Sponsored Ads with a well process that is tried and works again and again for the Shark Tank companies we've worked with to even our own product based company.
Our Process For Approaching Amazon PPC
After running our own ecommerce company and working with private labels companies to Fortune 500 companies we understand the process of conducting an effective Amazon Advertising PPC Campaign. Our process for Amazon PPC Ads is simple but and incredibly iterative:
Audit Your Amazon Listing(s)
Research Your Competitors
Conduct Keyword Research
Think Through Adgroups
Develop Ad Campaigns
Launch Ad Campaigns
Pull Search Terms Report
Implement A New Winners Campaign
Each of these steps will allow for building successful Amazon PPC campaign, and also help with optimizing your existing campaigns for future campaign development efforts.
Why Outsource Your Amazon Advertising Campaigns
Bid Optimization – Choose to review each custom keyword suggestion or automatically apply all
Improve ACOS – Increase profit and optimize ACoS without hours in Excel pivot tables.
Focus On Other Important Items – We remove the tedious tasks so you can focus on your strategy.
Proper Keyword Research – As an agency that is a Google Adwords Certified agency and does keyword research constantly, we have an array of tools that allow us to develop the proper campaign for you.
Add Negative Keywords – Automated analysis of every search term generates custom suggestions for negatives. We pull that data which helps you get more out of your ad spend.
Constant Eyes On Your Campaigns – You now have Amazon Marketing Consultants who are pros at managing campaigns for companies.
Our extensive knowledge both with Google and Amazon has allowed us to consult with many brands and businesses looking to expand into the biggest search engine for buyers. Whether you want to sell as a merchant or send your inventory to Amazon's fulfillment centers, we are capable of boosting your product sales. Our services include the following:
Amazon Listing Optimization

Conversion Rate Optimization
Keyword Rankings
Competitor Analysis

Amazon FBA Management

Amazon Keyword Research

Review Acquisition Strategies

Seller Central Dashboard Training

Global Market Expansion (North America, EU)
Whether you're a retailer, ecommerce seller, or brand looking to sell on Amazon, our team is ready to grow your company on Amazon.
Amazon Advertising PPC Sponsored Ads Process
We want to under your product, it's audience and your business. This gives us an idea on the strategy and how we'll capture market share.
Yes, more research is needed. Nothing is better than researching competitors already doing well on Amazon for Sponsored Ads efforts. And we have tools that can dissect how they're doing it.
This is where we develop very granular aspects of your campaigns and measure performance metrics for it.
After 2 weeks, we pull your search terms report to find the terms people are truly searching for and which ones are translating into the most sales.
This is part of our iterative process in improving on the levers we mentioned in the prior steps (keyword rankings, conversion rate). We set up your own specialized dashboard.
Amazon Ads Analytics Reporting
This is an area we love to talk about. With analytics, we can determine what's effective and what's not and turn ineffective campaigns into positive ROI campaigns for our Amazon product based clients. You will receive regularly reports highlighting the most important functions of your Amazon campaigns and we will report on everything from Amazon Rankings, Amazon PPC, Conversion rates, all in one dashboard.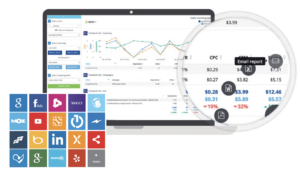 Eighty percent of online growth comes from Amazon sales."
"Currently, there are approximately 80 million Amazon Prime members – that's 64% of households in the U.S."
Amazon is a critical channel for brands and organizations that want to connect with active searchers looking for products to purchase.
Why would you not want to be in front of those active buyers? We can get your company ranked.
Fill Out the contact form or call us at 1 (877) 776-7358.