Rank Your Products With Amazon SEO
Paid traffic at a respectable ROI is great. It provide immediate benefit and traffic to your product listing, it gives you invaluable data on which keywords you should rank for, and evens share with you the keywords you should NOT rank for.
But organic traffic and ranking on page 1 for your most desired keywords in another. As a current ecommerce owner and seller on Amazon, we understand what is required to rank on Amazon's platform. And with a simple process we implemented for ourselves and our own clients, we will have your product ranking on page 1 of Amazon Ranking.
All search engines including Amazon have their own algorithm. After years of selling on Amazon, we've been able to reverse engineer the amazon ranking factor and in particular the most important ranking factors required to get your products on page 1 of Amazon.
Before you can get your product ranked, you need to do the heavy lifting building a well optimized product listing page.
Direct & Indirect Amazon Ranking SEO Factors
Keyword(s) In Title – Having your keyword in the title of your listing sends a strong signal to Amazon your listing is relevant to that keyword.
Keyword(s) In Bullet Points – Having your keyword in the bullet of your listing sends a strong signal to Amazon your listing is relevant to that keyword. But not as strong as your title.
Keyword(s) In Text – Having your keyword in the description of your listing sends a relevant signal to Amazon your listing is relevant to that keyword. But not as strong as your bullet points.
Sales Velocity – Probably the biggest ranking factor in Amazon, sales velocity relative to respective keywords helps companies rank high on Amazon.
Consistency of Sales – Consistency on your sales velocity (not just 100 sales in one day), also contributes to your rankings.
Conversion Rate – A respective conversion rate relative to your competitors will improve your rankings as well.
Combining Amazon PPC With Amazon SEO
Ranking for keywords on Amazon is not a matter of only doing product giveaways. It's a wholistic approach to your overall retail and Amazon strategy. It includes your Amazon Sponsored Ads approach, how well optimized your listing may be, do you have video or only good images in your product listing, and how you match up against your competitors.
It's a battle. It's a process. It's a long term fight for outsmarting your competitors. They will continue to come after. They will undercut your prices. But as long as you have a good product with fair or comeptitive pricing, you will rank high on Amazon. And we know how to partner companies to get there including:
Ecommerce startups
Private label companies
Retailers
Product Companies
Fortune 1000 Companies
Wholesalers
Our extensive knowledge both with Google and Amazon has allowed us to consult with many brands and businesses looking to expand into the biggest search engine for buyers. Whether you want to sell as a merchant or send your inventory to Amazon's fulfillment centers, we are capable of boosting your product sales. Our services include the following:
Amazon SEO

Amazon Advertising (Sponsored Ads)

Amazon Listing Optimization

Conversion Rate Optimization
Keyword Rankings
Competitor Analysis

Amazon FBA Management

Amazon Keyword Research

Review Acquisition Strategies

Seller Central Dashboard Training

Global Market Expansion (North America, EU)
Whether you're a retailer, ecommerce seller, or brand looking to sell on Amazon, our team is ready to grow your company on Amazon.
Amazon SEO Ranking Process
We want to under your product, it's audience and your business. This gives us an idea on the strategy and how we'll capture market share.
Yes, more research is needed. Nothing is better than researching competitors already doing well with Amazon SEO. And we have tools that can dissect how they're doing it.
Based on our audit and competitor analysis and keyword research, we develop a comprehensive strategy to get you ranked for your primary keywords.
This is where we execute on our plan to grow your sales via Amazon SEO Ranking
This is part of our iterative process in improving on the levers we mentioned in the prior steps (keyword rankings, conversion rate)
Amazon SEO Ranking Analytics Reporting
This is an area we love to talk about. With analytics, we can determine what's effective and what's not and turn ineffective campaigns into positive ROI campaigns for our Amazon product based clients. You will receive regularly reports highlighting the most important functions of your Amazon campaigns and we will report on everything from Amazon Rankings, PPC, Conversion rates, all in one dashboard.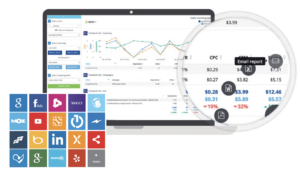 Eighty percent of online growth comes from Amazon sales."
"Currently, there are approximately 80 million Amazon Prime members – that's 64% of households in the U.S."
Amazon is a critical channel for brands and organizations that want to connect with active searchers looking for products to purchase.
Why would you not want to be in front of those active buyers? We can get your company ranked.
Fill Out the contact form or call us at 1 (877) 776-7358.