Geographic Targeting + Demographic Layering = Bliss
That's what we all want as advertisers and businesses.  If we have done the research and know who our core audience, we simply want to continue connecting and engaging with that audience.  Through our demographic targeting methods, we have the ability to touch on many different demographic profiles including:
Race (African Americans, Hispanic, etc..)

Parents

Income

Education

Interest Categories

Hobbies

Industry

Political Affiliation (Leaning)
Demographic marketing is the perfect solution for advertisers that need to drill down further after identifying the core geographic market (geofencing, zip code, or city) and need to heavily engage with that audience.
How Do We Layer Demographic Targeting?
3rd Party Segment
Through 3rd party segments, we have access to other global partners who have developed their own audience segments that are shared with the world and verified by our team.  Whether you want to target moms, African Americans, or Hispanics, we have a solution to help you drill down to you ideal customer.
Contextual Categories
We discussed the possibilities with our keyword contextual targeting, having over 350 contextual categories you can choose from to ensure you drilling closer to that psychographic and demographic profile.
Whitelisting
Our team has access to over 100,000's of websites and apps to bid on and advertise our clients' adverts on.  You need a list of websites in which hispanics between 25 – 50 frequent, we got it.  Want to message African American living in Atlanta, Georgia, we got you covered.  The sky is the limit with our demographic targeting capabilities.
Combine Precision Of Geofencing W/ OTT Advertising
For some time, advertisers have used geofencing marketing in a localized way, targeting consumers in precise areas.  Many of those same midsize companies didn't have the budgets to advertise on TV Stations ranging from TBS to TNT.  Now, it's possible for those with and without TV budgets to advertise through Connected TV & Over The Top Devices.
There are now an estimated 63 million "cord-cutters" and "cord-nevers" in the US only reachable by Connected TV and digital channels.  Connected TV (CTV) & OTT provides enterprises with a programmatic advertising platform for engaging digital TV streamers with the level of precision you expect from all your campaigns: in-market audiences, demographics, offline behaviors and of course geofencing & household geofencing.
Over 1300 Demographic & Psychographic Variables
When we say hyper local precision, we truly mean it.  When you combine CTV Advertising, with geofencing, layered in with over 1,300 demographic and psychographic variables that our team can pull from to target your ideal consumer, we are ensuring advertisers are reaching those who are most likely to become a customer.  And the best part…..we can still measure foot traffic to your stores for those who have a retail and brick/mortar presence.
Multicultural Marketing + Geofencing Case Studies
And when you're layering our demographic targeting with the most advanced location based mobile advertising based on people's physical activities and the places they go, beautiful things happen.  Our geo fencing technology allows for advertisers to reach users wherever they go beit your competitor's locations, your own store front, or events they attend.  With our precise polygon tracking, we can target actual buildings (not just entire blocks) where your ideal audience frequents.
The possibilities for hyper local & demographic targeting are endless:
Sporting & Music Events
Conferences/Conventions
Competitor Locations
Customer Loyalty Programs
Intersections of Popular Streets
Stadiums
Office Buildings
Malls & Strip Centers
We pride ourselves on our geofencing capabilities.  No other technology exists that allows for such granular targeting and audience building.  
Programmatic Display Campaign Development
Here we perform a deep digital dive into your company to see how we can leverage programmatic for your business and your business objectives.
It's time we deep dive into the various keyword opportunities that will translate into targeted increased traffic and above industry norm click-through-rates.
It's time to begin developing your programmatic campaign from campaign tactic to targeting and even geographic targeting.
We pull all our programmatic display data into a dashboard and review to begin our process of proactive optimizations.
Whether it's changing targeting, removing domains not performing, or developing better creative assets, we take this part seriously.
Geo Zone Conversion Reporting
We are also able to track conversions both online, as well as offline conversions (i.e. those who came back to your restaurant, retail store, desired location).
If you are leveraging our location based technology to directly communicate and reach your desired audience, contact us on how we'd develop a granular campaign tailored to your business and organizational goals.  Learn more about our conversion zone tracking capabilities.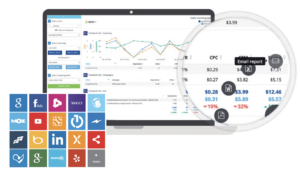 "47% of consumers surveyed stated that they would be likely to shop from a retailer that offered promotions when they are nearby. "
"Studies suggest that when a user isn't surfing the web on his or her phone, he or she is likely to spend 86% of smartphone time using apps."
Geo fencing can be the key differentiator in your business targeting the audience that matters the most to your company.
Why would you not want to be in front of those active buyers?  We can get your company ranked.
Fill Out the contact form or call us at 1 (877) 776-7358.