Buckle up, fellow digital trailblazers, because we're about to take a wild ride into the future of advertising! As we approach 2024, marketers must stay ahead of the curve and adapt to emerging trends. In this comprehensive guide, we'll explore the six digital advertising trends that are set to shape the industry in 2024 and beyond. From the rise of AI-powered advertising to the growing importance of user privacy, these trends will influence how marketers connect with their audience and drive successful campaigns.
Trend #1: Artificial Intelligence (AI) Takes the Spotlight
As we usher in 2024, the digital advertising industry is poised for a monumental shift, with Artificial Intelligence (AI) taking center stage. AI has been steadily trending, but 2024 promises to be a turning point for AI-driven marketing strategies. Marketers are set to harness the power of machine learning and deep neural networks to gain unprecedented insights into consumer behavior and preferences. This means that ads will be more personalized and hyper-targeted than ever before. With AI's unique ability to analyze vast datasets at lightning speed, advertisers can (1) understand their audience better and (2) optimize ad delivery. It is an excellent way of ensuring the right message reaches the right audience at the perfect moment.
AI-driven chatbots and virtual assistants are another facet of this revolution. These digital companions are set to redefine customer interactions. With advanced natural language processing capabilities, chatbots are no longer limited to scripted responses. They can engage in meaningful, almost human-like, context-aware conversations. This trend is a game-changer for customer service and support, providing round-the-clock assistance, answering queries, and even facilitating purchases. As chatbots become more intuitive, they enhance user experiences, strengthen brand loyalty, and reduce the burden on human customer support agents. All in all, this results in cost-effective behaviors and efficient customer service.
Furthermore, the role of AI in programmatic advertising is becoming increasingly pivotal. Fueled by AI algorithms, automated ad buying and placement will revolutionize the industry by delivering real-time bidding and ad optimization. AI can assess the value of ad placements in milliseconds, ensuring that marketers get the best bang for their buck. This translates into more efficient ad campaigns with higher conversion rates. As AI continues refining its consumer behavior understanding, programmatic advertising will become more predictive, allowing marketers to foresee trends, adapt strategies proactively, and stay ahead of the curve in an ever-evolving digital landscape. In 2024, artificial intelligence is not just a trend but a transformational force set to reshape the digital advertising landscape as we know it.
Trend #2: The Rise of Video Advertising
Video has been a driving force in digital advertising, and it's only set to become more prominent in 2024. Over the past few years, video has established itself as the reigning monarch of content formats, and its dominance is set to intensify. The prevalence of high-speed internet and mobile devices has made video consumption more convenient and enjoyable for audiences worldwide, making it an ideal medium for advertisers to engage their target demographic.
Video advertising offers a unique advantage, allowing brands to convey their message visually, compellingly, and emotionally. The power of storytelling through video is unparalleled, enabling marketers to forge deeper connections with their audience and leave a lasting impact. Short-form video content, like TikTok and Instagram Reels, has already proven to be a goldmine for reaching younger audiences. In contrast, longer-form videos on platforms like YouTube continue to be a powerhouse for educational and informational content. As a result, advertisers are increasingly allocating their budgets to video ads, leveraging the format's versatility to tailor their message to specific audiences, driving higher engagement rates and ultimately boosting conversion rates.
Furthermore, the rise of video advertising is closely intertwined with the evolution of augmented reality (AR) and virtual reality (VR) technologies, which are set to revolutionize the advertising landscape further. These immersive experiences can transport users into brand narratives, creating unforgettable interactions and deep emotional connections. As we look ahead to 2024, the video advertising realm promises an exciting playground for marketers, where creativity and technology converge to capture the hearts and minds of consumers in ways we've never seen before. The rise of video advertising is not just a trend; it's a digital revolution reshaping the marketing landscape, and savvy advertisers are harnessing its potential for impressive results.
Trend #3: User Privacy and Data Protection
In recent years, user privacy and data protection have become paramount concerns for consumers and regulators. Fortunately, the days of unchecked data collection are behind us. Stringent regulations like GDPR (General Data Protection Regulation) in Europe and CCPA (California Consumer Privacy Act) in the United States created a global conversation on digital privacy to reshape marketers' operations. As we enter 2024, it is abundantly clear that consumers are more conscious than ever of their data rights, demanding that advertisers respect and safeguard their personal information. This shift underscores the importance of user privacy and data protection as buzzwords and crucial principles every marketer must adhere to in their digital advertising strategies.
To thrive in digital advertising against your competitors, marketers must make user privacy a top priority. This entails a commitment to transparency and unwavering compliance with data protection regulations. Marketers must diligently obtain explicit user consent for data collection and usage while offering accessible opt-out mechanisms. Alignment with legal requirements underscores this strategy and provides an exceptional chance for marketers to establish trust with their audience. Meaning brands can showcase their commitment as responsible data custodians. In an era where trust is a currency as valuable as any, prioritizing user privacy is a legal obligation and a competitive advantage, differentiating your brand in an increasingly crowded and competitive digital marketplace.
While navigating the challenges of restricted data access may pose initial hurdles, it ultimately empowers marketers to build stronger and more meaningful relationships with their audience. These principles ensure your brand's reputation and cultivate lasting customer loyalty.
Trend #4: Voice Search Advertising
Voice search has been steadily gaining ground with the increase of smart speakers and voice-activated device usage. With the widespread adoption of smart speakers and the integration of virtual assistants like Amazon's Alexa, Apple's Siri, and Google Assistant into our daily lives, voice-activated searches are becoming the new normal. Users are turning to these platforms not only for quick information but also for making seamless online purchases. For marketers, this signifies a golden opportunity to harness the power of voice search in their advertising strategies.
To successfully capitalize on this emerging trend, marketers must optimize their content for voice search. This entails crafting content that aligns with natural language and conversational keywords—effectively addressing the common queries posed through voice search. Additionally, ensuring that local businesses are prominently featured in voice search results is crucial, given the strong correlation between voice searches and local intent. While voice search advertising is still in its early stages, those who embrace it now will gain a significant advantage, paving the way for innovative, personalized, and effective advertising strategies in 2024 and beyond.
Note: Our writers have reported extensively on this trend in more recent articles, highlighting the fast-paced evolution of voice search and the unique opportunities it presents for marketers looking to stay ahead in the digital advertising landscape.
Trend #5: Augmented Reality (AR) and Virtual Reality (VR) Advertising
By 2024, integrating Augmented Reality (AR) and Virtual Reality (VR) will transform digital advertising. AR advertising superimposes digital elements onto the real world, creating an interactive canvas for crafting engaging campaigns. These ads enable users to blend the virtual and physical seamlessly, encouraging deeper engagement and fostering memorable brand interactions. On the other hand, VR advertising immerses users in entirely digital environments, providing a unique storytelling platform that can be leveraged for product demonstrations and brand narratives. These evolving technologies allow advertisers to break the mold and create unforgettable, innovative ad campaigns that resonate with their audience.
The ability to craft immersive ad experiences has the power to captivate and captivate audiences, which will help to set your brand apart from your competitors. In comparison, traditional advertising methods may no longer cut through the noise.
As we approach 2024, the uptick of interest in AR and VR advertising in the digital ad industry is a cutting-edge strategic approach. This new approach promises to deliver campaigns that are ads that are not only seen but deeply experienced by consumers. The future of advertising is becoming more interactive, so joining the AR and VR advertising wave is a good look for marketers. It shows that your business is at the forefront of innovation and better business practices.
Trend #6: Contextual Advertising for Enhanced Relevance
Contextual advertising is continuing to be an important resource for marketers in 2024. In 2023, global spending on contextual advertising was projected to reach a substantial $227.38 billion in U.S. dollars. Forecasts indicated that by 2030, this figure would more than double, soaring to an estimated $562.1 billion. The United States held the top spot as the world's largest contextual advertising market, with a market value of approximately $65 billion in 2022. This type of advertising places ads based on the content surrounding them, resulting in a more seamless and non-disruptive ad experience. With the rise of ad blocking and privacy concerns, contextual advertising provides a solution that respects user preferences while delivering relevant content. As user expectations for personalized yet respectful advertising increases, marketers can expect to see more of this approach.
To succeed in contextual advertising, marketers must carefully match their ads to the context to enhance the user experience. This trend strongly emphasizes quality content and strategic placement rather than sheer volume. This can be achieved by researching and understanding the target audience, as well as identifying the most relevant keywords and phrases to include in the ads. Additionally, marketers should focus on creating high-quality content that aligns with the context of the website or platform where the ads will appear. Strategic ad placement on relevant websites and platforms is also essential to maximize the impact and reach of contextual advertising. Ultimately, by prioritizing relevant and high-quality content and strategic placement, marketers can enhance the user experience and achieve their desired advertising goals.
Conclusion: A Year of Innovation and Adaptation
As we venture into 2024, the digital advertising industry continues to evolve, offering marketers many opportunities and challenges. The six trends outlined in this guide represent the forefront of digital advertising, where innovation and adaptation are paramount. Advertisers are now harnessing the power of advanced AI and machine learning algorithms to analyze content, understand context, and place their ads in the right context. By doing so, they can ensure that their advertising efforts respect user preferences and, more importantly, deliver a relevant and non-disruptive experience. As the digital advertising landscape adapts, contextual advertising is poised to become a cornerstone strategy in pursuing enhanced relevance and engagement.
The year ahead promises a canvas of innovation, creativity, and adaptability, where those who remain at the vanguard of the industry shall harvest the rewards of a more compelling and prosperous advertising landscape. The future of digital advertising in 2024 is rife with boundless possibilities, ripe for exploration and experimentation, and poised for evolution. Those who explore, experiment, and evolve will thrive, shaping a limitless future in digital advertising.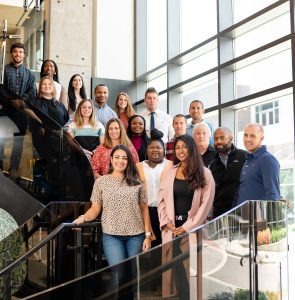 At Propellant Media, we're here to ensure you kickstart your year on the right foot. With our team of seasoned digital advertising experts by your side, you can navigate the uncharted waters that the year has in store with confidence. We understand that the digital landscape can be ever-changing and challenging, but that's where we come in – to provide you with the guidance and support you need. To experience the difference our expertise can make, we invite you to book a FREE 30-minute demo session with us. Whether you want to enhance your marketing strategies or explore our white-label partner marketing services, we're here to lend a hand. Let's embark on this journey together and make this year a resounding success for your business.