For healthcare firms that seek to attract new consumers and boost their online presence in 2022 and beyond, urgent care marketing companies will become increasingly vital.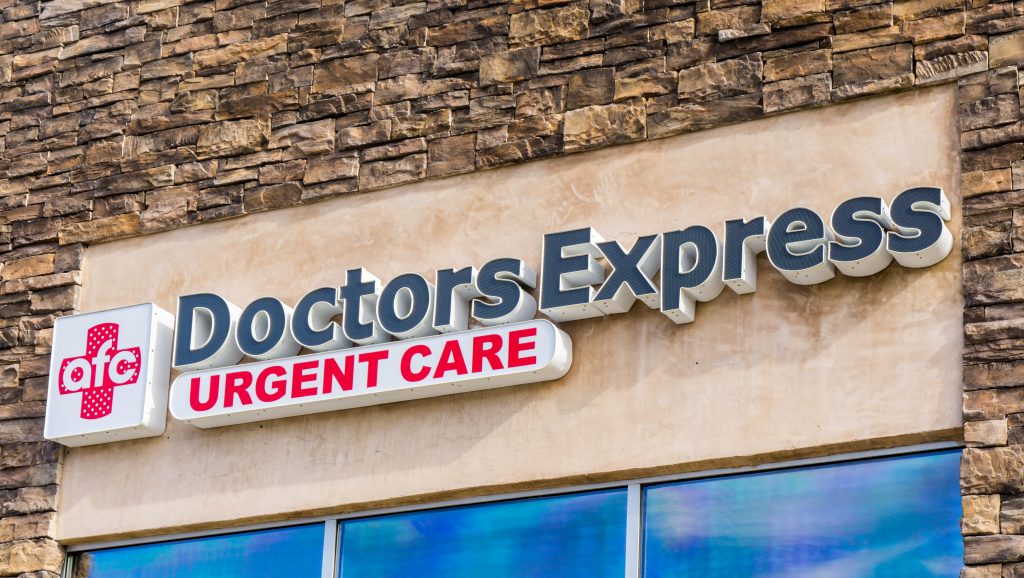 These days, walk-in clinics and urgent care facilities provide quick access to medical treatment without the need for an appointment or a trip to the hospital. These clinics, which provide care for minor injuries and diseases, usually follow the same guidelines as emergency rooms.
Companies that specialize in urgent care marketing can assist healthcare institutions in generating revenue by increasing patient volume and retention. Using modern lead generation techniques, these firms help bring in targeted web and mobile traffic that converts into healthcare patients. Here, we'll look at fifteen leading urgent care marketing companies pioneering the industry with innovative business practices.
Of course, we'll be starting the list off with Propellant Media. Headquartered in Atlanta, Georgia, Propellant Media takes pride in developing impactful urgent care marketing campaigns that translate into increased foot traffic, new patient intakes, and online inquiries. 

With flexible and innovative solutions, including OTT advertising, geofencing, paid search and social, and data targeting, there's an opportunity to make an impact with audiences in your target demographic.
Leverage our team's experience to get the most from your urgent care lead generation campaigns and increase patient volume. Propellant Media uses state-of-the-art marketing automation solutions to create an effective inbound lead generation that converts into new clients.
This startup offers urgent care centers various flat-rate marketing services. On the landing page of their website, PatientGain provides Silver, Gold, Platinum, and Enterprise packages depending on the digital advertising services your business may require on a monthly basis.
The agency's services include a wide range of services aimed at attracting new customers by broadening the brand's reach and increasing its online presence.
Medical SEO, Chatbot deployment, reputation management services, client intake form administration, and a variety of other marketing alternatives are among the services available to potential clients.
The company, founded in Knoxville, Tennessee, in 2005, offers several marketing tools and services for urgent care centers, including:
Email Campaigns

Social Media Advertising

Website design
UrgentCareMarketing.Com is an internet marketing firm that works with urgent care clinics all across the country. Their team of seasoned marketers creates strategies for connecting with current and new patients via multiple channels such as the web, social media, and email.
Thousands of urgent care facilities have grown their operations thanks to the company's successful strategies.
They are proud of their excellent customer service and ability to achieve outcomes. To take advantage of the rising amount of medical-related search phrases in most local markets, the agency suggests focusing on good SEO.
The firm also assists customers in developing successful social ad campaigns that provide great results.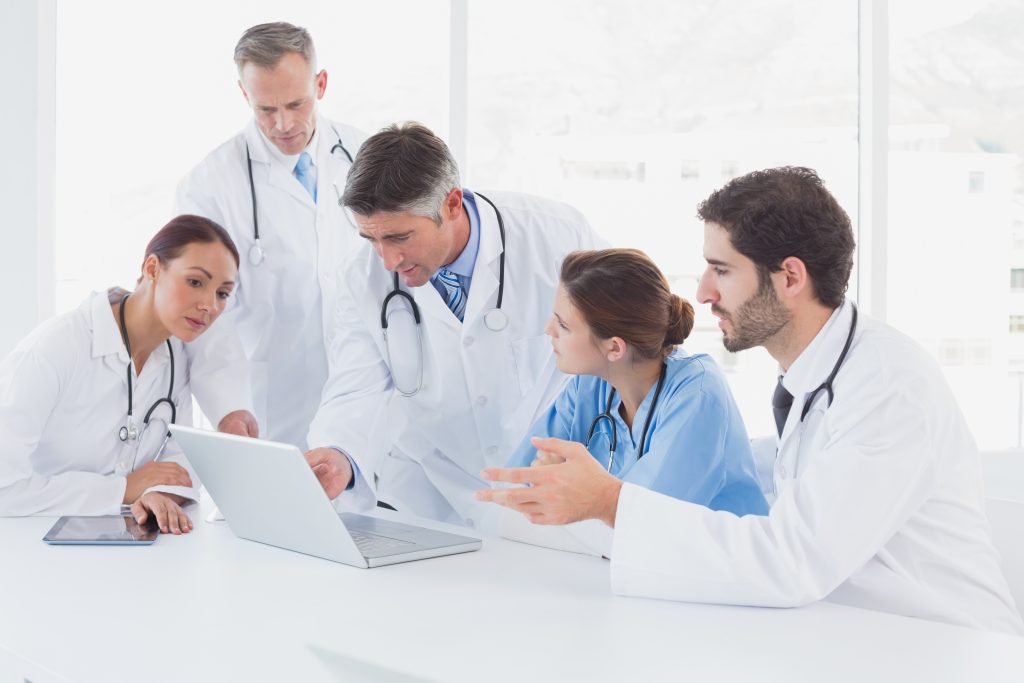 True, there has never been a more competitive market for acquiring new customers to an urgent care clinic than it is now. These clinics are gaining popularity with clients from all across the country in order to address the need for urgent treatment. As a result, traditional doctors will have to work harder to attract patients via the internet.
This is when 12SM comes into play. The specialists in Los Angeles collaborate closely with local clinicians to establish a plan for increasing traffic to urgent care clinics. With more companies vying for the same clients, branding and distinction are critical factors in determining whether campaigns succeed or fail.
The agency strives to ensure that clients receive the most effective results possible. That means working closely with them to identify their needs and then providing them with a custom solution that meets those needs. The company is 100% remote and works with a diverse range of medical and healthcare companies to help them achieve their objectives.
RedWagon, founded in Tempe, Arizona, is a full-service digital agency. The firm works with a wide range of clients in a variety of sectors, but more notably the medical industry.
They specialize in supplying small businesses with high-quality websites, apps, and social media profiles. Furthermore, the firm collaborates with a wide spectrum of businesses, including healthcare providers.
Its goal is to help businesses thrive by supporting them in conveying their stories more effectively to their online audiences. RedWagon provides local urgent care providers with a method to tap into the increased search traffic for medical-related phrases as the medical business undergoes major changes.
Simple First is a Redding, California-based web development outfit that focuses on eCommerce lead creation. They've been delivering eCommerce solutions to their clients for over ten years. Moreover, sharing their expertise in bespoke software development, responsive design, and content management systems.

For its urgent care clients, the company has even devised an SEO-specific approach. The "SEO Services For Urgent Care Centers" campaign is a comprehensive program aimed at increasing customer traffic to urgent care centers. It comprises, among other things, SEO consulting, onsite optimization, and off-site promotion. The "SEO Consulting" portion of this package includes a thorough assessment of your website to determine what changes are required to boost your website's engagement.
In addition, branded searches convert at a higher rate while costing less. As a result, Simple First devised a three-pronged client marketing approach that includes differentiated branding. After that, they work with medical providers to help them increase sales and save costs.
Boost Medical is a national medical marketing agency located in Scottsdale, AZ. The firm provides affordable online advertising services, including pay-per-click (PPC), search engine optimization (SEO), and lead generation. Boost Medical was founded in 2012 on the principle that "every patient should be treated as our own Mother and Father." In seven years, the business, formerly known as the Arizona Pain Specialists, has expanded from two physicians to 13 practices in three states, and thousands of patients.
In the present day, Boost Medical collaborates with local physicians to establish an internet presence in their respective areas. They focus on industry-specific needs with proven marketing strategies that drive positive ROAS and ROI.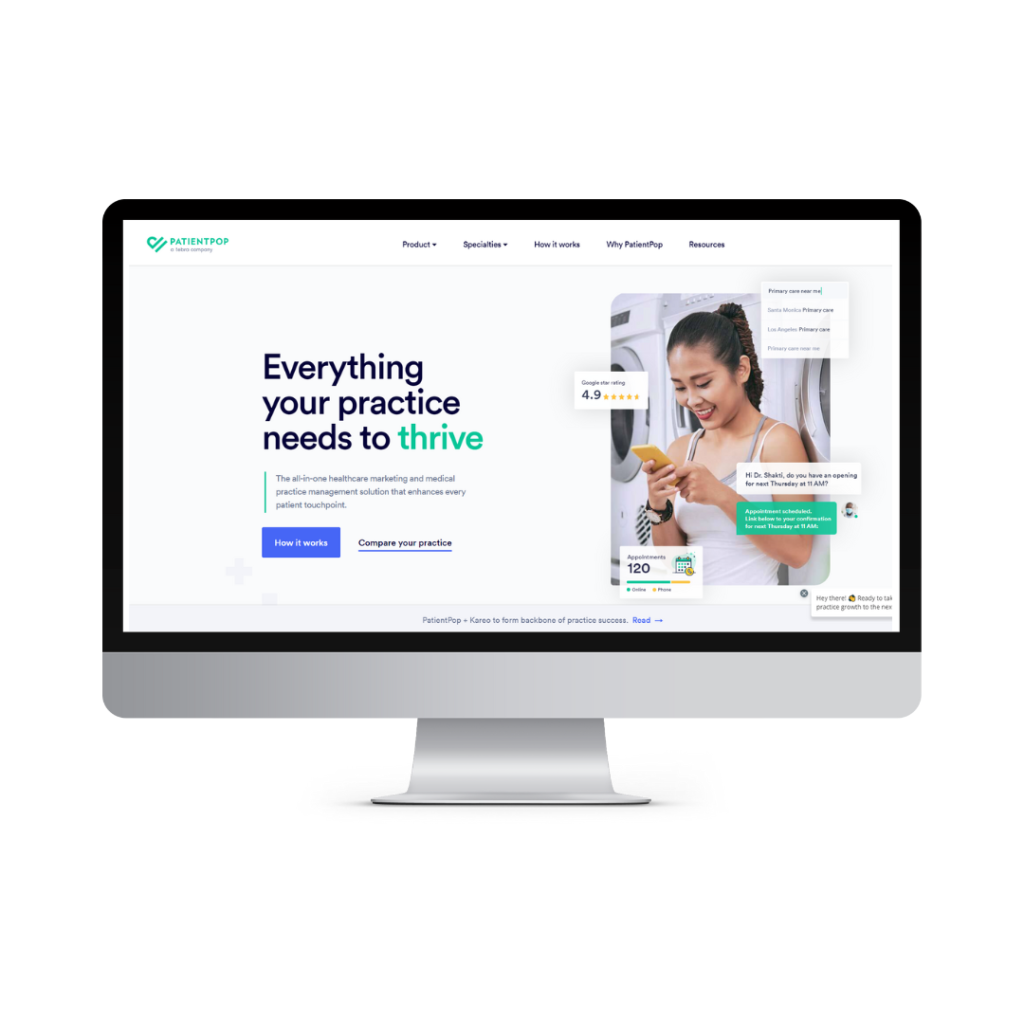 Ethane Technologies is an Indian digital marketing organization that offers a broad range of services. Paid search, organic search, social media, email marketing, display advertisements, conversion rate optimization, and other services are available through the white label company.
The agency seeks to build long-term relationships with clients so that they may benefit from our knowledge and assistance.
In addition, Ethane Technologies utilizes a formula involving branding, auditing current results, and optimizing content and marketing materials for optimal conversion rates. They offer a variety of services to help urgent care centers improve their online presence, including:
Websites and Apps

Website Design

Mobile App Development

Content Strategy

Pay-Per-Click Advertising
Patient Pop is a Santa Monica, California-based company specializing in patient education materials. From brochures to videos, Patient Pop creates engaging content that educates patients on everything from common diseases to treatment options.
The agency also creates instructional resources for doctors, nurses, pharmacists, dentists, and other healthcare professionals. In addition, Patient Pop provides a comprehensive set of management tools to assist urgent care providers in swiftly expanding their companies.
With over four hundred employees, the Patient Pop team has worked with hundreds of doctors and hospitals across the country to improve their practice and increase revenue.
Cardinal Digital Marketing is an Atlanta, Georgia-based digital marketing agency that focuses on increasing brand awareness through SEO, PPC, social media, and content creation.
The agency has helped hundreds of medical brands achieve success using these strategies. Their dedicated team remains passionate about what they do and will work hard to succeed in your campaign.
Cardinal Digital Marketing works with large, multi-location brands to simplify and optimize their results. In addition, their large staff of dedicated professionals brings a ton of experience working with medical companies, including urgent care centers. The agency works to increase the patient volume using customized marketing programs.
Experity provides a comprehensive marketing solution for urgent care centers. In addition, the company offers a suite of tools that help increase and manage patient volume.
Experity Health deals with one-half of the urgent care market in the United States, providing them with the kind of scale to develop keen insights about trends. Experity has seven locations nationwide, providing specialized support for urgent care centers in those areas. Their software is a primary tool for medical providers to increase engagement across all essential metrics. 
The firm also offers consulting services for managers of urgent care centers looking for ways to expand their business. With growth at an all-time high in the industry, their software-focused approach helps providers give their patients comprehensive marketing and customer management solution.
GMR Web Team is a web design and digital marketing firm specializing in providing great customer service to healthcare enterprises. The team's mission is to assist small and medium-sized businesses to succeed by providing them with the greatest available value.
To increase local traffic to urgent care clinics, the agency works on sponsored search, referral marketing, reputation management, and video marketing. GMR Web Team also works with medical practices of all sizes, customizing efficient marketing packages to meet their specific needs.
The digital marketing staff at the agency is dedicated to providing results. Furthermore, the firm has over two decades of expertise dealing with local businesses in various industries, including urgent care clinics.
Healthcare Success is an Irvine, California-based digital marketing agency specializing in SEO, paid search, conversion rate optimization, and more. As a Google Certified Partner, the company works diligently to attract new patients through online and traditional advertising. After combing through their website, one can figure that their #1 goal is to provide ethical marketing and drive ROIs for any business they collaborate with.

From hospitals and medical practices to healthcare networks and medical manufacturers, Healthcare Success provides a tailored experience by separating clients in Education, Consulting, and a full-service healthcare marketing Agency. Furthermore, in their healthcare marketing management, they have 4 phases:
Phase 1: History, Exam, Diagnosis & Treatment Plan
Phase 2: Program Development
Phase 3: "In-Market" Campaign Management
Phase 4: Data, Reporting & Optimization
Overall, this organization has your best interests at heart and has the experience and understanding necessary to achieve the desired results. Consider Healthcare Success as a national alternative for the outcomes you desire.
Solv Health is an Oakland, California software developer focused on helping healthcare organizations connect with potential clients online.
Solv provides a comprehensive solution for healthcare companies that encompasses the full range of patient touchpoints, providing a seamless experience that results in higher patient volume and increased satisfaction. In addition, their solution leverages modern technology, including AI, to reduce urgent care center pain points. 
The VC-backed firm provides comprehensive solutions designed specifically for healthcare professionals. Their team is building the largest urgent care center resource and app globally, providing patients and providers with a way to connect. 
Spectrum Marketing Companies, based in Manchester, New Hampshire, is a marketing agency serving healthcare and life sciences firms throughout the United States.
The company offers a wide range of print and creative services for health providers. Spectrum Marketing is also a solid adherent to local direct mail marketing principles and can create campaigns for urgent care companies looking to acquire more local patients. In addition, they provide top-performing healthcare direct mail pieces that get more opens, resulting in higher sales.
The agency believes in building long-term relationships with our clients. Therefore, spectrum Marketing uses HIPAA-compliant direct mail practices.
Get Optimal Results With Urgent Care Marketing Specialists
If you take away nothing from this article, remember this: It's crucial that your digital marketing agency truly understands your company's needs and knows how to assist you in attracting new customers. To expand your business, the best marketing firm will know what works and what doesn't.
Although your business may not have the time or money to commit to marketing, it has the potential to attract new patients and increase revenue while lowering costs. In a time when consumers are seeking online answers to medical issues and nearby physicians to visit, this is a formula for boosting earnings.
That's why it's crucial to find a digital marketing agency that has the expertise needed to help you reach your goals. For example, the primary objective of urgent care center marketing is to drive increased patient volume. Achieving this goal requires targeting local people who are actively looking for a nearby provider.
Branding, Branding, Branding… Did We Mention Branding? 
This is where the success of your business can start and sometimes can end, branding. The most efficient and effective strategies for urgent care center marketing include branding as a top priority. Branded searches are valuable because they lead to a higher conversion rate. Companies that focus on branding their offerings end up paying less than those that concentrate on keyword-driven ads and SEO. With a full range of strategies to boost visibility in place, the most famous brands tend to come out on top.
This is Propellant Media's list of the top 15 digital marketing agencies internationally. From small businesses to international corporations, any of the companies mentioned above will be able to give you exactly what you're looking for with competitive pricing and innovative advertising solutions. However, don't forget who's at the top of this list. *wink, wink, nudge, nudge*
Now's the time to capitalize on effective marketing strategies to win a more significant percentage of business from your local area, and the industry leaders at Propellant Media are always taking new urgent care clientele. Give us a call to reach one of our healthcare marketing experts today!