If you're into content marketing for any length of time, you'll probably want to explore networking opportunities. One popular way to develop contacts with content marketers is by attending content marketing conferences.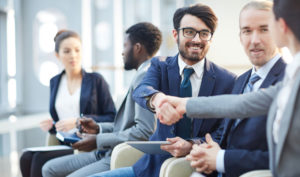 First, you'll learn there aren't a lot of conferences aimed primarily at content marketers. The discipline is rolled up in the more significant subset of digital marketing, so it's vital to scour those for the best places.
However, it's a growth field, and there will be more choices next year than every year prior. It seems marketers can't get enough of learning about content and how to optimize it for results.  Here are twelve content marketing conferences worth considering.

Content Marketing World
Content Marketing World is the premier event. It draws in digital marketers from around the world who want to learn about the newest cutting edge techniques. This gathering is significant because the sole focus is on the best ways to create content to use for business marketing purposes. Experts gather from the far corners of the world to discuss the newest concepts and most proven ideas.
Content Marketing World is known for prominent brand attendees and celebrity speakers. It's a star-studded affair, especially in the world of digital marketing. For those people who want to learn and make the best in industry contacts, they won't want to miss attending. With over 4,000 people in attendance, the networking opportunities are unparalleled.
Since this is the largest of the events, it could be the most impersonal. However, any fear you have of meeting people will soon give way to curiosity. After all, so many people attend because this one is the premier event for the industry. Attendees can expect to leave the event with more knowledge than they ever thought possible.

More information: https://www.contentmarketingworld.com/
Content Marketing Conference
The aptly-named Content Marketing Conference has six years of gatherings under its belt. Attendees expect a focused conference that covers the concepts of content marketing in-depth, and that's what they get every year. With expert speakers and workshops, there's a lot of value that's there for the taking.
The three-day event features speakers that are in demand throughout the industry. Don't worry that the conference's too stuffy, either. The conference is known for its comedy, and in 2019 even hosted the Comedy Marketing Keynote Series. 
Anyone who wants to learn about Content Marketing and the customer journey will be smart to attend this gathering. The agenda includes an A to Z approach that contains enough elements to attract a crowd of insiders or first-timers. 
More information: https://www.contentmarketingconference.com/
Confab
Content is not just about written text. The term encompasses many more rich media formats and types, and that's why Confab exists. It's the content marketing conference that also caters to user experience. That means everything from bots through newsletter signups and apps are up for discussion by the speakers.
Confab is not as long as some of the other events, which may have its advantages for busy marketers. Not everyone has time to spend five days attending a professional gathering, but almost all will go to Chicago for a two day, information-packed conference. 
More information: https://www.confabevents.com/
Digiday Content Marketing Summit
Learn about topics like Facebook sponsored posts at this targeted conference. These days, understanding social ads is the key to unlocking the value of content marketing. This Content Marketing summit covers the issues in details, with expert speakers guiding business attendees. 
The excellent news for devotees of conferences is that Digiday holds a lot of them. Check out the website for details and to signup for one of their events.
More information: https://digiday.com/events/
ContentJam
Content Marketers descend on Chicago in October every year to partake of the ContentJam conference. The event plays host to a diverse set of marketing speakers from across the United States, each considered to be a more influential thought leader than the last.  
Over 400 marketers get together with top-rated expert speakers to spend two gloriously productive days together.
They passionately discuss mouth-watering (for a marketer) subjects like promotion, conversions, analytics, and of course, content strategy.
Content Jam has been operating for six years and is a named leading conference by none other than the Huffington Post. Meet with like-minded people and master the craft of craftily crafting content.
More information: https://www.contentjam.com/
ContentTech Summit
There's no content marketing without employing the appropriate technology that's fit for the job. The ContentTech Summit is the place to gather to discuss the trends in technology that are impacting the industry. The Summit intends to help attendees not just use today's leading technology, but to give them the capacity to look into the future.
The conference positions itself as the place to go for "trailblazing pioneers" in the content marketing vertical. If you're looking to forge a new path using state of the art tools, put this one on your schedule.
More information: https://www.contenttechsummit.com/
MarketingProf's B2B Forum
MarketingProf's B2B Forum is a leading conference for innovators who want to discuss the full gamut of B2B marketing, including content marketing strategies. 
One thousand attendees gather to cover the best ways to create and distribute content to achieve optimal business results. MarketingProf has been providing training to marketers for years, so expect a conference that emphasizes how to learn the best methods to deliver content marketing success. 
More information: http://mpb2b.marketingprofs.com/
Epic Content Marketing
Do you want proof that content marketing is quickly becoming a worldwide phenomenon? 
Epic Content Marketing Conference is held each year in Norway.
The event is helping that nation's top marketers embrace the winning culture that comes from content creation. Six hundred attendees arrive to aptly listen to the world's leading content experts discuss strategies that are winning big for Norwegian and global clients.
More information: https://contentmarketingmanager.no/
Content Strategy Camp
Germans don't have to feel left out, either. The Content Strategy Camp is held once each year to help give a boost to content marketing in Germany.
Attendees get their choice of programs and sessions that will put them on the fast track. Content marketing can be a subtle art to learn; that's why hands-on sessions and workshops are one of the most effective methods to get new people up and running.
More information: http://www.cscamp.de/
LavaCon
The LavaCon Content Strategy Conference is a 'must-attend' event for anyone who develops content or is interested in learning more about how content marketing helps build a business. This conference touts itself as being a gathering place for practicing industry professionals, providing a platform for them to share their experiences and the best practices they follow. Additionally, attendees get the chance to network with others and create new relationships with peers in the industry. 
Held in Portland, Oregon, this conference is scheduled for October 27 – 30, 2019.
More information: https://lavacon.org/2019/
Type-A Parent – AKA Plaid St.
If you're ready to get immersive in content marketing, the Plaid St. Annual Conference is worth considering. Plaid St. represents new branding for the conference formerly known as the Type-A Parent. Held in the Washington DC area, it is in its 13th annual event. It runs from Sept. 26- -28, 2019 and features intensive workshops, keynote speakers, and exciting opportunities to connect with inspiring bloggers and social media influencers. A sampling of Sponsors includes Apogee Agency, AM Navigator, and Adam Reimer Marketing. 
More information: https://plaid.st/
Sharp Marketing and PR Conference
If you live in the UK, or you are willing to travel to attend content marketing conferences, the Sharp Marketing and PR Conference is worth consideration. Hosted in London, UK December 5 – 6, 2019, this exhibit covers a variety of topics relevant to marketers and business owners. Additionally, attendees get the opportunity to network and engage with other professionals in the marketing industry. A sampling of sponsors and partners of the event include Dark Horse Digital, Digital Agency Network, and World CSR Day. 
More information: https://www.boc-uk.com/
Get "In The Know" About Content Marketing
There is no doubt that content marketing plays a massive role in the success of any business. These days, content comes in many forms, including written content, video content, mobile content, as well as advertising and marketing content. Without any content marketing strategy in place, businesses and organizations are missing out on valuable opportunities to connect with potential new clients. 
Attending content marketing conferences are an ideal way to connect with leaders in the industry. These more intimate 'face-to-face' gatherings help you gain more significant insights, strategies, and ideas to help you become better at your profession. Further, they offer the chance for you to extend your personal and professional network. 
But what's work without play? Many content marketing events include Social Events, where attendees can mix and mingle and have a little fun after talking about business all day. In some cases, entrance to events could be limited to VIP or qualifying level ticket holders. If you want to be sure that you have access to all perks, make sure to buy the correct ticket! Otherwise, you might get closed out of exclusive events that you wish to attend. If possible, secure your Early Bird ticket to make sure you don't miss out on anything!