If you want to achieve top rankings in search engines, staying abreast of trends and changes in the digital marketing space is critical to attain – and hold – high rankings.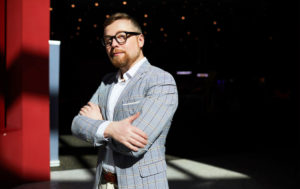 One of the best ways to find out about the latest technologies and shifts in the ever-changing industry of digital marketing is to attend an industry-wide conference. Luckily, here are fourteen digital marketing conferences to end 2019.

When you're evaluating which Digital Marketing conferences to attend as a guest, or support as an exhibitor or sponsor, many considerations could influence your decision. For instance, if travel constraints limit you, attending a conference that's closer to home or held at a convenient time of the year is sensible. Whereas, if you are a dedicated event sponsor or exhibitor, you should make an effort to attend as many economically feasible events as possible.
In this article, we'll cover some of the most important digital marketing conventions that are worth attending. 
Swivel Digital Marketing Conference
The Swivel Digital Marketing Conference takes place on Sept. 15th – 17, 2019. This digital marketing conference focuses on engaging attendees on topics and trends in search, digital marketing, advertising, and technology that impacts results on the modern internet. The Swivel Digital Marketing Conference features eight keynote speakers with years of experience working in the digital marketing industry. If you live in Bend, Oregon, area and you're interested in brushing up on the progression taking place online.
More information: https://www.swivelnow.com/
Gartner CSO & Sales Leader Conference
Gartner, a leader in tracking trends and changes in multiple industries, including digital marketing, hosts many business and industry events every year. A backbone in every successful digital marketing campaign is a strong salesforce, capable of turning valuable website leads into successful sales conversions. Hosted in Las Vegas, Nevada from September 16 – 19, 2019, The Gartner CSO and Sales Leader Conference helps empower your sales team, featuring multiple featured keynote speakers. Additionally, attendees can interact with Premier, Platinum, and Silver Exhibitors, including Salesforce, Microsoft, IBM, Zoho, BI Worldwide, Gong, VantagePoint, and others. 
More information: https://www.gartner.com/events/
Youth Marketing Strategy
Connecting with younger demographics is one way to assure that your business, company, or organization is building a valuable customer base. Younger people are an excellent target market that can help keep revenues and sales growth going upward for many years to come. The Youth Marketing Strategy Conference helps attendees learn about the influential trends taking place in this specific demographic. Hosted in NYC, this event takes place Sept. 17 – 18, 2019. This year's event includes multiple speakers from popular brands, sites, and apps, including Insta, Starbucks, Live Nation, Tinder, NPR, Twitter, Disney, and others. The agenda contains four growing tracks, including Influencer Marketing, College Marketing, E-Commerce, and Retail Marketing, as well as innovations. If you want to reach a younger client base, this conference provides the inside information you need to market more effectively.
More information: https://ymsnyc.voxburner.com/
PubCon Pro Las Vegas Conference
The PubCon Pro Conference is the conference to attend if you want to attend a full-stack digital marketing conference. Hosted in Las Vegas October 7 – 10, 2019, attendees at the Convention Center have unlimited opportunities to learn more about their profession. The PubCon Pro Conference features multiple sessions, workshops, keynote speakers, and networking events for attendees, exhibitors, and sponsors to participate. Topics include everything from tracking conversions to building an in-house or remote team. This exhibition features some of the most respected marketers, offering attendees the chance to meet and interact with them one-on-one. Further, they can connect with vendors in the expo hall to explore opportunities to grow their business with a new product or service offerings. 
More information: https://www.pubcon.com/las-vegas-2019
Digital Summit 
Hosted in Los Angeles, CA, the Digital Summit offers attendees the opportunity to connect with keynote speakers and influential brands. This multi-day event features Master Classes, Workshops, and talks on internet trends. Topics include content marketing, video marketing, B2B, B2C, paid advertising, SEO, search, mobile marketing, measurements, social media, strategy, and UX. Major brands including Amazon, Google, Nike, Samsung, Facebook, Toms, and Content Marketing Review will have speakers and representatives at the event. This conference is ideal for marketing professionals or nearly anyone who has an interest in learning more about digital marketing. 
More information: https://losangeles.digitalsummit.com/
Internet Summit
Hosted in Raleigh, North Carolina, the Internet Summit takes place Nov. 12 – 14, 2019. This digital marketing conference boasts over 90 keynote speakers from all corners of the internet marketing world. Sponsors of this event include Marketo, Active Campaign, Constant Contact, Zoho Social, and the Raleigh SEO Meetup. Attendees can expect to learn from brilliant content and uncover potential opportunities through networking. A variety of Pass Levels are available, with early-bird pricing starting at $295 and up. Higher-level passes include access to Workshops, Workshop lunch, Masterclasses, and other special features. 
More information: https://internetsummit.com/
Lead Con – C2C 
Hosted in Boston, MA Sept. 25 – 27, 2019, the Connect to Covert digital marketing conference is an excellent option for anyone on the East Coast. Companies with speakers and representatives at the meeting include PayPal, AMP Agency, Hewlett-Packard, the Boston Red Sox, Citrix, and Business.com, to name a few. This year's event involves an in-depth look at sales and marketing funnels. Additionally, areas expected to experience growth will get discussed. In a fast-moving internet landscape, it's critical to stay educated about the tools and tactics needed to uncover, nurture, and convert leads into sales and customer acquisition. Digital marketers who are considering going to this exhibition can take advantage of early bird pricing through September 20, 2019. 
More information: https://www.leadscon.com/
Meeting Profs B2B Forum
Digital marketers who specialize in B2B sales need to equip themselves with everything they can to remain competitive in sales. The MarketingProfs B2B Forum brings together B2B sales professionals to share their marketing ideas and secrets to their success. Hosted at the Gaylord Resort, located just outside of Washington, DC., this event takes place Oct. 16 – 17, 2019. Topics covered include content strategy, email marketing, marketing planning, and strategy, and demand generation, to name a few. All-access passes grant attendees entrance into workshops. A sampling of sponsors of the MarketingProfs B2B Forum includes GetResponse, PFL, Demandbase, ArmTreasureData, Infogroup, and BaseThree. Tickets and registration for the MeetingProfs B2B Forum start at $1,095 per person. Group discounts are available for teams of three or more people. 
More information:  http://mpb2b.marketingprofs.com
SMX East
SMX East makes a return to New York City on Nov. 13 -14, 2019. This year promises to be better than any that came before. Hosted at the Jacob K. Javits Convention Center, search engine marketers and optimizers benefit from two immersive days of marketing information. Attendees can expect to learn about marketing tactics, traffic generation ideas, engaging with higher-quality leads, as well as methods to increase conversions for more sales. With over 90 unique sessions, attendees get inside information on SEM, SEO, Analytics, CRO, content, attribution, mobile, video, tools, and more. This year, SMX East also introduces two new content tracks. The first – local search marketing for multi-location brands. The second for agency operations and management. These full-day tracks are targeted to meet the needs of growing agencies and multi-location local agencies. SMX East has several levels of passes available, with early bird pricing in effect until October 5. A sampling of Sponsors and exhibitors for the event include Google, Microsft, Bruce Clay, Botify, Exults, SEM Rush, and TrustPilot. Companies with keynote speakers and representatives include Resolution Media, Key Relevance, NBC Universal, Microsoft, Seer Interactive, IBM, and Comcast.
More information: https://marketinglandevents.com/smx/east/
Onward19
Onward19 brings together top brands, partners, media, and technology leaders for a digital marketing conference you don't want to miss. This event represents a fantastic opportunity to learn more about opportunities to extend and grow their markets, discuss trends that are affecting the marketing industry. Additionally, attendees can find out about exciting new verticals that show unlimited growth potential. Keynote speakers at Onward19 include Magic Johnson and Seth Godin. Other speakers include representatives from Yext, RevLocal, Massage Envy, Capital One, Amazon, The Wall Street Journal, and others. Sponsors include Podium, Thryv, Vendasta, Boostability, and Waze. This event takes place on Oct. 29 – 30, 2019. People who are interested in attending the event can register for a Day 1 or All-Access Pass to Onward19. Pricing starts at $595. 
More information:  https://www.onward19.com/
Brand Marketing Summit USA 2019
The Brand Marketing Summit purports to be the only CMO Led Event for digital, brands, content marketing, and performance. Hosted in New York City on October 21 -22, 2019, this digital marketing event features keynote speakers from respected brands and companies including Conde Nast, Northwestern Mutual, Western Union, Monster, Cricket Wireless, Estee Lauder, and Pepsico, to name a few. Sponsors include Argonaut, Shutterstock, Maru Group, and others. If you are interested in attending this immersive digital marketing conference in the Big Apple, you can secure early bird tickets and registration until September 27, 2019. Various types of passes are available to suit your specific requirements, including passes for Brands, Service Providers, and Groups.
More information: https://events.incite-group.com/east/
State Of Search Conference
If you need to familiarize yourself about the current state of search quickly, the State of Search Conference is the place to be November 4 – 5, 2019. Hosted in Dallas, Texas, this digital marketing conference focuses on trends in marketing and search. Keynote speakers taking the stage at the State of Search include Duane Forrester, Eric Enge, Greg Gifford, and Jenny Halasz. If you want to learn from real people regarded as experts in digital marketing, State Of Search offers you the opportunity to connect with those who worked in the trenches. They share their experiences and knowledge of the industry as they understand it. Using this information, attendees can take away what they need to build a stronger online foundation. Early bird pricing is in place until October 1, 2019, and people who are interested in going to this event can save $100.
More information: https://www.stateofsearch.org
DX Summit
If you are going to be in the Chicago, Illinois area on November 4 – 6, 2019, you might want to consider the DX Digital Marketing Summit. Held at the Marriott Marquis Chicago, this two-day event features multiple Content Tracks and Bootcamps to help inspire and motivate attendees to become more effective marketers. Topic matters covered at DXS19 include Transformation and Leadership, Machine Learning, Automation, AI, Customer Data and analytics, to name a few. Keynote speakers for the DX Summit include representatives from Hubspot, the American Dental Association, Wharton School of Business, GE Healthcare, Shutterfly, Dell, Google, Lyft, and Verizon. Like most other digital marketing conferences, DX Summit offers a variety of passes to accommodate attendees needs. People can choose from a Workshop Pass, a Two, or a Three-day Pass. Group rates are also available for companies or individuals who wish to purchase multiple passes. Discounts (as of this posting) include the following: 10% for 2-3 attendees, 15% for 4 -6 attendees, 20% for 7+ attendees. In addition to group discounts, non-Profit, EDU and Government Discounts are available, as well. 
More information: https://www.dxsummit.com
Growth Marketing Conference
The Growth Marketing Conference takes place in San Francisco, California from December 11 – 12, 2019. This exhibition is the largest Digital Marketing Conference in the Silicon Valley area. This two-day show covers multiple topics relating to digital marketing including, Customer Acquisition, Activation, and Retention, Subjects related to Enterprise and B2B businesses, and organic and performance marketing. Attendees can enhance their knowledge of trends taking place in the industry by listening to over thirty speakers from companies including Lyft, Google, Intuit, MongoDB, Sequoia Capital, Vimeo. Postmates, SEM Rush, and Microsft, to name a few. Events taking place include Workshops, Sessions, Tutorials, Vertical Focused Content, and High-Power Networking events that allow attendees to mix and mingle with peers, influencers, and brand representatives. Ticket prices start at $950 for a One Day Pass.
More information: https://growthmarketingconf.com/
Get Outside Of Your Box And Think Differently
If you are thinking about investing in your digital business, any of these Digital Marketing Conferences are worth checking out. If you have a larger agency, you may qualify for Group Pricing, so be sure to check the Conference Site for discounted tickets or passes. Further, if you act quickly you can also save money by checking for Early Bird Discounts for Individual or Group tickets or passes, as well. Any money you can save on tickets gives you extra cash to spend at networking events or fun after the sessions end.