When you want to draw attention to your business or organization, working with an Atlanta PR firm is a smart business move. Getting viral coverage one of the most direct ways to create the attention you seek for your company.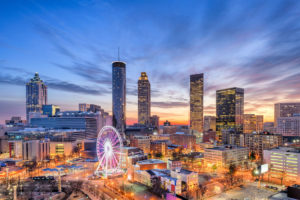 When your brand gets mentioned in the news or influential circles, people who can help elevate your message, so a much broader audiences take notice. Further, in a world where more news and stories are always in demand, this creates an opportunity for you to grab some of the spotlights and spread your branding message to captivated audiences.
Atlanta PR Firms Help You Connect With Your Target Audience
Company owners who are looking to get press coverage for their business will find any of these Atlanta PR firms helpful for circulating their message. Having just the right amount of Press adds to brand recognition and increased trust, a very valuable and intangible asset.

Media Frenzy Global 
Media Frenzy Global offers clients creative content marketing and media relations. This PR agency creates compelling content, as well as powerful press relations to help elevate their clients to the next level. Previous clients of Media Frenzy Global include Comcast Business, Verizon, Autotask, Bias Corp, and the City of Alpharetta, Georgia.
More information: Media Frenzy Global
Leff & Associates 
Leff & Associates is a full-service PR agency, offering clients a wide variety of public relations services. However, their primary focus is on strategic public relations counsel, public affairs, program development, and crisis communications. Their company works with a broad range of industries, including B2B, Non-Profit organizations, entertainment, professional services, and consumer products. They are a member of the DeKalb Chamber of Commerce.
More information: Leff & Associates
Brandware
Brandware works with multiple industries, including transportation, automotive, B2B, financial services, technology, home builders, media companies, and hospitality with a wide range of digital communications and public relation services. Brands that Brandware has provided work for Vespa North America, Union Savings Bank, Sonic Tools USA, Tire Rack, and Bonfire Wine.
More information: Brandware PR
Nebo Agency
Nebo Agency helps companies and organizations with press coverage that captures attention. Services provided by Nebo Agency include media outreach, positioning and messaging, content creation, research and strategy, and event planning and execution. 
More information: Nebo Agency
Edelman
Edelman is an established marketing company that offers clients a wide variety of capabilities, including start-up development, talent services, media relations, crisis management, and reputation risk. In addition to these core services, Edelman offers a myriad of other digital advertising and marketing services to clients. Founded in 1952, Edelman has established itself as a recognized name in marketing and advertising for over 50 years.
More information: Edelman
Porter Novelli
Founded over 45 years ago, Porter Novelli firmly believes in motivating action, building loyalty, and encouraging advocacy is key to thriving in today's competitive markets. This agency creates PR campaigns that move audiences to take action.
More information: Porter Novelli
Kellen
Kellen has extensive experience working with trade associations and professionals around the globe. In their experience, they have learned that there isn't a "one-size-fits-all" solution for individual clients. A sampling of their previous clients includes Girl Scouts of America, the International Copper Association, the National Pasta Association, and National Pecan Shellers Association.
More information: Kellen Company
The Wilbert Group
The Wilbert Group Agency focuses on redefining the way that companies communicate their story. Their expertise includes capturing, curating, and deploying targeted content using multiple channels. The Wilbert Group actively seeks coverage for clients using social media and news channels. Previous clients include Coca-Cola, Atlanta Station, Fenton, and Colony Square.
More information: The Wilbert Group
Melissa Libby & Associates
Melissa Libby & Associates offers a variety of media relations and digital marketing services to end-clients. Clients can rely on their expertise for community relations, media relations, social media communications, and special events when they want to connect with a broader, engaged audience.
More information: Melissa Libby & Associates
Liz Lapidus PR
Liz Lapidus PR is an Atlanta public relations firm that specializes in boutique marketing for clients in multiple industries. Clients of Liz Lapidus include hospitality, non-profit, entertainment, real estate, retail, arts, and other brands. Previous clients of Liz Lapidus include Boulevard Group, One North Shore, AC Hotels, the Ellis Hotel, and Pure MD.
More information: Liz Lapidus PR
Strategic Vision PR Group
Strategic Vision is an award-winning PR firm specializing in multiple facets of PR. Services offered by Strategic Vision PR Group include public affairs, publicity campaigns, branding, crisis management, and other related services. This agency 
More information: Strategic Vision PR Group
Alpine Communications
Alpine Communications is an Atlanta-based PR company serving clients in multiple verticals, including healthcare IT, HR technology, and technology. However, they work with companies of all sizes to increase engagement, drive revenue growth, and build brand awareness. 
More information: Alpine PR
Things To Consider Before Launching A PR Campaign
If you are thinking about launching a full-court Press Campaign, here are a few questions to ask yourself first. Getting press coverage is worth its weight in gold, so having a game plan in place before launching a new campaign is essential. All the pieces of your game have to be in place for everything to have the most favorable outcome possible. 
Press campaigns can get launched for any number of reasons from announcing a new product launch, to crisis management, event marketing, and more. However, it is always critical to have your brand messaging on point across all platforms to ensure a cohesive branding experience across the board. 
An experienced and skilled PR company examines your business objectives. In doing so, they custom craft a press campaign that helps you meet the established goals. 
For instance, if you are marketing an event, your goal might be to sell early-bird tickets or connect with potential sponsors. A well-crafted PR campaign helps to assure your offer gets noticed by the people who matter most to your demographics. 
Why Do I Need To Connect With A Bigger Network?
In a world filled with millions of people, you may ask why you need to connect with a bigger network. The best answer to this question is that the broader your reach, the further you'll go. PR services can help to assure that your message gets distributed far and wide. It enables you to connect with your existing contacts, as well as new people who aren't familiar with your company or brand.
An established PR company works as a liaison between media outlets and your brand. Ideally, your preferred communication agency has a deep understanding of your business model and objectives, as well as the demographics you wish to target. 
If you are having troubles coming up with an angle for your campaign, hiring a PR agency can help develop ideas and creative takes on your behalf. When you work with your agency, these ideas can come to life in an energized PR campaign designed to get results. In many cases, an established agency with strong media ties can run a test campaign to experiment whether it is likely to test successfully. If the test campaign doesn't prove fruitful, you and the PR agency may decide to go back to the proverbial drawing board. 
Modern and progressive PR agencies understand the importance of offering a diverse service menu. Forward-thinking PR agencies often provide related services, including social media, content development, media, and digital marketing services, branding, and more. 
The primary focus is to not only create media but also to earn it with your preferred markets. References from trusted and respected third-parties such as news mentions help build brand awareness. Savvy PR Agencies are skilled at using paid media in combination with organic targeting to average out the blended costs of their services. 
What Are The Advantages Of Working With An Agency?
In today's day and age, doing it yourself is more acceptable than ever before. However, the issue is that you or your team might not have all the information needed to assemble a powerful press campaign. 
When working with a professional PR company, they have the connections to help your brand get discovered in the right circles. Additionally, they use their influence to make sure the news gets distributed into all the proper channels. If you lack media connections or you haven't nurtured relationships with influencers, the chances are good that your message might fall flat. Or worse, not even get seen!
While hiring a PR professional might initially sound like an expensive investment in your company, losing out on opportunities can be even more costly to your company over time. 
Further, if you weigh the expenses associated with building an in-house team against hiring a professional PR agency for media work, the agency model wins out every time. Instead of having a lengthy process of screening and recruiting candidates to build an in-house team, you rely on a PR company who has already done all the legwork. Your company plugs in with the connected and savvy people who are already making things happen in the media world without delay. 
As you can imagine, this simple move is something that can slash development time on your part. If you are only starting with an idea, you have a long development timeline ahead.
When you work with a creative team larger than your company, you get to can tap into a creative wellspring. Fortunately, it is a wellspring of marketers who understand what is needed to make an impression in a fast-moving digital environment.
How Does Media Press Help My Company?
If you are wondering how media coverage can help your company, the answer to this question is that it helps in many ways.
Local Coverage – Every company benefits from getting local coverage. A professional media company can get your story in front of local journalists, news reporters, business leaders, and influencers. Half of the battle for every company is getting the recognition it deserves in their local market.
National Coverage – These days, press coverage is extendable to markets and consumers across the United States. If your company
can sell products beyond your local area, the potential for National Coverage opens up more doors and avenues for revenues and growth. 
Viral Buzz – Another advantage of working with a PR company is they are skilled in creating engaging campaigns that have a higher chance of going viral. Because these agencies are so influential, they can put energy into the campaign to assure it gets spread on social media platforms and other spheres of influence.
Positive Citations – Citations and links remain helpful for search engine optimization and website rankings. Perfectly crafted press coverage is ideal for strengthening up relevant keyword phrases for gaining top rankings in search engines. 
How Does PR Differ From Advertising?
While PR and advertising are both very similar, they are also very different. Both methodologies are designed to attract more prospects, leads, and clients. However, the implementations of these marketing techniques differ. 
For instance, when running a pay per click advertising – or PPC – campaign, advertisers must pay for each click they receive on their ad. With PR, you might enjoy a longer shelf-life of benefits solely for the reason that citations help to establish a stronger brand. Ideally, companies should use a combination of both PR and advertising to achieve the highest returns on their investment. 
Other types of advertising worth considering to augment your campaigns include Geofencing advertising. They both offer advertisers a seamless way to connect with potential new customers on their mobile devices and television screens.
With the amount of time Americans spend in front of screens ever-increasing, Geofencing is a logical expansion of any direct and targeted PR campaign. 
Geofencing allows advertisers to establish set parameters – or an invisible fence of sorts – to message people with Smartphones within the set area. According to statistics from Pew Research, nearly 81% of Americans now own a Smartphone. Even more intriguing, is that 95% of text messages get read within three minutes, and the average response time is a mere 90 seconds.
If you are interested in learning more about how Geofencing can complement your PR campaign, contact the geofencing experts at Propellant Media today!