There are dozens of types of marketing, but one that gets more than its share of attention is lead generation.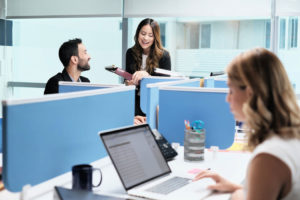 Lead generation marketing companies are a bit different than others in the industry. They're less "fuzzy" and much more prone to generating tangible results. After all, their clients are paying them to get results, so that's what they deliver. 
The way these leading agencies accomplish that objective is by developing custom strategies that attract, engage, and convert the ideal prospect. 
It's worth taking a look at 15 leading lead generation marketing companies and the strategies they use to build client success.
IronPaper 
IronPaper is a New York-based growth agency that delivers results-driven marketing for its B2B clients.
The agency's mission is to assist clients with achieving their growth objectives through sales and marketing channels. Their experienced team unifies the sales and marketing journey, which creates a fantastic and memorable experience for buyers.
More information: IronPaper
Blue Frog Marketing
Blue Frog is a digital marketing agency in Waukee, Iowa. The Hubspot Platinum Certified Agency provides B2B clients with comprehensive inbound marketing and lead generation plans.
The agency has a deep understanding of digital marketing and analytics. They use a data-driven approach to achieve optimal results for clients across a broad spectrum of specialties.
More information: BlueFrog Marketing
RenderTribe
RenderTrive is a data-driven digital marketing agency that provides a diverse set of lead generation programs for B2B clients.
The experienced team follows proven methods to unlock the potential of their customer's products and services. The New York City-based agency handles the full range of sales and marketing development, including pipeline management and automation.
More information: RenderTribe
Drake Digital
Drake Digital is a digital marketing agency located in Toronto, Ontario, that offers full-stack marketing services, including B2B lead generation.
The agency helps B2B clients get live-time leads through digital advertising and SEO. Their program promises 24 or more qualified prospects every month. The firm works exclusively with accountants and manages only one client per city.
More information: Drake Digital
Lucid Agency
Lucid focuses on lead generation through marketing automation. The agency's goal is to keep leads streaming into their clients 24 hours daily. 
The company provides customers with the tools and tactics needed to gain a steady stream of revenue-generating prospects. Their experienced team offers a diverse set of marketing services, including UX design.
More information: Lucid Agency
Straight North
Straight North is a marketing agency that uses SEO for lead generation. The Chicago-area agency has been helping clients achieve business goals since 1997. 
The agency provides a suite of web development and internet marketing services to B2B and B2C companies. The company manages PPC, display advertising campaigns, and email marketing for larger clients.
More information: Straight North
TRO Leads
TRO Leads, in Overland, Kansas, specializes in generating leads for technology companies and consultants. They use a combination of outbound techniques, including LinkedIn engagement, to find suitable targeted prospects for customers.
The agency uses a data-driven approach to gaining warm leads that convert.
More information: TRO Leads
Cience
Cience uses multi-channel outreach to find the best target audience and prospects. After that, their team uses appointment setters to start the sales conversation. 
The agency works with clients to come up with innovative strategies that work for long-term, sustainable growth. The firm is a People-As-As-A-Service company.
More information: Cience
Groove Commerce
Groove Commerce is Diamond HubSpot Partner Agency and a lead-generation agency.
The agency does a deep dive into your competition and analytics. After this initial assessment, the team analyzes your competition, analytics, and target audience to create data-driven inbound strategies that help you generate more leads than alternative methods.
More information: Groove Commerce
Zipline Interactive
Zipline Interactive uses a data-driven lead generation system to attract, identify, and convert ideal prospects for their B2B clients.
Their team focuses on the sales funnel so that their customers remain focused on running their core businesses.
More information: Zipline Interactive
The Lead Agency
The Lead Agency has 17 years of experience delivering leads for clients. The company uses a network of company-owned and third-party websites to provide qualified prospects.
The firm is one of the U.K's fastest-growing technology companies and works with clients in a wide range of industries. Companies that want to increase their sales benefit from plugging into existing channels on their network, instead of creating all the digital assets themselves.
More information: The Lead Agency
Outbound View
Outbound View, located in Nashville, Tennessee, assists organizations with designing, developing, and implementing winning sales strategies.
They use a data-driven approach to help clients build lists of ideal prospects. After that, they use a system to qualify the candidates to present their clients with the best potential opportunities.
More information: Outbound View
EBQ
EBQ is an Austin, Texas-based company that outsources sales and marketing functions to other companies.
The agency provides a full suite of sales and marketing services, including appointment setting, lead generation, marketing, and customer experience.
Businesses save money when they outsource marketing support.
More information: EBQ 
Leadium
Leadium is a data-driven lead generation agency that uses quality-assurance and specialized research to find the optimal contact data.
The agency works closely with clients to create personas and to utilize outbound personalization. Their experience team works to develop campaigns that produce positive results every time.
Customers receive a predictable pipeline that's delivered a sales automation program.
More information: Leadium
Belkins
Belkins is a lead generation marketing agency that relies on manual research to gather prospect data. 
The company has been helping global clients for the past five years. Their team works with B2B customers closes to hit sales targets and rapidly grow their business. They provide clients with an improved flow of leads that immediately stabilizes the sales pipeline.
The agency, located in Dover, Deleware, has 52 employees assisting a diverse range of clients.
More information: Belkins
SalesRoads
SalesRoads provides its clients with a broad range of lead generation services.
The company handles the whole process from data collection through lead qualification. 
Their team provides B2B appointment setting, lead generation, and sales outsourcing for a total end-to-end solution. Companies that are looking to outsource their core sales functions benefit from the service.
More information: SalesRoads
Full Funnel
Full Funnel is a digital marketing agency that provides B2B lead generation services for companies of all sizes.
Their team handles the heavy lifting to configure a working inbound marketing strategy for companies. 
The agency, located in Austin, Texas, are specialists in web development and marketing. 
More information: Full Funnell
VSA Prospecting
VSA is a telesales agency that provides marketing and sales professions with an outsourced appointment setting system. The company employs cold calling of ideal prospects to generate leads.
For B2B companies that don't want to handle the work in-house, VSA does the heavy lifting on cold calling projects.
The Philadelphia, Pennsylvania area company uses its B2B calling center to set appointments and qualify leads.
More information: VSA Prospecting
eCoast Marketing
eCoast Marketing provides a full suite of lead generation and digital marketing services for clients.
The agency handles everything from content marketing through organic and paid search campaigns.
For businesses that want to get more from generating leads online, the agency can custom tailor plans. The company has been providing marketing services for over nineteen years.
More information: eCoast Marketing
Salesify
Salesify provides custom solutions that include business data and lead generation. 
The company provides B2B lead generation services, along with sales enablement and support.
Salesify taps into Big Data analytics to develop accurate lists for its corporate clients.
More information: Salesify
VSynergize
VSynergize provides a comprehensive suite of marketing services that include lead generation, content syndication, intent data, and account-based marketing. 
The team offers full-funnel, flexible, and scalable solutions across a diverse spectrum of verticals.
The company boasts a staff of over 400 employees worldwide and has been operating for more than nineteen years.
More information: VSynergize
Echo Gravity
Echo Gravity, in Hoffman Estates, Illinois, provides a full suite of lead generation and digital marketing services to clients. 
Their team specializes in content marketing, SEO, and an entire range of outsources marketing processes. 
The company acts as strategic advisors for businesses that are looking to expand their marketing efforts, but without hiring additional staff.
More information: Echo Gravity
Espresso B2B
Espresso B2B understands that clients want to see results when they pay for marketing. The agency provides a comprehensive suite of services to generate leads.
The San Francisco, California-based agency helps business clients with all aspects of getting new customers and obtaining market share. Their team specializes in inbound marketing, HubSpot marketing, and marketing automation.
More information: Espresso B2B
Orange Pegs
Orange Pegs provides B2B lead generation for businesses in the accounting, staffing, software, telecom, and professional consulting industries.
The Los Angeles, California-based agency is a HubSpot Certified Gold Agency. Their experience team handles brand development, organic SEO marketing, and lead generation for its diverse base of customers.
More information: Orange Pegs
The MX Group
The MX Group is a lead generation marketing agency that provides clients with account-based marketing and marketing technology stack outsourcing.
The agency provides a wide range of tools and services that empower marketing departments to generate more leads for conversion. 
Located just outside of Chicago, The MX Group employes over one hundred and has been operating for over thirty years.
More information: The MX Group
Websites Are Lead Generation Tools
For many top lead generation agencies, websites are excellent tools for targeting prospects. Websites provide attractive landing pages that allow for conversions.
The average website is set up very differently than ones done by inbound marketers who are generating leads as a primary objective. They streamline the site as much as possible and make their offer crystal clear.
Where the average website goes wrong is by spending too much time on "fluff." Everybody wants their design to look amazing, but conversion optimists understand that an inbound marketing funnel has to be greyhound-lean. 
Most funnels follow a similar design and formula.
Start with an attractive page that captures attention.

Add a compelling offer to stimulate interest.

Persuade the visitor to take action based on an incentive.

Capture the lead for further followup.
When web pages follow this format, they effectively turn visitors into mailing list subscribers. That's crucial because it takes multiple touches to convert them into customers from this point forward.
Pro-tip: consider the benefits of Geofencing mobile visitors to increase conversion rates. For geographically specific offers, that's a powerful technique to close more sales fast. Making this tactic even sweeter is that the ads follow the visitors for 30 days, even after they leave the geofenced area! Speak with a Propellant Media representative for more information.
Content Marketing Adds Qualified Prospects To the Funnel
Some lead generation companies use a content marketing strategy. They create and distribute high-quality content and engage with prospects across the full spectrum of channels. 
The content is precise and helps customers understand how to solve a problem they're having. That gives the prospect enough value to appreciate your brand. After that, the attempt to develop one into a lead requires capturing their contact information.
Many marketers will use retargeting or remarketing ads to keep their names popping up in front of potential customers. That's a way to warm up a prospect with some interest. They are somewhat aware of your brand but are far from looking to make a decision. Instead, they're becoming aware that you can help, but need more nurturing.
Effective content marketing for lead generation requires several elements.
The content must be well-written or produced to engage the end-users truly. The range of material is extensive and may include videos that demonstrate products or answers to common questions. The point is that the page helps someone get the information they need.  
There also has to be a funnel in place to convert the leads. Finally, an ad campaign is required to make sure the content a wide distribution for the content. There's no way to cut corners at any step in the process, and each element must be in place and working on getting the maximum benefit.
Paid Ads to a Landing Page Is A Direct Path To Conversions

A standard lead generation strategy is for inbound marketers to pay for ads to landing pages. That way, they can test their audiences and offers quickly. If they're dealing with a failing campaign, they may opt to back off and move on to greener pastures.
The drawback is that failed campaigns are expensive. However, the speed of taking it to market makes up for the cost. That's the rationale for companies that have large budgets to test quickly. 
Data-driven companies let the numbers decide, instead of using their emotions or intuition to guide them. If they find a bright red button doubles sales, they will add it!
Purchasing lead data and ads are ideal ways to target the prospects who are most likely to buy. It's a waste of resources chasing people who never pull the lever on a deal. The superior alternative is to display ads only to ideal prospects. 
With that mechanism in place, it becomes a matter of testing landing pages and offers to boost conversions. The data keeps piling up, which makes decision-making easier every step of the way. At first, purchasing ads can seem somewhat like speculation.
When the targeting is spot on, and the landing page is in sync, lead generation becomes an efficient process. This potent formula will remain a mainstay at digital marketing agencies because it works so well.
Mailing Lists Remain a Top Digital Strategy
Maintaining a healthy relationship with clients through email remains a top priority for inbound marketers. Direct emails are one of the best ways to qualify prospects and to generate leads consistently. It takes more work than ever to keep people interested, but the email channel remains at the forefront.
The biggest issue with email is engagement. Most people lose interest after that get a few emails, so it's never a simple matter to keep them opening and clicking. That's where lead generation specialists work their magic to setup sequences that get top results.
Email automation empowers lead generation experts to separate the buyers from the coldest prospects. People who don't engage end up bring down the overall value of the email lists, so the team needs to bring in new leads to replenish the ones that fall off. It's a constant process and requires a robust digital presence that includes PPC and social media advertising.
What people appreciate about mailing lists is that they're a digital asset that has retained value. Customers may buy one or many times, and they do so at strange intervals. Sending them emails about products and services is the fastest way to pique their interest and to keep them coming back to a page to order.
These days, SMS is also playing a growing role in serving the same purpose. Most people always check their notifications, so many will appreciate updates that alert them to specials and deals. 
Mailing lists and SMS updates are not too expensive, so they are a "must" for any company that wants to stay in touch with customers and to convert prospects into customers.
Give Incentives to Get More Referrals
Referrals from current customers are sturdy and will help grow any business. Implementing an automated system that handles the whole process is a smart way to generate more leads.
In the past, customer loyalty and incentive and referral programs were costly; they were reserved only for the business elite. Thankfully, that's no longer the case. Now, most companies can implement a cloud-based technology solution that handles the heavy lifting and accounting for the rewards programs.
An example would be a restaurant that gave free drinks to anyone who sent a friend in with a specific coupon. The customer is happy to get the freebie, and they love the restaurant enough to refer a friend, so the whole transaction makes perfect sense. It's a proverbial "win-win" situation. That makes the marketing end and the lead generation component smoother.
With incentives in place, the "ask" for customers. The company gets more leads into their database and can further incentivize during any part of the customer journey. When done right, few systems will beat rewards programs for effectiveness. 
Lead generation experts understand that incentives provide people with the proper motivation to move forward in a relationship. Putting them in place at critical stages will move a prospect towards conversion. With a conversion-optimized funnel, the offer is always essential, but incentives are the fuel that keeps people interested and engaging. 
Lead generation is a process, and it requires a proper structure to succeed. Many of the rules of the practice are counter-intuitive. That's why data is now driving much of the decision making the process for digital marketers. 
It doesn't matter what a marketer thinks if the data quickly proves its point. Campaign management requires looking at things openly and critically to find the areas for improvement. For lead generation, the answer lies in only a few places.
The ad.
The offer.
The landing page.
If one or more of these is substandard or not working, it will have a chilling impact on the whole campaign. A specialist will work to isolate problems so that they don't occur all at once. That way, they can make changes to the strategy and see immediate results. Since the states are live-time much of the time, a lead generator will see what impact changes have at once.
The best news is that anyone can test more than one offer at a time. That's the fastest way to push past limitations to see which one performs best. With lead generation, it's essential to cut losses and get rid of poorly performing campaigns. After culling the non-performers, the profits from the winners go right back into acquiring more leads. It may take some time to get to this point, but a robust lead system like this is worth its weight in gold.