A northeast furniture store with many locations wanted to think "outside the box" of traditional advertising so that they could formulate solutions to the many "pain points" in which the COVID pandemic was changing the landscape of doing business.  They were doing the traditional Google Ads, Facebook and TV Advertising.  To further complicate the challenges, the pandemic created inventory/supply chain shortages. Regardless, the furniture company still wanted a proactive approach to reaching in-market shoppers who were most likely to purchase mattresses and furniture. 
By utilizing our counsel, strategies and platforms for 6 months, they started with a $3,000 per month budget and for the past 21 months, their budget has fluctuated between $20,000 to $40,000 per month. 
Primary Challenges The Furniture Store Faced
COVID changed the landscape in how furniture businesses operate
Although the pandemic has affected so many in so many ways, the "spirit" and "attitudes" of this furniture brand allowed them to "fight and win" versus others who have adopted a "wait and see and hope to survive" attitude. Simply put, do nothing, get nothing.  SO they double downed on their digital advertising and sought on new strategies their competitor were not testing.
Supply chain made it tough to get product in on a consistent basis
One of the tremendous advantages to utilizing robust, digital strategies is the ability to be nimble. Digital media buys, pivots, tweaks and optimizations or even "wholesale" changes across the board can be implemented with speed, unlike traditional media buying and placements which can lag. The ability to be nimble allows the dealership to respond quickly to the fluctuating inventory from mattresses to other types of furniture
We were able to furniture and mattress shoppers accordingly, presenting relevant advertising messaging that would resonate with the audiences that mattered most to the multi-location store…at that time. We utilized a "multi-pronged" approach finding furniture buyers or those who have a "high-propensity for being in the market," coupled with "creditworthiness" and we targeted them at their residences as well as other competitor furniture and mattress stores near their locations.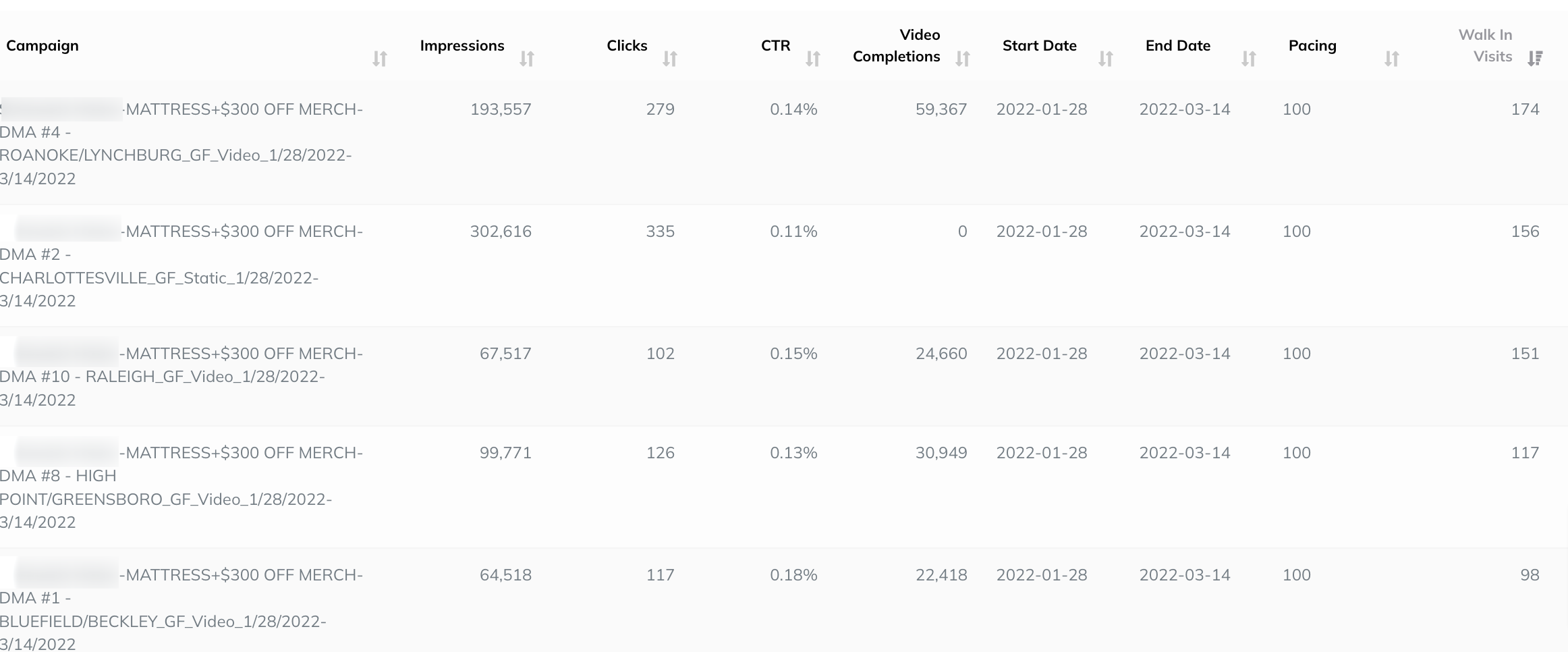 Using Addressable Residential Geofencing, this allowed the furniture brand to connect with shoppers during their "research" phase and via their online activities that indicate "intent to buy."  So, those who think that only targeting or geofencing their competitors is a good strategy are normally sorely mistaken as they are too late to the party and their media spend is wasted.
This furniture store was able to influence the mattress shopper during their research phase so that our furniture store was the one of choice, first. Again, we would use this strategy mixing new mattresses along with coupon redemption codes.
Additionally, the furniture brand's messaging would resonate with those who were in-market visiting another furniture store or researching mattress and furniture online.  So, the ability to identify different types of buyers and, in turn, serve advertising in the form of banners, display ads, pre-roll video and OTT/CTV Advertising was impactful. If you "entertain the brain, you turn shoppers into buyers." Simple!
What Propellant Media Was Tasked With
The client didn't simply want a straightforward geofencing campaign.  Instead, they wanted a holistic programmatic strategy that heavily focused on utilizing their video creative.
It's imperative to note that a single tactic or strategy is not what wins the day. Instead, we develop a more "holistic" or well-rounded approach strategically. So we came up with the following tactics are deployed in a single campaign
Over A 90 Days Period…The Furniture Store Drove Over 900 Walk-ins To Their Furniture Store

This "holistic" strategy allowed us to drive over 900 walk-ins to their furniture store over a 90-day period.  Storage managers were contacting the marketing team about people claiming the coupon codes and noticed the obvious increase in store sales during the advertising period.
The brand has expanded the marketing strategy to more store around the country and has allocated additional marketing dollars to this bucket of digital advertising.