The Challenge
A commercial roofing company in the midwest was looking to recruit more labor workers to their company.  They primarily deal with commercial roofing work and blue collar labor is hard to locate in their region given the vast number of other options available coupled with the unique skillset required.  They have utilized other platforms including Zip Recruiter, Indeed, and other channels they thought would give them exposure to existing truck drivers who may be interested in switching to their company.
After hearing about geofencing marketing, they didn't know if it could in fact be successful, but wanted it to remain part of their omnichannel marketing efforts.  We deployed geofencing marketing, site retargeting, Google Ads, and a new tactic with Facebook/Instagram advertising in which we took our geofencing audience and pushed that audience into the Facebook Instagram Platform.
Solution
The team at Propellant Media developed a comprehensive strategy of geofencing, site retargeting, google ads, pre roll video, and facebook/instagram advertising.
Geofencing Marketing – Our team built geo-fences around competitor roofing locations.  We believed that their core audience was already working at these locations, so serving ads to them would give us more exposure to thinking about switching companies.  We have over 130 locations we are actively geofence for this commercial roofing company.
Site Retargeting – In order to maximize our brand recall and those who visited the website, we developed a site retargeting campaign with a frequency of 6 ads served per day per person to keep them top of mind, not just to our campaigns but to other digital advertising efforts we were deploying including Google Ads and Facebook/Instagram advertising.
Pre Roll Video – Despite utilizing static display ads, we also deployed pre roll video with a nice testimonial video of one of the workers who's been with the company for over 1 year further solidifying social proof and and adding another layer of creative ads to the mix.
Google Ads – As part of our omnichannel marketing company, we went after in-market terms such as:

roofing jobs near me
commercial roofing jobs near me
sheet metal jobs near me
roofing careers nearby

Facebook/Instagram (New Tactic) – Our team developed a proprietary method that allows us to use our existing geofencing marketing platforms, build our geofencing audiences on those platforms, and push those audiences into Facebook and Instagram.  We're not talking about building 1-mile radii circles on Facebook.  We're talking about utilizing our current platforms and saving that audience in the Facebook Meta Ad Manager.
Results
This roofing company has been working with Propellant Media for over 2 month, but over the last 60 days, our team delivered 582,000 impressions, 6,523 clicks, but most importantly, and 20 google ads conversions.

In addition, of the 582,000 impressions delivered, 417,000 of the impressions were centered around our geofencing marketing campaign.

Below are some of the keywords we utilized to drive engagement, hence the 7.00% click through rates we garnered with our Google Ads campaign for this client.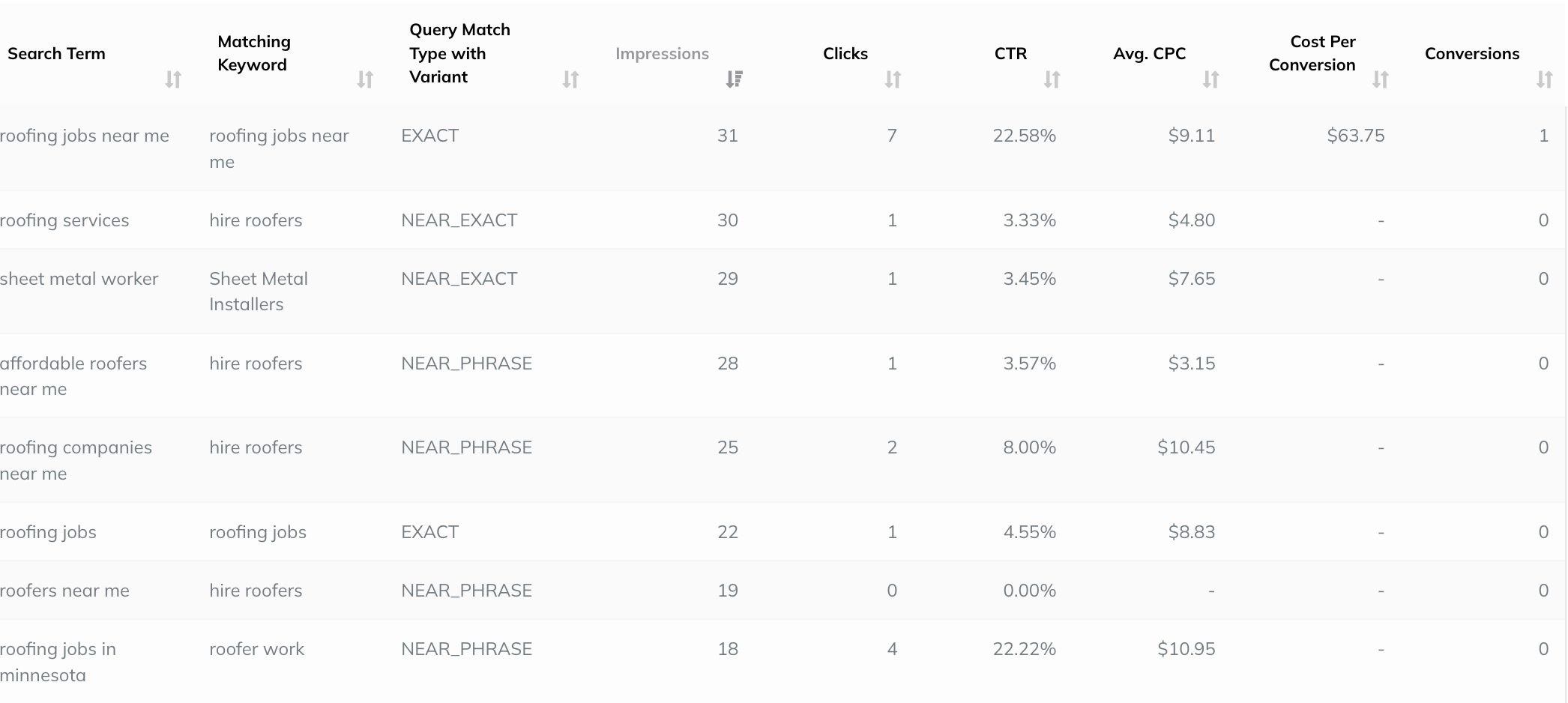 Lastly, we mentioned we utilized our geofencing campaign as an audience in which we still served ads to that audience across programmatic display ad exchanges.  But with our geofencing facebook/instagram proprietary method, we pushed that same audience to Facebook and Instagram, now serving ads to our commercial roofing worker audience on Facebook and Instagram.  We were surprised by the low cost per clicks of $0.20 compared to other platforms.
The bigger picture is to utilize an omnichannel marketing approach to reach the same audience in different ways.