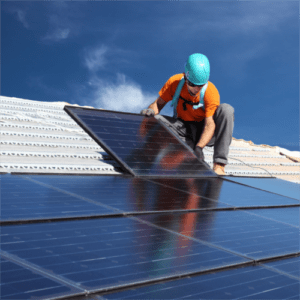 Solar Company Challenge
This company was trying to find a partner who could meet a CTR goal of .08% in the alternative energy vertical with minimal success. They needed a geofencing solution, but also reporting that would provide full transparency to overall reporting infrastructure.  They enlisted the help of our team to more precisely target their audience and drive down the CTR they had been seeing from other vendors.
Solution We Implemented
After better understanding the overall campaign challenges, we decided it was vital to implement a full funnel programmatic strategy that included geofencing marketing, site retargeting, and keyword contextual search retargeting.
KeyWord Contextual Search Retargeting: We started the campaign with an expanded keyword set due to our expertise with energy campaigns for both search retargeting and keyword contextual. We were then able to quickly optimize at the keyword level for the best performing keywords in the set. Following the keyword optimization, the team used day-parting and domain targeting to improve the performance. The final piece of the puzzle was optimization based on recency.  The recency window was made smaller and the efficiency was greatly improved.
Site Retargeting: Knowing the client was already doing google ads and facebook/Instagram advertising, we needed to implemented other forms of site retargeting to provide even more support to their overall advertising efforts.  So we carved out 5% of the budget to make their overall advertising work smarter.
Geofencing Marketing: Our tried and true geofencing campaign is a bedrock of what we do and why they reached out to us.  We geofenced new constructoin communities that were single family in nature knowing these families and home buyers were open to implementing solar panels in their homes after they were fully and close to constructed.
Result (Improved the Client's CTR)
Through multiple tactics and optimizations our team was able to achieve a CTR of .25% which more than tripled the company's goal of .08%.  Over the cost of $4,000/month, we were able to attribute 27 conversions, or $148 cost per conversion.
In addition, the client noted the uptick in leads flow from the site retargeting, which lowered their cost per lead across facebook and google ads campaign because of the full funnel advertising that was implemented.