Are you working for a fast-growing company that can't hire new people fast enough? That enviable fact means you're probably ready for a recruitment software system to help you with the heavy lifting. The incredibly exciting news for you is that there are many viable contenders in the market.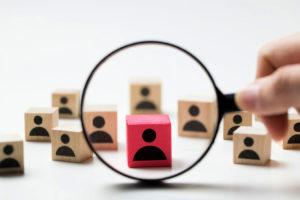 Recruitment software runs the gamut from precise and targeted applicant tracking systems through full suites of recruiting software that include career portals. There are few limits to how comprehensive solutions are, provided the budget is up to the task. Many companies and programs to choose from, so expect to do a lot of research before plunging in.
Let's take a look at 20 recruitment software companies that are worth your consideration. 
Lever
Lever provides an applicant tracking system (ATS), recruiting software, and a suite of recruitment marketing tools for businesses.
Lever gives companies a way to more quickly interview, hire, and then measure results. The system allows businesses to streamline the process, significantly reducing the time employees spend in the pipeline.
The software company allows interested businesses to take a demo to see if their solution is right.
More information: Lever
Ideal
Ideal takes an AI-driven approach to their recruitment software. They use their bots to screen candidates and automatically create a shortlist. The AI uses conversations, assessments, and resumes to determine the best candidates overall.
What many business users like about Ideal is that the software will work within your current ATS, so there's no need to change your core processes.
More information: Ideal
Bullhorn 
Bullhorn serves as both a CRM and ATS. Their platform and software were built from the ground up to help the precise needs of staffing and recruiting agencies. 
Using Bullhorn allows companies to improve sales, make better decisions, and increase recruiter productivity. Team leaders can manage the entire applicant and recruitment management process from one, easy to use interface.
That empowers the business to automate all of the candidate's onboarding, which saves money and time.
More information: Bullhorn
Greenhouse
Greenhouse provides a talent acquisition suite that provides structured hiring. Software use continues to grow fast as companies respond positively to their unique approach to solving the problem of hiring the best talent. 
The company offers products and a platform for hiring, including learning resources to help their customers become more proficient at acquiring talent. 
Interested parties can take their demo to learn more.
More information: Greenhouse
SAP SuccessFactors
SAP SuccessFactors is very popular with large enterprises. It's technically a full-blown human capital management system, but most use it for their ATS functionality.
Their suite takes a four-pronged approach to attract and retain staff that includes support, rewards, motivation, and training.
More Information: SAP SuccessFactors
Breezy HR
BreezyHR is an ATS that empowers companies to create a robust but simple to manage hiring experience.  
The company provides a comprehensive suite of recruitment tools, including reporting and analytics, a career portal, and source reporting.
Perhaps the most noteworthy feature is the app's ability to send SMS messages or emails to candidates. It also easily handles interview management and real-time scheduling. The customization options help improve the candidate experience and the quality of conversations with recruits.
Anyone looking to acquire more talent efficiently would benefit from BreezyHR.
More information: Breezy HR
JazzHR
JazzHR is attractive for startups and small businesses because it provides a "lowish" subscription cost. 
The company also runs the Crowd, which a big data, crowdsourcing, and predictive analytics initiative. The platform reduces the complicated task of talent acquisition, making the job of the HR department more efficient and rewarding.
Hiring managers who need employer branding, compliance and reporting, interviews and assessments, collaborative hiring, and candidate sourcing should consider this option.
More information: JazzHR
Ascendify
The San Franciso-based company use machine learning and predictive analytics to help recruiters develop talent. 
Their Aspire program is a career tool that makes it easy for hiring managers to chart paths that mirror their business requirements. 
After that, it will guide the user every step of the way, using the mission as guidance.
Ascendify has been operating since 2012. 
More information: Ascendify
Workable
Workable provides a fully-functional ATS that has a built-in candidate sourcing mechanism. Their tool automatically scans online profiles and uses multiple sources to find and match the ones that best fit any job.
Workable's solution uses an AI-powered search and one-click job postings. That makes finding the best candidate for the job straightforward.
More information: Workable
Namely
Over a thousand hiring professionals use this company for its platform of recruitment tools. The company's software solution handles every aspect of HR, including defining paid leave policies and accurately measuring pay equity. 
Their HRIS technology is ideal for mid-sized companies who will use it every day. 
More information: Namely
Taleo
Taleo leads the ATS industry, with almost 25% of the market share.  The company has been a division since Oracle took over in 2012. Businesses that are looking to boost efficiency and speed up their hiring times will find Taleo is easy to use. 
Hiring managers will make data-driven decisions that streamline and improve hiring. Taleo keeps track of sourcing channels, all assessments, and keeps candidate communications in one place.
More information: Taleo
Workday
Workday is popular with larger enterprises. It's a fast-growing ATS that solves the most common hiring problems faced by growing enterprises.
Workday, Inc.is traded on Nasdaq after being founded by the former CEO of PeopleSoft. 
The suite provides a preferred way for managers to plan, execute, and analyze the crucial employee data across their entire enterprise. With the proper tools, HR professionals make their hiring decisions much faster. 
Workday lets managers see precisely how plans are performing with one glance. That way, you can close and consolidate with total confidence. Managers also will be able to standardize the workflows without IT interference.
More information: Workday
Smashfly
Smashfly is a robust CRM that provides companies with a way to maintain a consistent brand for their hiring. Their team understands content marketing, so businesses that need that emphasis will want to consider this app.
Smashfly's talent marketing platform combines a career site, a recruitment CRM, a recruiting event manager, analytics, and referrals. That coherence provides a seamless experience for the team and the talent.
More information: SmashFly
Yello
Yello has an extensive feature set for recruiters, including video interviews, employee referrals, schedule automation, and tight integration with popular ATS and HRIS programs.
Yello has solutions for campus recruiting and interview schedules that are reasonable options for hiring managers.
More information: Yello
Avature
Avature develops a technology platform that empowers its customers to design and deploy custom HR programs. 
The experienced tech company has over a decade of experience helping forward-thinking IT professionals and HR managers move to the forefront of the technological revolution.
More information: Avature
Talemetry
Talemetry provides a high-performance marketing platform for talent acquisition. The company has several large customers who demand the highest levels of results.
The company combines the AI-powered enterprise recruitment marketing platform with it's cutting edge recruitment tools. The solution allows the company's recruiting organization customers to achieve success.
More information: Talemetry
Beamery
The Beamery uses a data-driven approach to find the best talent for its customers.
Their recruitment marketing software is perfect for fast-growing companies that need to locate the best talent before their competitors. 
The Beamery platform helps its customers attract, engage, and retain world-class talent while managing the entire journey and delivering best in class experiences for candidates.
More information: Beamery
Jibe
Jibe provides the Recruiting Cloud, which offers a full suite of features for hiring managers. The software includes enhanced SEO capabilities, source-to-hire analytics, a fully integrated CRM, and automated recruiting tools. 
The company works with LinkedIn and Google to optimize results. Their solution uses machine learning to improve overall candidate conversion rates.
More information: Jibe
BambooHR
BambooHR provides companies with an easy-to-use self-service portal for their employees. It's an HCM aimed at the SMB market, and also includes performance management, an ATS, and payroll. 
The comprehensive software suite organizes the crucial information of the employee life cycle. 
The solution works to organize the process of onboarding, hiring, compensation, and culture building. 
The best for managers is that they'll also receive profound insights into the company's people.
More information: BambooHR
Zenefits
Streamline onboarding, benefits, payroll, PTO, and more with our simple, intuitive platform.
Zenefits makes it easy to provide fantastic benefits to critical people, such as giving them comprehensive healthcare plans and extra perks like benefits for commuters.
The features help manager and recruiters attract top talent. When custom benefits may be the deal-breaker, Zenefits saves the day. 
More information: Zenefits
Tips for Choosing the Best Recruitment Software
There are over 1,400 different companies that provide software to one of the many segments that make up HRIS. Fighting to the top of the industry is an accomplishment for any company. 
Some companies provide a robust general-purpose application suite with all of the features needed to succeed. Others are more targeted and are only useful for professionals in a specific industry.
How much does it cost?
The costs for recruitment software varies wildly, depending on the functionality and support options. Some will even have "hidden pricing" for additonal needed features. It's worth looking into the fine print and discussing your situation with representatives before inking the deal.
It's tempting to sign up online, and it's worth doing so for a test drive or free trial. However, make sure you know what you're paying for because a recruitment system is too essential to make a mistake when choosing a subscription. 
How much Training is Needed?
If the program has a steep learning curve, training may be unavoidable. It's a good idea to know upfront the precise protocol for installation, training, and preparation and how much costs these extras add.

Onboarding is almost always a great idea, but you need to know the costs and what responsibilities your team has as part of the program. Some programs are much harder than others to implement, primarily because of how powerful and complicated their features are for recruiters.
Understand the Features
The features are the "make it or break it" component of any software program. Recruitment software must have robust capabilities that solve real-world problems, or it won't stand up to the challenges of the job. 
Taking a demo is usually the easiest and fastest way to discover whether the program's features are right for you. If you don't like using the application or understand how it works, it's probably not a fit. Since recruitment software is something you'll use every workday, it's crucial to enjoy it and understand it.
Take the test drive and evaluate the solution with a few of the team members who will use the program most. There's no reason to move forward unless everyone understands and appreciates the choice of software. Otherwise, your use of the app may be shortlived. 
Support Always Matters
Sometimes unfortunate events happen, and you need help for a program. Study the reviews of the recruitment programs on your shortlist and see what people think of their customer support experience. Unhappy people are ready to tell their story so that it could be worth a read. 
A few complaints here and there don't matter, but still, why not choose a company that supports its users and has a majority of positive feedback? That will save you time and heartache later if there's an unforeseen problem that needs quick and painless resolution.
Did you know that Geofencing is a valuable tool for recruitment? 
Marketers already use mobile geofencing as an indispensable tool for making more sales. Savvy recruiters are also looking into the technology to see how it can benefit their talent acquisition efforts.
If you want to set up a virtual boundary for mobile devices to display a targeted ad to your perfect candidates, Propellant Media would love to help. Setting up a geofence could be the ideal solution for recruiters who know where their top candidates are and want to target them seamlessly through messaging. It is a direct and seamless solution for recruiters who wish to recruit more efficiently.