With over 1.6 million restaurants in the United States, consumers have more choices than ever before when they decide to enjoy a meal or drinks out. As a restauranteur, you are in a very competitive market. Taking steps to make sure your establishment stands out from the crowd is critical for your success.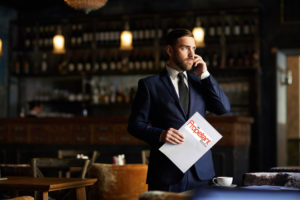 Using Restaurant Marketing And Promotion Ideas at your restaurant or bar is the best way to pack your seats, boost walk-in traffic, and improve your overall sales. 
In today's digital age, owners and operators have more intelligent ways to reach their target their ideal customers. If you need fresh ideas or technologies to increase sales at your foodservice business, here are a few suggestions to consider.
Loyalty Programs
If you have already built a customer relationship, loyalty programs work as an effective marketing program to encourage repeat visits and to increase sales volume. In today's day and age, the use of punch cards has fallen to the wayside in favor of digitally-based loyalty programs. 
Digitally-based loyalty programs offer seamless integrations and easy tracking, so restaurant owners and managers can track results from a single dashboard. 
Loyalty programs not only reward your devoted customers for choosing you, but they also help you get a better grasp on the lifetime value of each customer. Since transactions get tracked within the loyalty program, restaurateurs can gain valuable insights into their customer user base. Using these insights, restaurant owners can customize their offerings as an invitation back at a later time and date. 
Royalty programs are an ideal way to gift your customers on their birthdays, anniversaries, or other significant life events. To qualify for gifts on special days, the recipient must enter their information in the app.  
The benefits of loyalty programs are many. The simple act of giving away a free dessert on someone's birthday can bring back sizeable returns. No one celebrates their birthday alone, so you can easily make a return when family and friends buy food and drink to join in on the celebration. 
Host Events
There is no doubt that people love to attend parties and support causes. Hosting events is one way to maximize your space. No matter how large or small your community is, there is sure to be someone who needs space for a special occasion. 
If you are interested in assisting local causes, hosting a charitable event helps rally the community behind your brand. Additionally, it draws in crowds of people who are the key demographics of the offering.
For instance, let's say the local marching band is raising funds to pay for travel costs to play at a holiday parade. 
To support the efforts, you agree to donate a portion of the proceeds from sales made at a predetermined date and time. Students, teachers, and parents spread the word about the promotion. Groups of family, friends, and supporters show up to participate in the promotion.  
Proceeds from the sales made during this timeframe get donated to the group or organization it supports. 
This type of marketing promotion is ideal for building mutually beneficial relationships with community members, as well as creating goodwill for your restaurant brand. Goodwill with customers helps to build repeat business, which is the best kind of business to have.
Other ways to attract larger groups to your restaurant could include hosting in-house events such as a pre-game, game, or after game parties or specials. 
Additionally, you might offer a gathering space for special occasions such as birthday parties, baby showers, bridal showers, anniversary celebrations, engagement parties, or for small group get-togethers. 
By offering a low-cost or free venue for people to gather, you are doing a service for your guests. In turn, they reciprocate by buying food and drinks, which helps boost your sales and revenues. Even better, if your guests find your establishment to be one they like, you increase your chances of getting return visits to your store. 
Social Media
Today, consumers have access to more information than ever before when it comes time to make a buying decision. You want to make sure that you have a presence on all of the platforms where potential customers spend time. 
Owners and managers can use Social Media in a variety of ways to build excitement around their establishment. Images and video are worth a million words, and social media platforms offer owners and managers a place to spotlight their company with a vast audience. 
By regularly updating your profile with information, pictures, and videos, you connect with your target market – ideally to attract them to come in and visit with friends and family. 
In addition to making regular updates and posts to your social media platforms, advertising on social media helps you to reach a broader audience. 
If you are hosting an in-store event, such as a game party, be sure to add this to your page. Facebook maintains an active Event Listing section that alerts people to upcoming events that could be of interest to members of the site. People who see the listing have the option of indicating whether or not they are planning on attending. If it is an event that requires a ticket to get in, you can add a link for people to buy their ticket online. 
Digital Menu Boards
If you are looking for a more dynamic menu board, digital signage offers a modern solution for your requirements. 
Digital signboards are advantageous for several reasons. The first reason is that menu items and food offerings get displayed on captivating screens that are eye-catching and visually appealing. 
Another significant advantage of digital menu boards is that it offers the management team the ability to adjust pricing and menu offerings on the fly. As you can imagine, this makes life easier for everyone. If you run out of the daily special or want to add a featured dish to the menu at a moments notice, digital menu boards offer the flexibility you need to stay nimble. 
Digital menu boards can easily get switched between shifts to account for differences in breakfast, lunch, early-bird, late-night, and dinner menu offerings. By keeping a well-focused and managed menu, you can keep tighter controls on your food and beverage inventories. If you have an excess of something, you can create a quick promotional menu offering to drive sales of the item quickly.
In addition to providing an interactive menu board, digital signage can also get used for delivering customized content to your patrons while they are at your establishment. Offer commercial-free programming or use the air time to run your in-store promotions with no interference from outside advertisers.
These personalized options allow you to take control of the user experience by limiting the commercial messages that get displayed to your customers. Instead of alerting your patrons about special offers taking place at other restaurants, you can use this space to promote upcoming special events such as tailgate parties, late-night deals, early-bird specials, or other specials and promotions within your store.
Local Sponsorships
One way to build support from the people in your community is by supporting the community you serve. Consider joining the local Chamber of Commerce, the Better Business Bureau, or other business groups to establish a stronger foundation in the city you serve. 
Other ideas to help you build brand awareness and trust is by sponsoring local causes either with time, materials, food, or monetary donations. Some sponsorship ideas include financially supporting little league teams, paying for ad space in the local high school yearbook, working with causes such as Habitat For Humanity or your local food bank. 
By being involved in the community in personal ways, people will be inclined to support you and your business endeavors, as well. Instead of going to the run of the mill franchise restaurant, people will go out of their way to patronize your business. 
Deals And Special Promotions
Everyone loves a bargain! Deals and special promotions are a great way to attract more people to your restaurant on a more regular basis. 
Early bird specials are a terrific way to cater to people who enjoy eating dinner early or prefer a meal that's lighter than a traditional dinner menu offering. Further, this promotion helps to fill empty tables in the slow period of the day between the lunch and dinner rush. 
Generally, early-bird specials are less expensive and have smaller portion sizes than dinner entrees. For people with lighter appetites and a sense of frugality, these promotions are perfect for meeting both objectives of satisfying their hunger and saving money at the same time.
Late-night and Happy Hour deals work well to boost sales after the before the dinner rush starts and after it ends. Late-night and Happy Hour deals appeal to those who have a taste for something but don't necessarily want to eat an entire sitdown meal. 
Another benefit of offering late-night promotions is that it's a perfect chance to attract younger patrons. Did you know that more than half of consumers under age 35 make several visits to late-night restaurants several times monthly? As you can imagine, this demographic can serve as a reliable and loyal customer base in which to build more revenues during off-peak hours. 
By implementing early-bird, happy hour, and late-night programs, you are taking steps to increase sales and traffic at your restaurant. Further, if you customize the program to meet the needs of your ideal customer, you assure that you always have guests and patrons. 
Word Of Mouth
Word of mouth is one of the most powerful marketing tools any restaurant owner can have on their side. To make sure that your establishment always gets the best word of mouth advertising possible, always be sure to offer excellent service all around. Great reviews, especially when posted online, help convince others who are thinking about eating at your place to give it a try. 
Geofencing
Imagine having the ability to create an invisible boundary in a specific geographical area. Once set, geofencing allows restauranteurs the ability to send targeted marketing messages to anyone who is in the area and is carrying a Smartphone. 
This technology relies on GPS pings and cellular towers to recognize active mobile devices within the invisible boundaries the advertiser sets. Owners and operators who use this technology to send specific offers based on their GPS location to attract new or returning customers to their establishment. 
Geofencing offers great flexibility. Owners and operators who use it can target any area that makes sense to their business model. Further, they can customize their offers to optimize walk-in traffic and boost sales. 
For example, let's say you own a restaurant or bar that is close to an event venue featuring a famous artist. Using geofencing, you can alert people who are within the perimeter of the site about specials or promotions at your restaurant. While you need to decide the perfect offer for your business, you might offer a 15% discount or a 1/2 price appetizer to anyone who shows their ticket stub to their server. 
When running a promotion in this way, you can get a better understanding of the effectiveness of the campaign. Since it isn't available to everyone, it also has a bit of exclusivity, making it more appealing for hungry diners after the show!
In addition to working well for traditional 'bricks and mortar' restaurants, geofencing is helpful for non-traditional foodservice businesses, such as food trucks. In the food truck business, your location changes day by day or week by week. That's the nature of the business model. Food truck operators can use geofencing to attract people who are within range of their truck. As you can imagine, with other food vendors working in the same area, this gives you an advantage over other food operators. Food truck owners who aren't using any technology to connect with prospective customers are basing their sales on little more than luck and proximity.
If you would like to learn more about geofencing technology and how it can help your foodservice business grow, be sure to download our Geofencing 101: Your Guide to Geofencing Marketing today!