If you're a restaurant owner stressing over your business's marketing plans, read this article!
There are some fundamental questions that need to be answered when constructing a successful advertising campaign for your business. Would you like to see your brand grow? Would you like to increase walk-in traffic, carryout sales, or attract new customers? If you answered yes to any of the above, you should consider implementing restaurant and food marketing ideas.
Restaurants provide a place where guests can eat, drink, socialize, and relax. Some restaurants offer various options, including catering, delivery, takeout, and dine-in.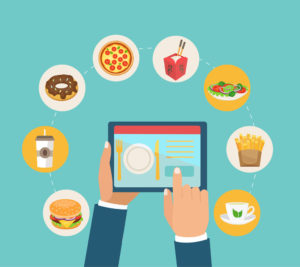 With the utilization of the internet and online platforms such as Uber Eats, DoorDash, GrubHub, and more, restaurants have increased over the years. In 2021, the US alone had over 1 million restaurants bringing $564.8 billion into the economy. While this may seem like there is a new opportunity for growth in the restaurant industry, it can mean the opposite. Restaurants need to create brand awareness and build customer loyalty to achieve this. With so many dining options available, restauranteurs are against plenty of competition to acquire new customers.  This means that owners, young and old, must prioritize marketing to their customer base. But how?
Some restaurant marketing ideas include advertising, promotions, events, and other strategies. Furthermore, restaurants can attract new customers through advertising and word-of-mouth recommendations.  From Propellant Media's team of experts, here are 17 Restaurant and Food Marketing Ideas to Grow Your Brand: 
Build a Strong Restaurant Marketing Foundation With Geofencing
These are seventeen excellent ways to ensure your restaurant keeps attracting new diners. However, there's one method above all these that we must mention: geofencing marketing. Geofencing allows you to target specific areas within a city, state, or country using addresses, zip codes, and IP addresses. You can use this technique to attract potential customers on foot, driving, or via public transportation.
Geofencing helps you lower costs by only targeting specific groups interested in you to each similar cuisines as yours.

You lower your overall spending by focusing only on a smaller subset, of geographically nearby searchers.

You're able to spread your brand message consistently to optimal audience size.
You might say that geofencing is ideal for restaurant operators. Using the strategy will eliminate the massive waste that other paid ads incur. In addition, when a restaurant targets a specific group of people, they can advertise consistently enough that their budget goes a long way. 
Using geofencing also works for loyalty campaigns and new customer acquisitions. Creating a virtual fence around your ideal prospects maximizes your message and amplifies results. If you're interested in talking to one of our Geofencing strategists and starting your campaign today, reach out to us here.
Always On Google, Facebook & Yelp Advertising Budget
Just go ahead and earmarked it.  We don't care whether it's $500/month or $5,000/month.  Overtime, the money you put toward these top channels will constantly feed new customers in-market for new restaurants and places to go to.
We run into restaurants who rarely make such an investment, but in MOST cases people are unaware of your restaurant AND the decision for them to go to your restaurant is not a difficult decision because many people simply need to be told about new places to eat.
By having an evergreen Google Ads, Facebook and Yelp advertising campaign on, you will generate buzz, interested customers, a higher abundance of reviews, and social shares across these channels.
Create a Brand Identity That Differentiates From Other Restaurants
To begin, let's define what a brand identity is and its benefits. A brand identity is a set of core values that guide everything you do as a business owner. When you clearly understand what your company stands for, you can easily communicate this message to customers and employees.
Brands that understand their mission have a significant advantage in the local search rankings. They have a higher conversion rate than non-branded searches, lowering the overall cost per click. That reduces the cost per acquisition for marketing campaigns, ensuring a positive ROI. That's why it's essential to build a brand image as the first step in any successful digital campaign.
Use Social Media To Find Appropriate Food Lover Markets
Social media marketing is a primary method to build relationships with current and potential clients! Using platforms like Facebook, Instagram, Twitter, and LinkedIn, you can share relevant updates and keep your audience engaged. For example, Marietta Market Square, a food hall located 15 minutes away from Metro Atlanta, seems to have a strong social media presence. However, with 18.9K followers on Instagram, Marietta Market Square has 78 likes per post on average. As a result, their engagement rate is 0.41% with their "loyal customers". This is a very low engagement rate for an account with that many followers. Propellant Media's suggestion: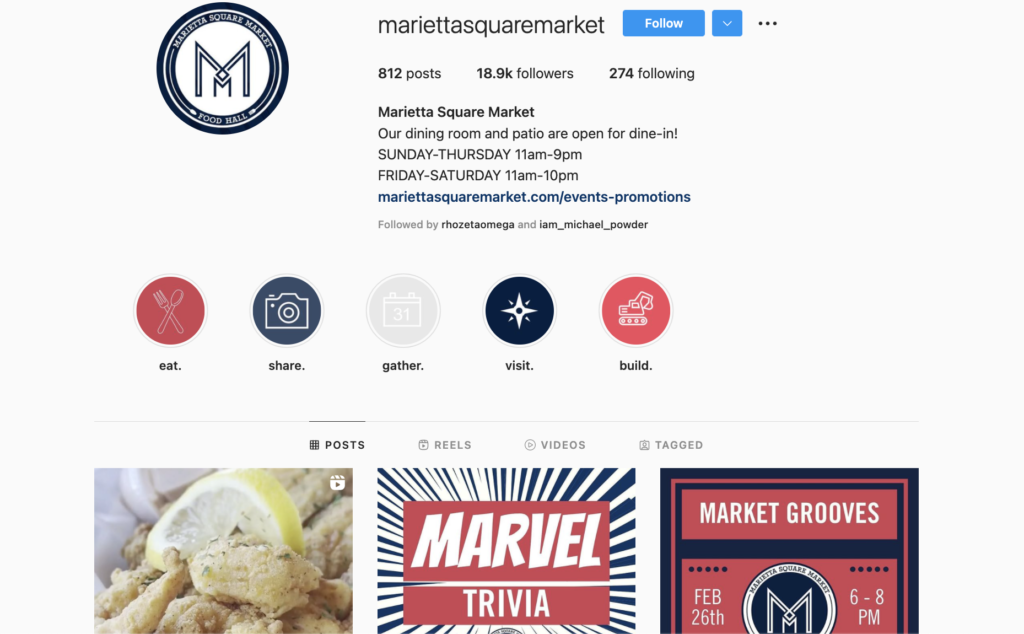 All in all, it's much easier to gain loyalty to help customers relate to your business using cross-channel social media platforms. All restaurants need a loyal audience to survive, which means consistent storytelling using an omnichannel strategy is imperative.
Optimize Your Digital Presence
It's not enough to have a brochure-style website these days. Restaurants need to create immersive, interactive experiences that engage with their clients. 
The sites must be mobile-friendly and provide valuable services, including complete ordering systems if possible. People deal with local businesses that are friction-free and accessible. With many of your potential diners searching from their phones looking for new places to eat, it pays to present them with a comprehensive digital presence that leads to conversions.
Provide High-Quality Content To Capture Your Audience
Content marketing is one of the best ways to drive traffic to your website. You can use blogs, videos, infographics, and ebooks to generate leads and promote brand awareness.  In addition to the high-quality content, you can pick your top 5 – 8 food items, and highlight them in blog posts and advertising to really highlight the features that make your restaurant so great.
Educating people about your brand and letting them learn more about your unique story bridges the gap between your company and paying customers. Let prospects get a look behind the scenes, so they are more comfortable dining at your establishment. That's an excellent way to build a rapport with and enthusiasm from your diners.
Leverage Your Customer Service To Generate More Restaurant Reviews
Providing exceptional customer service helps with establishing a solid brand image. If you're planning on standing out from competitors, offer unique services or products that go beyond the norm. Something as simple as a smile and a willful "Hello, how can I help you?" from your staff will change the game for your incoming customers.  These include the following popular platforms which are a must:
Google
Facebook.
OpenTable.
TripAdvisor.
Zagat.
Zomato
Why do you think Chick-Fil-A is a top-rated fast food restaurant? It's not just because of the tasty chicken sandwich and waffle fries. The company is rated highly because of its' unique ability to provide high-quality customer service all over the U.S. Furthermore, if a customer has dissatisfaction with a product or service from Chick-Fil-A they are willing to rectify the situation immediately with coupons, new items, or refunds. Without question.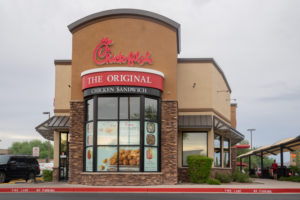 To sum it up, Customer service is no longer optional for any restaurant that wants to gain local market share. Doing it right is a secret weapon that wins over prospects, earns top-notch reviews, and helps build a digital presence.
Developing A Captivating, Easy-Access Mobile Friendly Website 
It's not enough to have a brochure-style website these days. Restaurants need to create immersive, interactive experiences that engage with their clients. 
Providing a positive user experience on a website may appear to be a straightforward task for all business owners, but it can be more difficult than anticipated. You can easily overwhelm the clients by including too much or too little information on your website. Some customers expect companies to be available 24/7. Having a website with readily accessible contact information (phone numbers, emails, etc.) helps people to reach out to you anytime they need to. 
Additionally, the sites must be mobile-friendly and provide valuable services, including complete ordering systems if possible. People deal with local businesses that are friction-free and accessible. With many of your potential diners searching from their phones looking for new places to eat, it pays to present them with a comprehensive digital presence that leads to conversions.
An optimized website will help any eatery attract new customers. It's essential to have a mobile-friendly website to draw local mobile searchers. A website and an optimized Google My Business profile ensure that people will find your business when they're looking for new places to try.
Run Promotional Contests and Special Offers To Loyal Customers
Offering discounts on specific items or providing freebies to loyal customers is a great way to encourage repeat visits. However, it's essential to make sure these offers aren't too good to be true. So please make sure you only offer deals that are worth it for your business and the customer. A special offer is an excellent way to get a first-time customer. Someone who's on the fence about trying a new option may feel encouragement from a discount or an extra. An experienced restaurant marketing company can help you structure an offer that brings in the right crowd. With geofencing, your restaurant can buy ads in the ideal locations to ensure you get the most bang for the buck.
Running a contest is another entertaining and profitable approach to attract new consumers and keep existing ones. A contest is a great method to engage your community in your business. People love to win. Some people build their whole lives around beating the competition. Contests are a quick way to build omnichannel engagement and introduce new menu items to potential customers. Once they are, you can advertise specials designed to bring them in. As a result, people will enjoy winning rewards and being recognized, making a game a great concept for any organization.
Host Themed Events To Create Some Buzz
Hosting an event at your restaurant is another effective method of promoting your brand. Whether it's a grand opening, employee appreciation day, or holiday party, hosting an event can bring in new customers while creating positive buzz among existing ones.
The best part about hosting events is introducing various people to your brand at once. That saves time and energy and is an excellent way to get new people to try your food. Once they find out how fantastic the service and cuisine are, they'll be back again. You can use paid ads, geofencing, email marketing, and social media campaigns to maximize results. 
Consider Influencer Marketing For Your Business Needs
Another impactful strategy for business owners to consider is Influencer Marketing. According to Sprout Social,
"At a fundamental level, influencer marketing is a type of social media marketing that uses endorsements and product mentions from influencers–individuals who have a dedicated social following and are viewed as experts within their niche."
For a restauranteur looking into this strategy, we suggest employing food-centered bloggers, TikTokers, and YouTubers to post positive reviews related to their experience at your business.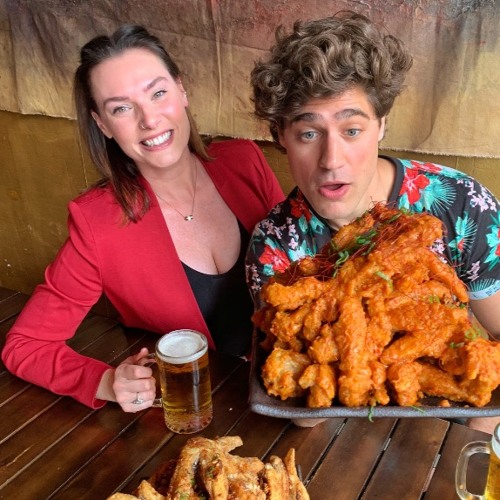 For instance, Devour Media (@devourpower), is an NYC-based food-driven content studio with 1.5 million followers on TikTok and Instagram. Co-founders and partners in crime Rebbecca West and Greg Remmey have an average of 23.5k likes per post and a 1.53% engagement rate on their Instagram analytics. That's almost 23,000 people interacting with their content on a singular platform on a day-to-day basis. If they are posting once every few days on their story or through a permanent post, this can give your business genuine traffic to your business.
However, make sure you keep in mind the price you will be charged by the influencer depending on what you ask for. You can get a better sense of Influencer Marketing and pricing here.
Design a Loyalty Rewards Program For Returning Customers 
A loyalty program helps you reward your most frequent customers. These rewards you offer don't always have to be monetary; they could be exclusive offers or invitations to special events.
Loyalty programs have long been a well-loved staple of restaurant marketing. However, the process is straightforward and practical with automation and mobile apps. 
Use Technology To Simplify Your Message
Technology is becoming increasingly vital in today's society, and restaurants are no different. Using apps and websites to enhance your dining experience is getting more popular as consumers seek ease.
A major issue is that many older restaurants do not embrace the full spectrum of new offers. Online marketing automation is a must-have for every company looking to acquire new clients and increase front-line income.
It's critical to recognize that the internet is awash in commercial messages, and individuals are struggling to cut through the clutter just to get through the day. That's why clarifying and articulating your brand will help you simplify your unique selling offer.
Invest in Digital Assets
In the same way that all modern restaurants have to invest in physical assets, supplies, and materials, they also must begin doing the same for digital assets. Creatives and campaigns are worth their weight in gold because they're the elements that build large and loyal customer bases.
Your website and related social profiles are all valuable assets that help your business thrive in a crowded field of competitors. You will want to plan on increasing your digital marketing investment in the next twelve months so you can maximize your revenues and outgrow your local competitors. The companies willing to do that will lead their field in coming years as more payments move online.
All

Feedback Is Good Feedback
Getting customer feedback is crucial to improving your business. By asking questions such as "What would make this product better?" or "How else can we serve our customers?", you will learn what your customers want and need.
It may be difficult for some people to receive criticisms, but negative feedback is crucial. That's the only way a restaurant can improve and become superior to the local competition. Ratings and reviews online are always a test of customer service and are direct forms of feedback seen by many others. Using a reputation management service to respond to reviews impartially is a practical way to improve a restaurant's digital reputation.
Prioritize Your Online Marketing Budget
It's time to concentrate more of your marketing budget on your digital presence. Improving your website, using paid advertising, and improving your SEO are all viable ways to grow your customer base affordably.
Email marketing and automated customer loyalty programs leverage mobile phones to create special offers when people are most likely to accept them. Using a sophisticated strategy that includes geofencing will ensure your business always maximizes ROAS.
Use an Experienced Restaurant Marketing Company
 The fastest way to increase your digital marketing efforts is by leveraging the experience of a restaurant marketing company. However, building an online following and perfect lead generation website is no easy task. Since you have to focus on running a successful restaurant, it's understandable you don't have the time to successfully handle all of the many digital needs of a modern business.
Laying that responsibility off to a company that works with digital tech exclusively is an intelligent choice. It may cost you extra money now, but it's a rational decision that leads to ever-expanding growth in the long run. Your business will dwindle as diners flock to more visible competitors without a marketing budget.
Propellant Media is the industry geofencing leader and helps clients get the most out of their digital marketing using the technology. 
If you're ready to expand your restaurant marketing to the next level, contact us to speak with a representative today!