There are many ways to run a political campaign in the 21st century. When news outlets talk about the changes to campaigning, their reports tend to focus on social media and new technologies. What they overlook is that political yard signs are still effective.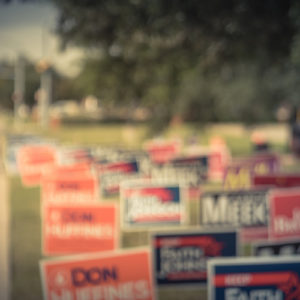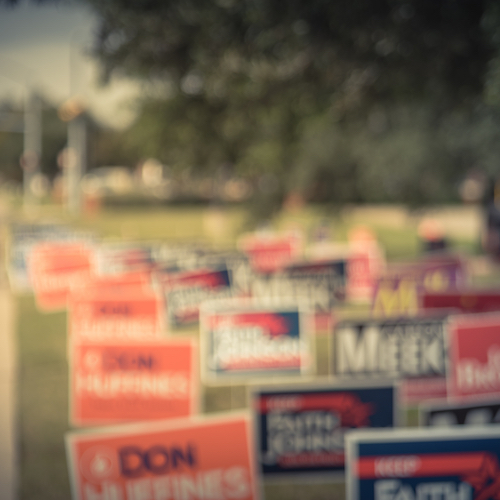 There is something psychologically undeniable about seeing a sign in real life. You cannot scroll by it like you can the messages in your Instagram or Facebook feed. You have to reckon with it.
This keeps the political sign game strong, and we do not see it fading. If you are running a political campaign, it is a good idea to get signs and get them early, so you can reach your target audience as quickly as possible.
Where can you go to find good political yard signs? We are glad you asked.
We have assembled this guide to show you the answer. Keep reading to find your future partner in yard signage.
16 Companies That Political Yard Signs for Campaigns
There are many ways of evaluating companies that make political yard signs. Are they cheap? Are they fast?
Are their signs sturdy? Do they have bonus help with customer service or design work? How long have they been in business?
All of these factors are as important as your social media, and we considered them all when making this list. Take a look to find the yard sign maker that fits your preferences.
Signs on the Cheap
At Signs on the Cheap, you can get 100 signs for $99. Obviously, you will need more than 100 signs to win your race, but this deal is a great way to kickstart your campaign into gear.
Signs.com
It is hard to argue with that name. Signs.com does not just have a simple, premium domain name. The company also has a lot of customers to back up its reputation.
Signs.com boasts five-star ratings from nearly 70,000 customers in its history, which is a staggering number. These five-star ratings are easy to understand when you realize the company provides free design services, next day shipping, and an attentive customer service team.
PoliticalLawnSigns.com
Here is another company that has staked its internet claim as definitively as you hope to stake your campaign claim with their signs.
PLS works with customers on all of the decisions that go into making a good political yard sign. This includes choosing the proper materials, sizes, quantities, and designs. With more than 65 years of experience in sign-making, PLS can help candidates keep their political signs appropriate and on-message.
Speedy Signs USA
True to the company's name, speed is its game. Speedy Signs USA is committed to ensuring a fast turnaround time after customers place their orders.
To help customers place their orders, Speedy Signs has a sign designer on the homepage of its website. Other companies make you dig a bit to find their sign creators, but Speedy Signs is so confident in theirs that they lead with it.
BuildASign.com
You do not have to have "speedy" in your name to produce political signs quickly. That is exactly what BuildASign.com does.
How does BuildASign.com make good on its promise of speed? The company starts by offering a design system you can complete online in minutes. Then, it offers fast shipping, so you do not have to wait endlessly to begin your real-life campaigning in earnest.
Super Cheap Signs
Super Cheap Signs has a popup that appears the minute you land on its campaign signs site. Most popups make us run for the hills, but not this one. The popup you see on Super Cheap Signs' site is actually a coupon for $5 off your order.
Super Cheap Signs specializes in signs for political campaigns. Other sign companies may offer campaign yard signs as one branch of their business, but Super Cheap Signs is committed to the political work the company does.
For this reason, Super Cheap Signs makes more than just yard signs. The company also designs bumper stickers, magnets, and posters. All of these things are designed with Super Cheap Signs' eye toward layouts that are clear and help candidates win elections.
Staples
Are you surprised to see a big office supply store on this list? You shouldn't be.
Staples has been in the custom political sign making business for a while. It is because of this long history that the big box office store can offer hundreds of design templates. When you choose Staples for your political yard signs, you can take your time picking the template that is a perfect match for your personality and brand as a candidate.
Metal stakes also come standard when you order from Staples, which is one less thing you have to worry about.
It may go without saying, but one of the biggest benefits of ordering from Staples is the support you get from ordering with an established company. You know where to find Staples, so it is hard for them to just disappear on you if anything goes wrong with your order.
Staples only offers delivery for their political yard signs, but we consider this a win anyway. Who wants to spend valuable campaign time picking up signs?
Signazon.com
You might think from the name that Signazon.com is trying to compete with the Amazons of the world. And while Signazon may not be about to take over the world in the same way, it can certainly compete with the biggest of competitors when it comes to sign-making.
Signazon.com is a company that makes more than just political yard signs. The company does all of the design and printing for posters, stickers, and banners as well. And that is just in the political arena.
Signazon also offers packages for various other industries, and it can never hurt to get their advice on what works for those industries. A robust campaign is willing to take lessons from unlikely sources, and if there is a trick to another industry's signage that can help your campaign, Signazon.com can help you find it.
CandidateSigns.com
Are you concerned about working with a company that isn't focused on your campaign or that has too many clients to put first your best interests as a candidate? You can tell just from the name of CandidateSigns.com that this will not be a problem when you get your political yard signs from this company.
CandidateSigns.com does more than just design and print your campaign signs. The company is almost like a member of your team, strategizing about placement of these signs as well. That is a valuable service you cannot find with all of the other companies who print campaign signs.
My Campaign Store
Think of My Campaign Store as a one-stop shop for everything you need to get the word out about your campaign.
The company has been in business for almost three decades now. My Campaign Store got its start selling printed and promotional items in 1991. That is experience you can trust to give you advice when it comes to crafting the look of your campaign messages.
11. eSigns.com
Here is another behemoth of internet printing that is also in the political yard sign business. eSigns.com has many of the features of the other companies who dominate this list.
For one thing, you can design your sign right on the homepage. You also get a look at a shipping timer on the homepage that tells you how much time you have to order so that you can still make "next day air" a shipping option.
What is especially helpful about the set up at eSigns.com is the way the company lays out signs by type of job. Are you running for the Board of Education or Assessor? There are different signs based on those different positions, and you can see the differences at eSigns.com.
Dirt Cheap Signs
There are no surprises here. Dirt Cheap Signs offers just that, dirt cheap signs.
There are times when speed and the lowest price possible win the day over the most personal customer service, and when that is the case for your campaign, Dirt Cheap Signs is there to help.
Vistaprint
Perhaps we have buried the lede by including Vistaprint so low on this list. Anyone who has even researched internet printing knows how widespread Vistaprint's services are. The company does it all, and that includes political signage.
CafePress
Here is another highly recognizable name, but finding it on this list might surprise you. CafePress is commonly associated with their t-shirt making business, but just like Vistaprint, the company prints almost everything.
There are tons of political signs at CafePress, and not just for candidates. There are also funny political-leaning messages that can give your campaign a push from a different angle.
SignOutfitters.com
If your platform involves the environment at all, you can use SignOutfitters.com to boost your message. That is because the company uses environmentally friendly inks on its campaign signs. What better way to show you can walk the walk?
Just Yard Signs
Just Yard Signs guarantees 100% satisfaction, and it is able to do that in part because of the speed of its shipping. If you order from JYS in the morning, the company will ship your signs that afternoon. And that is true service.
Plant Your Flag With Political Yard Signs
Good political yard signs can solidify a candidate's campaign. You can demonstrate strength and clarity of message. If you choose one of these sign-making companies, you will be in good hands.
Once you are ready to go even further with your campaign, take a look at our solutions for government campaign branding and marketing.