If you're a digital marketing agency, your clients may ask for solutions and services that go beyond your expertise. That's where white label Facebook and social media advertising agencies come in. With a white label agency, you can quickly hire experts who know how to deliver what your clients are looking for—without hiring a new team internally.
While you focus on creating blog posts, strategizing SEO, designing a website, or supporting your clients how you know best, a white label agency can take on the ad campaigns and meet your determined goals on various social platforms.
Entrusting your clients' success to a third party is no small ask, though. So if your agency or company is looking for a partner that can build awareness, optimize campaigns, and deliver leads, consider these 19 White Label Facebook Advertising Meta Agencies.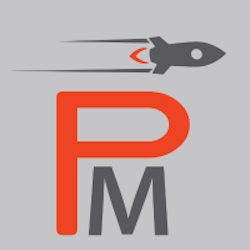 At Propellant Media, we are a leader in geofencing and targeted hyper-local advertising—and we can handle the Facebook and Instagram ad campaigns your clients want. In addition, we can use data-driven tools like audience curation and lookalike modeling to reach your clients' audiences on Facebook and Instagram.
Not many agencies can offer social media geofencing, but our proprietary process allows us to target your client's ideal customers effectively. And as a white label partner, you can sell these ad campaigns under your own brand.
Veza Digital focuses on white label digital marketing solutions and brings years of experience with Facebook ads. With their campaign planning, optimization, converting copy, and funnel creation, the company says that your clients can expect between 5-50x return on ad spend when you partner with their white label Facebook Ads team. In addition, the agency offers expert marketers, designers, and developers to create social media campaigns.
With Agency Elevation, you can drive your growth with white label Facebook and TikTok ads. You can get started for $199 per campaign per month—no contracts involved. The United States-based team also promises to offer fast communication via Slack and work with you on white label SEO and PPC solutions. Forbes rated the agency as a Power Partner.
The Facebook Ads certified team at DashClicks can help you drive leads for your clients through Facebook, Instagram, and TikTok Ads along with social posts. The agency offers a client dashboard and weekly optimization and ensures you reach your campaign's goals.
As a digital marketing agency with the capabilities of a software company, DashClicks helps small businesses generate revenue with advertising, backlinks, and SEO through a comprehensive campaign management platform.

You can drive your client's Facebook and Instagram ad campaigns with Clickx's white label services. The team at Clickx will design campaigns, write ad copy, monitor and optimize campaigns, and manage your clients' bids and budgets. The agency also offers multiple pricing structures, including done-for-you and done-with-you plans, that allow you to choose how completely you want to hand over the wheel.
Publicity Port promises to maximize your return on ad investment. The agency offers comprehensive digital marketing solutions as a Facebook Marketing Partner with experience in Facebook and Google Ads. When you hire Publicity Port, expect a dedicated account manager to handle your company's projects and present themselves as a contact for your clients.
As a Certified Facebook Partner, Lyfe Marketing brings experience managing over 400 social media marketing campaigns for clients. Their white label Facebook Ads services allow you to hand over social media advertising, with ad creation through custom graphics, sophisticated ad targeting, bid management and optimization, and more.
For top-tier plans, your clients can have access to videos and actors to develop enhanced advertising campaigns.
Digital and social media agencies can partner with Socinova to drive Facebook Ads leads and revenue to your clients. The company offers in-depth research of your audience, optimization, A/B testing, analytics, campaign development, and more.
Kyber Digital offers a suite of white label marketing solutions for your B2B clients, including Facebook and Instagram Ads. Their social media ads services include weekly optimizations, monthly reports, and a guaranteed 10 leads per month. Your agency can also work with Kyber to offer Google and YouTube ads, Google My Business Content, SEO blogs, landing pages and copy, and more.
At Umbrella, you can find an agency with experience running Facebook ad campaigns for over 5,000 small businesses monthly. Umbrella can handle all aspects of advertising on Facebook and Instagram, including leads, sales, reach, and clicks.
With Umbrella, you can target the custom audience your clients want to reach. The agency can create images, video ads, carousels, and other media your clients need for the campaigns.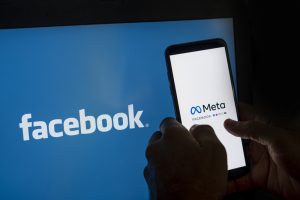 If you or your clients are looking for white label social media advertising informed by artificial intelligence and machine learning, you can look to Madgicx. Madgicx's platform autonomously optimizes ad campaigns, empowering your e-commerce clients to make the most of their ad spend.
The company reports that more than 40,000 agencies have used Madgicx's solutions, which include campaign creation and ads, custom daily or monthly reports, and more.
At the AgencyPlatform, you can choose from custom paid social media plans as a white label reseller. Whether you want to run one or more campaigns or target audiences on Facebook, LinkedIn, Twitter, or Instagram, AgencyPlatform can handle it.
These plans offer your clients a free dashboard, automated regular reporting, customer support, and more. AgencyPlatform can also handle a range of other white label digital marketing services, including SEO and pay-per-click.
If you want a white label social media ad partner that doubles as a full-scale digital marketing firm, eMojo could be a provider to consider. The firm offers data-driven digital ad services for Facebook, and eMojo can work to ensure that your clients can reach their goals at a price that works for their budget. They also offer paid campaign management, social media management, SEO, web development, and other digital marketing solutions.
Another full-service digital marketing agency that can manage your customer's Facebook and Instagram ad campaigns, Social Cali can ensure that your clients' have optimized ad content to drive traffic and gain leads.

Whether the ad budget is $500 or $5,000 per month, Social Cali can offer the services your clients need. Their tiered plan offerings can flex the ad spend budget, including an account representative, video ads, geotargeting, landing pages, and more. The agency has been working to grow companies since 2009.
With SEOReseller's white label Facebook paid ads, you can create a custom ad strategy based on your clients' needs. Your clients can build traffic, boost conversions, or grow awareness of their brand. SEOReseller offers graphics, hyperlocal audience targeting, analytics, and A/B testing. The company is also a white label SEO provider.
Based in India, this digital marketing agency can take care of your clients' Facebook ads, content marketing, pay-per-click campaigns, and social media. With 25 specialists in content, digital ads, and social media marketing, ROI Minds has taken care of over 500 social media ad campaigns for agencies through white label services. They know how to drive the best possible returns on your customers' ad spend.
The company can also handle pay-per-click management, lead generation, e-commerce ads, social media content, and other digital marketing solutions.

As one of the biggest white label social media agencies in the world, Rocket Driver knows how to handle your clients' Facebook Ads. From video ads to targeted display ads, Rocket Driver offers social media ad services that drive engagement.
The agency offers consulting and campaign management services to help you sell ad services. Rocket Driver has a team with the experience and proven strategies you need to rest assured that your clients' ad spend is handled strategically.
At Heaviside Digital, you can help your clients get the digital marketing solutions they need through white label Facebook ads management. Using data and analytics to build traffic and conversions, Heaviside Digital will manage your clients' social media campaigns to maximize ad dollars while you focus on the rest. Since 2011, the agency has provided SEO services, custom websites, and Google Ads management services for businesses that need affordable digital marketing.
Offering a range of white label digital marketing solutions, you can partner with White Label SEO to offer your clients Facebook Ad management, white label SEO, website design, pay-per-click advertising, and more. White Label SEO Labs can create engaging content for your clients, connect with their audience, and track your clients' campaigns and conversions. The company offers free quotes to help you plan the services you need.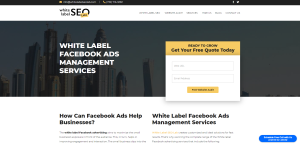 What to Look for When Choosing a White Label Facebook Advertising Agency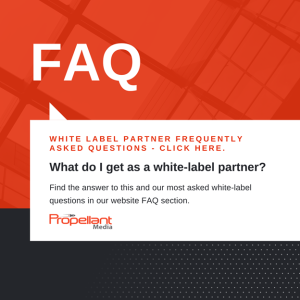 When you hire a white label Facebook advertising agency, you want to be sure that you and your clients are in good hands. As with any new partnership, you'll want to look for a few signs that you're hiring the right agency. Choose a firm that:
Offers the right capabilities: Just because an agency says they'll handle Facebook ads doesn't mean they'll work on all social media platforms, for instance. Ask about their full capabilities to ensure they're the right match for the project.
Has a proven track record: Whether they can show you case studies or other results, have the agency walk you through their past successes and explain how they plan to deliver results for your clients.
Meets your clients' budget: Of course, all white label agencies vary in pricing. Some offer Facebook ad campaign plans starting at $199 a month, and others start at $500 a month.
Has the team and tools: Some white label agencies are run by single independent consultants, while others are run by dozens of staff. Ask the agency to explain how they plan to manage your clients' projects, who'll be the point of contact, and what tools they offer—like campaign dashboards—to manage the project with your clients.
If you're looking for a white label Facebook advertising Meta agency that can put your clients' brand in front of the right audience, Propellant Media has the advanced solutions you need. With our experience, dedication to innovation, and cutting-edge social media geofencing tools, we can deliver the results your clients want. Contact us today to get started with a new white label Facebook ad agency partnership and expand your business.