White label marketing can be a powerful tool for businesses looking to expand their services without investing heavily in additional resources. With white label marketing, a company can offer its clients a range of marketing services under its brand name without developing the expertise or infrastructure required to deliver these services in-house. This allows businesses to enhance their offering, generate new revenue streams, and improve customer retention without diverting resources from their core operations. In addition, white label pay-per-click (PPC) ad agencies can allow you to do more for your existing or potential clients, letting you focus on delivering the core digital marketing services you know best.
From Google Ads to social media ads to location-based geofencing, any white label PPC agencies can offer all the PPC solutions you need to confidently hand over complex paid ad campaigns and grow your business. But finding an experienced partner that can truly handle the demands of PPC is a whole other matter. So consider these 23 white label PPC Google Ads agencies when you're ready to take your agency's suite of capabilities to the next level.
We will start this list with an industry leader in white label PPC management, Propellant Media. With thousands of satisfied PPC clients globally, our passion speaks for itself. We aim to provide our white label marketing partners with data-driven results and piece mind. All without draining their most important resources: time and money. As Google Ads-certified agency, Propellant Media has extensive experience when it comes to reaching your client's target audiences. Equally, our experts have experience working with other PPC platforms such as Facebook Ads, Linkedin Ads, Microsoft Advertising, Bing Ads, and more. 
Here are some of the PPC management services Propellant Media offers:
Engaging Ad Copy & Message Creation

Landing Page Audit & Review

Account Structure Setup

Tracking & Testing

Campaign Optimizations & Launch Assitance 

24/7 Dashboard Performance Analytics
After our specialists run the campaigns for a month, your team will pick the winning strategies to give them more breathing room and budget.
Big bonus point: Propellant Media works with companies of any size in various industries, such as healthcare, education, auto, law, and real estate. Our agency can give you and your client the proper attention and consistency, while larger agencies can let slip your projects through the cracks for profit. 
Whether you're ready to try white label PPC marketing with a company dedicated to your success or Propellant Media encourages you to book a demo with one of our many specialists.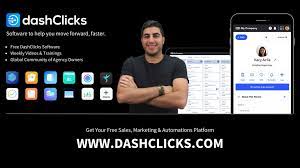 Next, we've got DashClicks. With over a decade in the digital marketing game, DashClicks is recognized as an industry OG. They offer a full suite of white label ads, content, social media, and other digital marketing solutions. First, however, we're here to discuss their white label Google Ad services.
As a new client, you'd work with an experienced team of Google Ads Certified partners to create your custom ad strategy. Their Google Ad campaigns take 5-7 business days from start to launch, which can be good if you or your client are in a time crunch. During this time, the DashClicks team will give you branded sales materials, such as photographs, films, etc., to promote your campaign.
Furthermore, they offer weekly reporting and optimizations, campaign quality assurance, and ad copy variations. Their plans start at $199 per month, but the more money you put in, the more DashClicks has to work with in making your expectations a reality.

The Digital Hawks is another OG in digital advertising. They have over 20 years of experience making their client's advertising dreams come to life. Based in the greater Chicago area, The Digital Hawk's team will run comprehensive white label paid search ad campaigns, including Google, Bing, and Yahoo ad accounts, display, social media, and video advertising. From managing your accounts and comprehensive data reporting to presenting information to your clients as a team member and everything in between, they've got you covered.
I have to say, after looking at their website, I concluded that Digital Hawks pride themselves on their pricing–and I don't blame them. With one of the more straightforward models available on the market, you can choose from three tiers: Hatchling, Nestling, and Fledgling. The tiers depend on your budget and how many hours a week (or month) you want their team working on your accounts. "Hours can be applied to Paid search (Google & Bing Ads), display (Google Display Network & programmatic), video advertising, mobile app advertising, shopping campaigns (Google & Bing), Facebook & Instagram social advertising, all optimizations, analysis and reporting as you need."

At White Label SEO Labs, you can find a partner for Google Adwords and Facebook Ads management. In addition, they also offer white label PPC campaigns, reputation, and SEO management. With years of devoted white label AdWords management services, their team has amassed the necessary skills and expertise to provide your clients with satisfying results. They work with clients in numerous industries, such as real estate, attorneys, healthcare, and more.
Here are some of the white label PPC solutions they offer:
Competitor Analysis
Keyword Research
Detailed PPC Data Reports
Ad Copy Development & Split Testing
Landing Page Development
Conversion Tracking
Bid Optimizations
Call Tracking
Negative Keywords
In order to cut down costs for their potential clients, they desire to be you and your client's one-stop shop for white label services. White Label SEO Labs can assist your organization in generating new business pitches, proposals, and sector reports hassle-free. If you are looking for professionals who can effectively manage your PPC campaigns like Google Ads, Facebook Ads or Google Screened Ads, etc., you can't go wrong with White Label SEO Labs.  Contact their team of experts here.

Founded in 2011, Rocket Driver is a large and experienced white label service provider. They are an agency driven to give high-quality white label services to companies in any field. Rocket Driver aims to help "local, regional, national, and global businesses boost their client leads, increase their revenue, and increase traffic quickly."
Here are some of the white label services Rocket Driver can offer:
Web Design
SEO Management
PPC & Paid Social
Social Media Management
Reputation Management
Business Listing Services
Graphic Design
Content Marketing
SMS Services
Sales Funnel & Training
To seal the deal, the Rocket Driver team works around the clock to develop unique digital strategies using a state-of-the-art white label marketing platform that increases your return on investment. Want to reach out to Rocket Driver? Click this link to book a 1 on 1 demo session.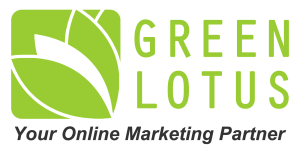 A Premier Google Partner, Green Lotus offers many white label PPC services and beyond. Available for Google, Bing, YouTube ads management, and mobile geofencing ads, Green Lotus also provides white label SEO tools, web hosting, and live chat customer service. A Canadian agency, the company also serves companies across the United States.
Let's get one thing straight if you become a white label partner with Green Lotus. You're responsible for generating your sales. This can be a good thing and a not-so-good thing.
Good thing: You are setting goals for everyone to meet while allowing Green Lotus to support your heavier marketing tasks.
Not-so-good thing: They might give you less help to make or close the sales. However, they can provide you with sample reports and branded sales materials for your clients.
If you're a marketer looking for that extra support, you can upgrade your plan to "Referral Partner." All they need is an introduction to your client; they will close the deal swiftly! There are no setup fees. Affordable pricing and free online customer support are 20% – 40% cheaper than the competition. Green Lotus also has a 4.9 Google Reviews rating with the keywords "excellent," "highly recommend," and "great service."
Rothman PPC is a small but mighty agency based out of Oklahoma City. The founder Jason Rothman has been a Google Ads expert and a Google Certified partner for almost a decade.
The agency focuses on Google AdWords & Bing Ads campaigns, auditing, campaign management, and Google Ads consulting. In addition, however, he provides white label PPC and Google Ads services to get you the desired results.
Rothman PPC may work for you if you like relationship flexibility and pricing. He offers month-to-month service with no contracts, so you can hire his firm for white label projects, big or small.
Additionally, the site mentions that they prefer to work with small and medium-sized agencies to provide the maximum value and attention to detail possible. Check out his podcasts to learn how Rothman PPC can boost your sales and save you time.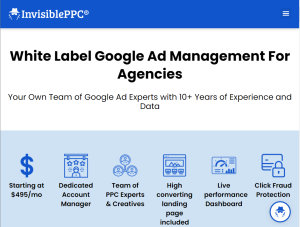 At InvisiblePPC, you can get PPC experts with more than ten years of experience. With Google Ads specialists, copywriters, designers, and account auditors, Invisible PPC's white label services include ad copy focused on conversion. As a white label partner with InvisiblePPC, you'll receive a high-converting landing page, click fraud protection, and a live performance dashboard showing your specific campaigns' performance. If you are too busy to check on the dashboard every week, don't worry, InvisiblePPC has your back. On the first of every month, your dedicated account manager will send you a detailed report of last month's performance, campaign recommendations for the upcoming month, and an in-depth view of their team's work for you over a 30-day period.
Collectively, their team has run over 140,000 ads! That shows they've got their ad copy down pact and can ultimately share it with you to boost customer ad engagement. In addition, they are steadfast in their commitment to best digital practices by searching for new ways to optimize your campaigns. "PPC is NOT set and forget," their site claims. "Our team of auditors & specialists have their hands on your account with new optimizations and rollouts happening weekly." InvisiblePPC's PPC fulfillment services start at $495/month with a one-time setup fee of $100, while their PPC boost (which includes a PPC audit) is $595. If you're interested in becoming an IPPC partner, talk to a partner specialist to book a 1 on 1 demo call.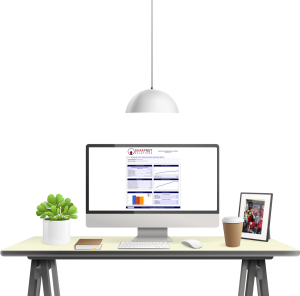 Founded in 1998, SharpNET Solutions has been offering digital marketing services to companies internationally. They currently work with over 300 agencies in the US alone to offer all-inclusive white label partner and reseller solutions like PPC & SEO management, social media, and website designs.
Their team can create engaging digital marketing proposals and SEO assessments to help your agency sell services. It's their work but your branding on all materials so you can get back to what's important: providing streamlined services to your clientele. Your account manager will be an undercover employee—working alongside you to help you close deals, create marketing contracts, and employ unique PPC plans that give you real results.
Are you looking for more help marketing yourself as a whole? No problem. They can design and manage an AdWords campaign while waiving their management fees!  Learn more about what SharpNet Solutions offers on its white label partner site.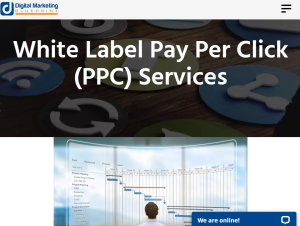 As a white label agency offering services in PPC, SEO, copywriting, digital PR, social media, and more, Digital Marketing Blueprint has experience with a broad range of digital marketing solutions. Their team knows how to manage campaigns within B2B and B2C verticals. Digital Marketing Blueprint is also a Google Adwords Premier partner. They can strategize the best keywords to generate real-time leads and increase e-traffic.
Since opening its doors 15 years ago, Digital Marketing Blueprint has given white label services to over 500 agencies in the US and generated $7 billion in sales for their clients. They aim to maximize their white label partner's budget for quality Google AdWords and PPC campaigns. "How?" One might ask. Their experts hone in on sales and lead generation rather than clicks because "conversions are the only thing that matters when it comes to a successful PPC campaign."
Another perk is that they operate on a month-to-month basis, avoiding the need for long-term commitments and giving you the flexibility to adjust things as needed. Overall, the team at Digital Marketing Blueprint is dedicated to increasing your conversions while creating more sales & high-quality leads, and instant traffic. Chat with one of their reps today if you want to work with Digital Marketing Blueprint on your Google Ad campaigns.
Serving SEO agencies, ad agencies, consultants, and web designers, Clicks Geek can handle your Google Ads campaigns. Certified in Google Ads and Bing Ads, Clicks Geek reports that their clients' campaigns have a 20-40% conversion rate, compared to a 5-12% conversion rate for the industry's average.
With a deep love for copywriting, Click Geeks might be the company for you. Whether you've been doing PPC for years and need a tune-up or are a beginner just getting started, Clicks Geek can set you up for success in three significant ways:
Clicks Geek can create your client's high-conversion custom landing page. In addition, they can provide extensive keyword reports, contact capture forms & call tracking.

They're designing impactful ads that reach your preferred target audiences using engaging ad copy.

They are constantly researching each demographic's keywords and when to use them so that they will have instant traction when you're ready to launch your ads.
Save that high salary you would have to pay to acquire an in-house expert and cut costs by hiring Clicks Geek. "When it comes to PPC, they walk the walk." They are a Google Premier Partner and Microsoft Advertising certified agency. If you want to watch some of their client testimonials, book a demo, or utilize their "Free Strategy' call line, hop on their website.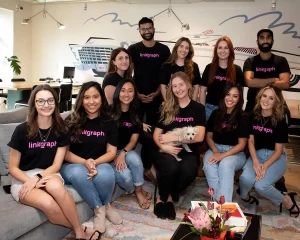 Say "Hello!" to LinkGraph. Based in New York City and Las Vegas, LinkGraph focuses on white label SEO, PPC, and link building. Among various notable accolades, they were awarded Best Start-Up Agency 2021 by U.S. Search Awards. Their team of PPC experts has managed growth for over 800 companies, including Zynga, Shutterfly, P&G, and more! This firm might be a good pick if you're a medium or large-sized company looking for heavy-lifting PPC white label services. LinkGraphs white label agency offerings include:
PPC Management

Link Building

SEO & SEO Software
The PPC specialists at LinkGraph analyze your clients' target markets to find the Google Ads keywords with the highest value and conversion rates. Then, they create PPC ads around the most effective keywords to drive the most quality visitors to your clients at a cost you can afford. That's something anyone can appreciate. Their team can also write ad copy to bring qualified leads to your clients' pages and create landing pages to drive conversions. LinkGraph's team is ready to answer any questions you may have about your Google Ads PPC campaign.
Well, what if my clients need more than PPC management? Over time, it's natural for clients to want to optimize their original PPC advertising campaigns with other effective marketing strategies like SEO, content marketing, or public relations. Your clients may seek another agency partner to fulfill this need if your agency needs to manage PPC accounts. Have no fear; LinkGraph is here! Feel free to add their services to your existing white label marketing plan while maintaining your brand identity. How cool is that?! Reach out to LinkGraph to schedule a free 30-minute strategy session.

Urtasker is a strategic marketing and consulting agency offering Google Ads, PPC, and Facebook marketing services focused on e-commerce. While they specialize in various digital marketing services, Google Ads and PPC campaigns are their passion projects. As a Premier Google Partner, Urtasker knows what ad copy will generate leads for your business. Here are some of the white label services they provide:
Consulting Services

PPC Management & Comprehensive PPC Audits

Advance Keyword Research

Landing Page Optimization

Detailed Reporting
Furthermore, Urtasker offers Amazon brand management services, listing optimization, and Shopify development, among other solutions. They also have stellar reviews. Clutch called Urtasker one of the Top 10 Pay Per Click (PPC) Firms in 2022, scoring a 4.9 service rating. This New York-based ad company's unique competitive advantage is that they are a full-suite marketing agency geared toward online commerce. Their expertise in e-commerce can help agencies or businesses who work directly with digital storefronts and want to find their target audience using Google Ads. Let them do all the work, slap your brand name on it, and market the information as your own.  
Want to partner up with Urtasker? Please fill out a contact capture form on their website.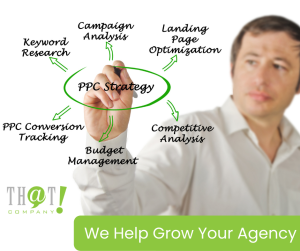 Available for white label PPC services and more, That! Company can partner with your agency on Google Ads, Microsoft Advertising, Facebook Ads, YouTube Ads, social media ads, and other programs. With over 22 years in the business, That! Company has very humble beginnings. They started out as a PPC bid management software company, but as time passed, their company became a full-service ad agency specializing in PPC management committed to providing results and accountability to all their clients.
Additionally, That! Company can aid your clients with communications, campaign management, reporting, and consulting services. Their Google Ad certified experts undergo regular training to keep up with PPC industry trends and best practices to ensure that the client, you, will receive "the best pay-per-click campaign results. Period."
If you're interested in connecting with That! Company for your PPC and Google Ads needs, schedule a meeting.
If you want to cut back on spending rather than on PPC support, look at PPC Ninja. At PPC Ninja, these certified white label PPC experts say they focus on no-hassle PPC campaign development and management for agencies of all levels, web designers, and SEOs. Although PPC is the company's bread and butter, they utilize other marketing strategies to help their clients elevate their custom-designed PPC campaigns.
In the last 15 years, PPC Ninja's "ninja" experts have managed over $40 million in ad spending for over 225 partner agencies worldwide. PPC Ninja also works with clients in various industries who want to sell products, services, or B2C & B2B verticals. Overall, they aim to get you the maximum PPC results possible with any budget your company allows, all while staying behind the scenes. This allows the client to take all the credit and shine with little to no work.
Bonus points: PPC Ninja requires no contracts to run your clients' campaigns.Great for someone looking for more flexibility than other companies can give. The agency can also help brand-new agencies with just a few clients and large enterprises with more than 30 clients.
PPC Ninja can easily handle all of your PPC desire, whether it's Google Ads, Bing Ads, or Facebook Ads.
Are you ready to get in the "dojo" with PPC Ninja and grow your agency to the next level? Apply today!
OuterBox has been helping companies and agencies with the white label PPC, SEO, and web services they need since 2004. At OuterBox, you can find a partner for your Google Ads and Amazon PPC management needs. Working with a PPC company that was on the Inc. 500 list, is a Google Premier Partner, and has a 5-star rating on Clutch, you really can't go wrong.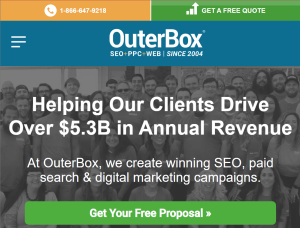 Get rid of the cost of hiring an in-house expert or dealing with non-sensical overhead fees by hiring the OuterBox team. Their team offers bulk PPC pricing & discounts, rewards programs, and other cool incentives to satisfy their clients.
Let's be honest. With time comes experience, and the OuterBox team has many of both. They've worked in the PPC and SEO industries for over 15 years, learning, adapting, and projecting future industry trends. We love a company that evolves with the times! Of no small feat, OuterBox has managed $45 million in Google Ads spending. This stat shows you can trust this agency with your white label PPC vision of any size and have them bring it to life.
Moreover, OutberBox provides the following services:
Lead generation strategies

White label SEO

White label web design & development

Consulting

Google Shopping management
Whatever the task, their results-driven team is ready to get to work. Want to get an estimate for your paid search campaign needs? Quickly give OuterBox a call at +1 (866) 647-9218 or fill out a contact form.

If you're looking for tailored white label PPC solutions, Clickx can help you with PPC audits, campaign setup, ad copy, optimization, and performance monitoring. Moreover, Clickx provides agencies with an advanced dashboard that allows you and your clients to access end-to-end marketing tools and deliver the quality PPC results your clients seek.
When you work with Clickx's white label remarketing services in Google Ads, Facebook Ads, or LinkedIn Ads, know you are getting the best. They claim they can track buyers' intent to generate leads & conversions, all to increase your or your client's revenue. Their team of trained contractors and digital marketers can also present your clients with real-time data and researched ad spend recommendations without mentioning Clickx—because, as a white label partner, branding is everything.
Allow Clickx to be an extension of your team by contacting them today!

As a performance marketing agency, New Media is prepared to handle white label PPC management for companies and agencies in many verticals globally. From Saas and FinTech to law firms and household services, New Media can partner with you to drive profits for your clients.
Founders of the agency, Timea and Darjan Gardinovački, developed a trademark sequence called the Three C's: Consume, Collect, and Create. Utilizing this process, New Media can create a lasting impression on your PPC service structures. Their white label PPC management package includes the following:
24/7 custom reporting

Comprehensive conversion funnel research

Keyword & placement research

Retargeting

Manual bid optimizations

Search, display, & social traffic

Text/Image ad split testing & more!
If you decide to work with New Media, they will begin with an account audit of your previously run ads and your published landing pages to see how they performed over time. Once they complete the audit, New Media will get to work. Their skilled team of PPC ad specialists, creatives, copywriters, and dedicated account managers has experience working with platforms such as SpyFli, Facebook Ads, Google Ads & Analytics, LinkedIn Ads, Binom, CallRail, and many more.
Finally, the days of stress filled with composing ad copy and designing dozens of landing pages are OVER. Hand over all the taxing work to a high-performing white label PPC company like New Media, starting at only $400 a month!  Visit their website to learn more about New Media's products and services or to send them a free partnership proposal.
Whether you need to manage one or one hundred accounts, Growth Minded Marketing can partner with your agency to create a unique growth plan. Dedicated to Google Ads services, Google Shopping management, and white label PPC services, Growth Minded Marketing focuses on producing revenue through boutique Google Ads services. Here's a list of  services offered to your clients when working with Growth Minded Marketing's white label PPC division:
Account builds & Setup
Ad creation
Custom live reporting dashboard
Keyword research & competitor analysis
A/B testing
Automated monthly performance reports with deep analysis

Growth Minded Marketing professionals have been working with e-commerce and SaaS businesses for years, gaining vital knowledge and experience to give to clients across the board. Let them focus on heavy-lift reporting, lead generation, and data collection so you can focus on client acquisition and retention.
Moreover, no matter the size of your business, Growth Minded Marketing is passionate about providing dependable performance month after month, accountability, and clear communication to its white label partners. In addition, they'll produce detailed research on how to get and stay ahead of your competition because when you win, they win too.
Growth Minded Marketing is ready to help you scale your business using PPC. The question is, are you? If so, schedule a 30-minute discovery call and send them your proposal.

Since 2005, the team at OppGen has been offering PPC services to drive sales for agencies in the United States, Canada, the EU, and India. First, OppGen works to research your client, their unique niche offerings, and how they desire to reach a target audience with distinct web experiences across channels. This "deep dive" is called the pre-proposal process. Then, OppGen's experts tailor their campaign strategies to fulfill said client's needs, increasing the client's conversion rate and lowering their overall costs. While this seems time and labor-intensive for the agency, the three-tier process allows them to create high-performing PPC campaigns that genuinely work. Don't believe them? Check their stats. They have an average ROI of 405% for their clients since becoming an agency in 2010.
OppGen has various white label PPC agency services available, including:
PPC campaign strategy development

Ongoing optimization & PPC ad management services

Landing page design

Content marketing strategy consulting

PPC and Google Ads creation

Consumer insight & Campaign Reporting
The Ohio-based digital marketing company has experience developing, managing, and optimizing marketing and advertising campaigns for Fortune 500 to mid-sized businesses. Not to mention, they are a Google, Bing, and Facebook Ads Partner.
OppGen has twice been named one of Inc 5000's fastest-growing businesses. In addition, Clutch and DesignRush have also recognized OppGen as a top advertising agency. Although their management fees start at around $3,000 per month, their experts recommend companies strongly recommend larger companies have a minimum ad spend of $10,000 a month.
If you're a large company (with a larger budget) looking to get in front of the competition by using a host of elite white label PPC strategies, try OppGen Marketing by contacting them on their site.
Focused on developing direct response campaigns for the digital ad space, Samurai Direct Response also offers white label PPC management for SEO agencies. Founder Ben Briggs is an independent consultant with extensive experience with Google Ads and PPC ad campaigns.
With Samurai Direct Response, marketing agencies and their clients can work directly with the team's CEO to craft and deliver white label Google Ads campaigns that align with your agency's SEO efforts. Over time, Briggs and his team of digital marketing veterans have designed a detail-oriented and data-driven approach to reach your client's PPC objectives and goals. Regarding the Google Ads platform, their specialists know what strategies will yield the best results. They are fearless in squeezing every ounce of potential from the platform to get you or your clients all the benefits available. Additionally, Samurai Direct Response does not shy away from walking a road less traveled. Instead of blindly following Google's recommendations like other agencies, their agency carefully considers which Google Rep's advice to heed and which to disregard. Samurai Direct Response has consistently outperformed rival PPC management companies thanks to this strategy.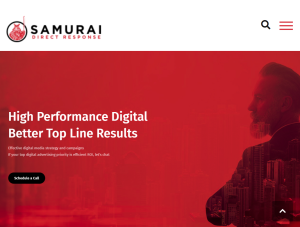 Here is an important question…When deciding which white label PPC company you will work with, do you want them to be a pseudo-employee or a partner in your success? If you're looking for a white label PPC management firm that can deal with your clients directly using your agency's email, look into working with Samurai Direct Response. Their team can cut you out as a middle-man and get requests directly from the client, allowing you to focus on other things, such as inbound marketing and increasing revenue. A seamless blend into your existing marketing tech stack.
Now, let's talk about pricing. For agencies that have a couple of small businesses or mid-market clientele, Samurai Direct Response has a monthly fee of $250. Affordable is an understatement for that price. However, the fee can be waived for agencies with three or more clients working under Samurai Direct Response. Request a call from their experts to learn more about their white label Enterprise and Junior Samurai PPC management pricing.

As a full-service digital marketing agency with nine years of industry experience, Glorywebs also provides white label PPC management services. A Google Partner, Glorywebs can manage the onboarding, account building, monthly reporting, and landing page design for your clients' PPC campaigns.
Their agency is a one stop shop for everything white label digital marketing related. In working with their team of SEO & PPC experts, social media gurus, creative geniuses, and content optimizers, GloryWebs can reduce your costs significantly. Their work is never outsourced to other companies, saving you time and money. Glorywebs can also:
Improve service quality
Enhance your brand image
Increase client retention
Scale your offerings & revenue
All things considered, GloryWebs is one of the youngest companies on this list. However, in this case, age is nothing but a number. This agency is full of young and passionate digital marketing experts, PPC professionals, and Google Ads aficionados. The bright-eyed individuals at GloryWebs have launched over 700+ websites and delivered 500+ B2B vertical projects while gaining satisfactory reviews from their clients. With a PPC agency campaign success rate of 83%, they know what they are doing.
Additionally, GloryWebs works with companies of all sizes and industries. Their goal is to forge long-lasting partnerships and provide real-time results to their white label clients as they remain available for direct communication.  Furthermore, there are no fixed costs or contracts. Each project is priced fairly depending on what was required. GloryWevs even has a referral partner system. "Depending on the SEO activity you will refer, we will provide you a bonus for each referral as per the quantity of the project."
To get familiar with GloryWebs' work, read some of their amazing client testimonials or get in contact with one of the PPC experts today.

White Shark Media is a PPC marketing agency with ten years in the industry. They specialize in managing and optimizing PPC campaigns with Google Ads, Microsoft Advertising, and Facebook Ads. If you're interested in their white label partner program, look no further for the inside scoop.
White Shark Media's White Label Paid Advertising Partner Program helps digital agencies manage and sell PPC campaigns under their branding. They have handled over 8,000 advertiser accounts and managed over $100 million in digital ad spend via various pay-per-click ad platforms.
In building their white label SEO & PPC company tools from scratch, White Shark Media had management, and sales team struggles in mind. With their Partner Portal, you can access reporting, tracking tools, and even sales enablement resources to help your team expand its offerings. Your white label team includes:
A digital marketing manager.

A strategist.

Tracking & web specialists.

A strategic account manager.
Their experts aim to help achieve your client's PPC and SEO goals while growing your agency's portfolio.
We all know how complex PPC can get for even the most skilled digital marketing professionals. As a result, many companies choose to leave it out of their list of services. However, when you decide to work with White Shark Media as a white label PPC partner, your agency can access sales enablement resources. From pitch materials that sell your new PPC services and one-on-one sales consultations to account audits and a total sales & marketing library at your disposal, White Shark Media has you covered.
If you're interested in partnering up with this award-winning digital marketing firm, contact them as soon as possible.
Get Your White Label PPC Google Ads Done Right!


Give yourself the gift of white label PPC and Google Ads solutions today by contacting Propellant Media. We offer digital analysis, campaign building, creative ad design, analytics and reporting, and optimization for various industries. We have the experience, cutting edge software, and love for white label marketing you're looking for in a digital marketing partner. To learn more, call us today at  +1 (877) 776-7358 or book a demo session.