Over-the-top (OTT) advertising is becoming an increasingly important part of the marketing mix as more and more people shift their attention away from traditional television and towards streaming services. Programmatic OTT advertising allows brands to reach highly targeted audiences on platforms such as Netflix, Hulu, and Amazon Prime Video and provides a unique opportunity to deliver personalized messaging to viewers. With the growth of cord-cutting and the proliferation of connected devices, the importance of OTT advertising is only set to increase, making it a vital area for brands to invest in if they want to reach today's digitally-savvy consumers.
If you're running an advertising agency, digital or traditional, you have many tasks to manage. From juggling current clients' expectations to finding consistent ways to increase your business revenue is, in one word: overwhelming. Luckily, white label marketing companies are here to save the day! White label companies can develop and manage marketing campaigns for you on various platforms, such as OTT/CTV advertising. These are forms of digital marketing that show up on video content and streaming services, allowing your company to reach a wider audience.
However, one can run into a genuine hurdle in finding the right white label company to trust with your programmatic OTT advertising visions. Below, we have compiled a list of eight white label programmatic OTT/CTV advertising companies that can make those visions a reality.
1. Propellant Media
Propellant Media is an award-winning digital marketing company headquartered in Atlanta, GA, with an additional office in Charlotte, NC. We provide white label marketing services under your brand name for you and your clients. Our company strives to get our clients more leads and boost their sales. In doing so, our experts utilize cutting-edge geofencing technology in conjunction with OTT/CTV advertising. This combination helps our clients identify their target audience while reaching them efficiently and frequently. Whether through TV campaigns, direct mail campaigns, or other streaming platforms like Netflix, Roku, Hulu, and HBO, Propellant Media's got your back. Why hire another internal marketer, wasting valuable time and resources, when you can outsource the tedious work to us for a fraction of the cost and get the desired results?
If we decide to work together, your personal account manager can gauge your performance by providing 24/7 reporting, designing winning advertisement strategies, and getting you the results you're looking for. Our agency believes that small details are big details, and direct communication is key. That is why our weekly reporting includes:
Geographical breakdown
Device ads
Watch rates
Video completions
Click-through rates
Which channels your ads appeared on
In conclusion, Propellant Media not only talks the talk−we walks the walk when it comes to providing stellar white label services to our clients. We guarantee that our detailed OTT & CTV analysis reports will offer you data analytics, proactive campaign optimizations, and suggestions for future ad spend. Our goal is to give you and your clients campaigns that bring in leads, customers, and brand exposure, all while increasing your return on investment (ROI).
Want more information about what Propellant Media's white label OTT & CTV advertising services can do for you and your clients? Reach out to one of our experts to schedule a free 1-on-1 demo session today.
2. Over the Top Marketing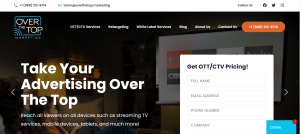 Over the Top Marketing comprises media buyers and digital marketing specialists who have worked in the industry for years. The company prides itself on its customer care experience and delivering an ROI to companies all over the United States. In doing so, it offers services with white label marketing via OTT/CTV by:
Using third-party data to identify your target market and send them your message
Giving you transparent reports on your company's marketing performance as often as you'd like
Determining how you can optimize your campaigns
Partnering with Over the Top Marketing means that you can focus on what you do best, taking care of your client's needs while they handle programmatically buying OTT inventory.
Furthermore, they have established relationships, between direct advertising and programmatic buying, with various OTT and CTV advertising publishers. "From Broadcast & Cable Networks to skinny-bundle Streaming Aggregators," their team can connect you and your clients to any streaming platform of your choice. This is an advantage for any agency looking to reach larger target audiences.
Get in touch with them today to get a better idea of what they can offer you. Their team also encourages potential clients to visit one of their in person locations in either Connecticut or New York.
3. Crowd Fire Solutions

Crowd Fire Solutions assists advertising agencies, marketing consultants, and publishers with promoting their products using CTV OTT advertising.  Their agency was built to supply white label fulfillment services nationwide to other companies in need. True White Label Digital Marketing is their official tagline. With a dedicated staff of creatives, strategists,  account managers, and experienced digital marketers known as  the "digital army,"Crowd Fire Solutions can:
Set up a profile with you to learn more about your customer and build an effective OTT ad strategy
Provide 24/7  campaign reporting
Partner with different advertising networks to display clients' ads on apps and websites
Reach CTV devices & your ideal target audiences as opposed to using traditional TV advertisements by leveraging data
Put together aesthetically pleasing creative designs to appeal to your clients
This company knows what you need to grab your customers' attention. Moreover, it has a network that allows them to access millions of people and nearly 90% of online viewers.
A big plus: They don't require any minimum spending from their clients, so you have nothing to lose when you partner with Crowd Fire Solutions. Consider filling out the contact form to learn more about reaching a wider audience and building your brand.
4. Strategus
Strategus offers white label OTT/CTV advertising packages. This company understands that this type of marketing is growing more popular every day, so it can help your business reap the benefits it offers. Strategus ensures that [you will] deliver the right message to the right audience. Every time. Utilizing trademark technology called Strategus Labs, their team can provide innovative solutions to your programmatic CTV OTT ad needs.

As they're veterans in the advertising industry, Strategus can save you the hassle of putting together a campaign and managing it on your behalf, all while ensuring that the advertising you put out is top-notch. Not only that, but they also work with agencies that have strong track records of targeting and retargeting audiences, monitoring traffic, and generating regular success reports. They have curated over 800 Deal IDs across hundreds of networks and streaming platforms. Here are a few more services they offer:
3rd Party Data Targeting
Website Visitor Retargeting
Look-A-Like Targeting
Amazon Data
Linear TV Extension Targeting
Geo-Targeting
If you're interested in partnering with the programmatic video CTV experts at Strategus, take some time and fill out a short contact form.
5. Admixer
Since 2008, Admixer has been a white label company offering publishers and advertisers unique ad network software. Whether you're an advertiser looking to purchase access to audiences at scale or a marketer looking for precise audience targeting, Admixer can give you what you want. As a digital marketing OG, Admixer has an impressive resume. Here are the highlights:
More than 3,500 clients all over the world, including Havas, MediaCom, Amplifi, and Publicis Groupe & more
Over 14 years of experience in advertising technology
Nearly 300 employees
Upwards of 100 partners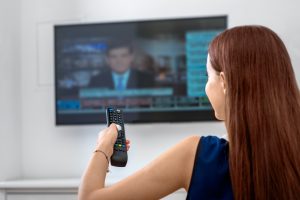 The company works fast and efficiently to help its clients improve their brands while implementing transparency and problem-solving techniques. In addition, it can customize your ads to reach your audience through video and CTV, desktop, and mobile apps. It gauges your company's success by:
Reporting your numbers in real time
Offering more than 50 templates for your advertisements
Giving you options for targeting and frequency capping
Providing automatic performance optimization
Allowing you to fully manage your budget and how you deliver your ad campaigns
Clients seem to benefit from Admixer's assistance. One of the clients said:
"Since we started using the AdMixer Network solution combined with the Admixer Network server, our business has flourished. I'm glad we chose AdMixer for our business. There are many plans ahead, so we are planning to enlarge our cooperation."
Admixer is accepting new international clients daily. If you are ready to test your connection and book a demo with their team of experts, reach out to them ASAP.
6. Brid.TV Marketplace
Established in 2018, This white label platform helps businesses monetize their content through video on CTV apps. It's also an official Google MCM partner, which means they act as an intermediary between Google and smaller businesses that don't have high traffic. With that, Brid.TV Marketplace knows what analytic features and video management tools help grow a business. Their robust platform infrastructure includes:
Video hosting & global CDN access
24/7 technical support
High-end security
 Cloud encoding & transcoding
With headquarters in Belgrade, Serbia, and Los Angeles, California, Brid.TV has a wealth of knowledge in international online video publication and advertising, a benefit it can offer its white-label clients. Brid.TV is also a "client-first" business. Their goal is to relinquish their clients' control so they can completely tailor the platform to reflect their brands. For instance, you can use their OTT technology to build a verified video platform and set up a personalized domain name.
Want to learn more about Brid.TV's innovative platform and other software offerings? Talk to one of their sales reps to schedule a live demo!
7. PrograMetrix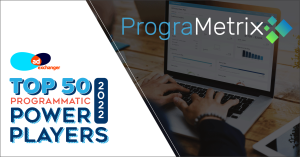 Client success drives PrograMetrix. It aims to form solid partnerships with other agencies so they can thrive across various platforms. This programmatic advertising company helps improve your marketing strategy, campaign, ROI, and overall performance. Moreover, they have experience working with numerous platforms like Google Ads, theTradeDesk, TapClicks, Sizmek, and Wrike. PrograMetrix offers various types of advertising services, but in terms of its programmatic advertising, it can:
Design an ad tailored toward your target audience
Create ads for social media, paid search, display, and mobile
Craft optimized copy
Ad tech vendor selection & management
White label client reporting
The keyword for their white label fulfillment services is enhancement. If you're a traditional media agency looking to incorporate and enhance programmatic advertising into your list of services, you can become an agency partner of PrograMetrix. In this partnership, their team of experts will educate and train your existing sales team on the programmatic industry, effective consulting methods, and designing campaign management services. Likewise, if you're a modern digital marketing agency that wants to enhance your current roster of programmatic services or bring in a campaign management expert at half the cost, their team can act as an advisory board–guiding your agency to digital ad revenue success. And who wouldn't want more money in their pocket without doing any of the work? Crazy people!
Take a look at PrograMetrix's free consultations to get your white label programmatic enhancements started today.
8. Conduit Digital
Last but not least, let's talk about Conduit Digital. We've mentioned Conduit Digital in previous white label digital marketing articles because they are just that good. This U.S.-based white label digital advertising company works to deliver top-notch products and campaigns across multiple platforms. OTT, in particular, is its fastest-growing product, as it has spent over 800 hours downloading and going through upwards of 12,000 OTT applications to ensure clients are getting the best.
If you partner with Conduit Digital to do your OTT/CTV advertising, their team of OTT veterans can offer you the following benefits:
Deliver your advertisement and message in the way you want to multiple viewers
More bang for your buck
Maximize your target audience
Customize your campaign to engage your target audience
Conduit Digital has assisted brands with delivering their ads across various streaming services, including Fire TV, Hulu, Verizon Media, Tubi, Pluto, Display & Video 360, Roku, and Sling Television. For $845 a month (The Connection Fee), you can access a full team of communication experts, onboarding veterans, and software infrastructure. Talk about affordability! In need of more support when scaling your or your client's business? No problem. Conduit Digital can provide:
An agency relationship manager
Unlimited quick quotes
Monthly optimization calls
Teamwork project management
Agency playbook & training schematics
Case study library
"You down with OTT?" Schedule your 20-minute discovery call. with Conduit Digital/
Learn More About White Label Programmatic OTT/CTV Advertising Companies Today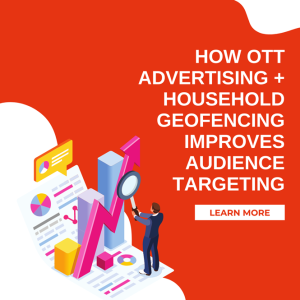 When you want to increase your brand awareness across OTT/CTV advertising platforms, consider what you look for in a partner. Some qualities you may want to keep in mind include the following:
A successful track record: How many partnerships do they have? What kind of revenue did they produce in a given time? Were there clients happy with the results?
The services: Do they offer packages? How much would they allow you to be involved with your ad campaign? Are there any must-haves that you need to partner with it?
Pricing: Can you afford its services at this time? If not, do they offer payment plans over the long term? Does the company offer a free trial or give no-cost consultations to learn more about its services?
Flexibility: What is the size and duration of your project? Does working with a small, medium, or large white label agency matter to you? Would you prefer to lock into a partnership with a solid contract or have the flexibility of working month-to-month?
Want Your White Label Programmatic CTV Advertising Done Right The First Time? Choose Propellant Media!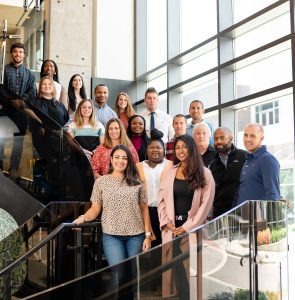 While you are searching for the best white label OTT CTV programmatic marketing company to work with, don't forget to keep Propellant Media at the top of your list. Propellant Media is a one-stop shop for clients seeking geofencing marketing, programmatic video, and over-the-top (OTT) white label marketing services. We offer digital analysis, campaign building, creative ad design, analytics and reporting, and optimization, for various industries, from health care, real estate, retail, and other industries. To learn more about our white label agency partnership services, contact us today at  +1 (877) 776-7358 or book a free demo session.