Want a copy of our new PDF "Geofencing Marketing Guide For Colleges & Academic Institutions?"  Just enter your email address for free access.  BELOW IS AN EXCERPT FROM THE LIST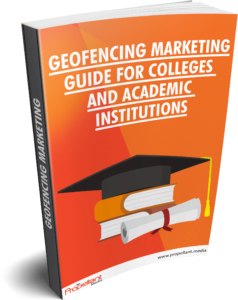 Admission officers and directors of marketing at colleges and academic institutions care about a number of things, but at the top of the list is attracting quality students who can contribute the campus experience and benefit from the institution.  With many marketing channels to consider, we've found geofencing marketing to be an attractive mechanism due to the opportunity to micro target locations that give us an indication that someone fits a particular profile AND could be considering moving their marketing dollars to another school.  As admissions officers and directors of marketing, you care about how you can get your advertising dollars concentrated to mostly those people likely to become good contributing students to your institution.  Geofencing helps in that respect.
As you know, not all digital marketing or even offline marketing channels are created equal.  Take for example, billboards do not provide the same level of certainty in driving collegiate campus tours as you may discern from SEO or Google AdWords, but you know you have to leverage it to an extent.  We see many colleges utilizing billboard advertising, but when we ask how many students visited their school from Billboards, we usually hear crickets, because they do not have an answer.  At least that's what our collegiate clients tell Propellant Media.
But as an academic institution, your concern must be reaching people who are MOST likely to be in the market looking for or considering going to college or a place of higher learning.  Google Search offers a great opportunity to reach 'active' prospective students because if someone does a Google search for popular academic terms such as 'technical schools near me' or 'nursing schools,' you know those people have expressed an interest.  But here's an important question.  How do you know they are simply curious about learning more about your school rather than knowing for sure they're in the market looking to attend your school?
That's where geofencing marketing can overtake Google AdWords and SEO in many cases and get students in front of your academic institution who are at least 50% likely to be looking to go to college at some point in the near future.  You no longer have to worry about targeting an entire city reaching everyone.  Now, you can get your message directly in front of high school juniors and seniors and geofence individual high schools you believe are great feeder schools and places you can get many great quality students from.
There are many strategic ways to utilize geofencing advertising for colleges.  In this guide we discuss the process of geofencing, a few strategic initiatives colleges can deploy with geofencing, and how it's helped a number of colleges our agency has worked with.