Want a free copy of our new PDF "The Healthcare & Medical Guide To Geofencing & SEO Digital Strategy?"  Just enter your email address for free access.  BELOW IS AN EXCERPT FROM THE LIST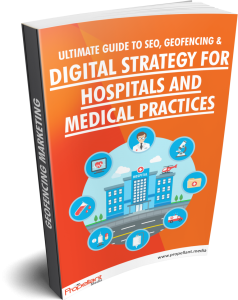 Digital marketing for hospitals and doctors continues to overwhelm organizations with the plethora of options required for marketing directors to master.  But with that comes a plethora of opportunities to attract more patients and increase revenues.  As medical systems have been accustomed to offline channels including TV, Radio, Print, and Billboard, medical systems have found it difficult to assign an ROI to those channels and also those offline channels are broad natured in targeting people you don't truly intend to reach.
With new technologies such as geofencing marketing and AI Personalization, healthcare practices are trying to maintain their own distinct competitive advantage and get their brands in front of the right potential patients.  The core opportunities in digital marketing include paid search (Google AdWords), Search Engine Optimization (SEO), Facebook Advertising, Email Marketing, Geofencing Marketing, and Programmatic Display Advertising.  However, there are two areas that are vital to the growth of medical systems.
At Propellant Media, we put together a step by step medical practice and hospital marketing guide that is entirely applicable to hospital systems, doctors, chiropractors, plastic surgeons, physicians, dentists, OBGYN's, detox and rehab centers, urgent care centers, senior care centers, medical centers, hospital systems, and other medical related areas.  Here is what we discuss:
How to Establish Healthcare & Physician Marketing Objectives
Performing Medical Competitors Research
Considering Differentiation & Value Proposition
Getting into The New Space of Geofencing Marketing
A Guide to SEO For Medical Systems
Conversion Rate Optimization for Medical Systems
Measuring Success Through Your Campaigns
Bringing It All Together