As an HVAC contractor, finding the right marketing companies to promote your products and services is essential for building your brand. Before you begin your search, here are some questions to ask yourself when trying to select the right contractor for your business:
What do they offer their clients?
Do they share similar business goals?
What have some of their previous clients said?
Below, We have put up a list of 13 Marketing Companies for HVAC contractors to consider. Let's check them out together.
1.    Propellant Media
Propellant Media is a full-service digital marketing firm with locations in Atlanta, Georgia, and Charlotte, North Carolina. Its primary objective is to increase client traffic to your company. We provide a variety of solutions to boost lead generation and conversion rates, including Google Ads, geofencing, TV/OTT advertising, and SEO management. Our company motto, "Always Be Learning," helps us stay current on the best practices for the success of your HVAC business. At Propellant Media, we take great satisfaction in being leaders in the digital advertising field.

Some of our company's highlights include:
A commitment to your business goals. Propellant Media's goals are your goals. It offers customized digital marketing plans that intend to generate revenue and increase brand awareness.
Results that speak for themselves. Propellant Media isn't a newcomer to the digital marketing scene. Its success stories speak volumes about its commitment to client success. We once boosted an HVAC company's CTR and generated more than 20 leads.
All in all, Propellant Media propels brands to the next level. Through extensive client consultations and data-driven strategies, it strives to turn small businesses into household names. If you're interested in more information, feel free to call us at +1-(877)-776-7358.
2. Blue Corona
Blue Corona is inbound online marketing, analytics, and optimization firm with locations in Maryland (MD) and North Carolina (NC). They assist businesses in precisely tracking the effects of their advertising while increasing web-based leads and sales.
This business provides an array of services, including:
Search Engine Optimization (SEO)
Digital Competitive Analysis
Web Design and Development
Various Online Advertising Services (e.g., Display, Remarketing, Pay-Per-Click (PPC), and Google local services)
Email and social media marketing
TV, Radio, and Billboard Advertising
Reputation Management
Media Buying and Planning Services
Web Chat Services
3. Thrive Internet Marketing Agency
Thrive Internet Marketing Agency has digital marketing experts on staff to help you reach your HVAC company's goals. It customizes its strategy to help you increase traffic and generate suitable leads.
This agency can assist you with the following: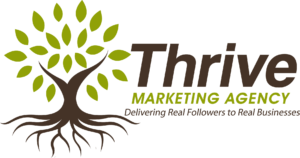 SEO, including local and franchise SEO
Web design and development
Content writing
Next-door Advertising
PPC
Online reputation management
Social media marketing
Thrive Internet Marketing Agency prides itself on transparency, punctuality, and client care. These values may align with yours, so think about checking it out.
4. Effective Media Solutions
For the past 17 years, Effective Media Solutions has customized 365 comprehensive marketing plans for all of its HVAC clients. These plans seek to build brand awareness and consistency through all its clients' platforms via:
Quality control
Co-op submission
Traditional advertising
Digital advertising
One client, David Boer from Boer Brothers Heating & Cooling, said, "Effective Media has made us into an organization that has a quality media plan that gets results. I would absolutely recommend Effective Media."
5. Rival Digital
Rival Digital knows how important it is to generate more revenue, employ more people, and serve more customers through digital marketing. Similar to the other aforementioned companies, Rival Digital offers services like local and organic SEO, social media and email marketing, PPC, and website design.
This business knows they have competition, so they note what makes them stand out.
You own everything.
They offer transparent reporting and flat-rate pricing.
They also have a podcast in which they discuss tips on growing your business and invite business owners to tell their stories about building their brand.
6. HVAC Marketing Xperts
HVAC Marketing Xperts has a team of more than 30 marketing specialists to help you get the word out about your HVAC company. Its hands-on process for creating an effective marketing campaign includes the following steps: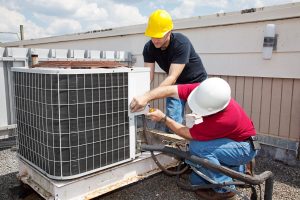 Introduction call: The experts will hop on a call with you to get an idea of your brand, your goals, and what you've done for marketing.
Present solution: If you and HVAC Marketing Xperts agree you're a good fit, you'll arrange a second call to talk about your options, online presence, and marketing strategy. Possible strategies include PPC, reputation management, content marketing, web design, retargeting, and Facebook ads.
Campaign launch: Before scheduling your launch, a client success manager will gather other necessary information.
This company offers 24/7 online support, ready to deliver favorable results.
7. Atlantic Digital Marketing Company
The PPC experts at Atlantic Digital Marketing Company can help you identify certain keywords that target your ideal demographics. This way, it will create content that shows off your expertise and skills in fixing HVAC issues.
Based on your goals, it will form an SEO strategy using:
Reputation management
Web design
Social media advertising
Organic content creation
It's applied these tools to other clients' marketing goals, which has increased customer intake and boosted their profits.
8. RYNO Strategic Solutions
RYNO Strategic Solutions, a Google Premier Partner, is a leading digital marketing agency for the home services industry. And it shows; its clients' cost-per-lead has gotten as low as $4.01. How has it helped its clients achieve this success?
SEO
PPC
Call listening and reporting
Website design and development
Video production
Social media marketing
Local Services Ads
RYNO also hosts The Home Services podcast, in which a team member and industry leaders talk about how to grow your HVAC company through marketing solutions.
9. Scorpion 
Scorpion uses its AI ad-buying software to market to your target audience and grows your business. It offers various tools to meet your marketing needs, including:
Lead generation
Marketing strategy and automation
Asset creation
Reporting and analytics
Search engine ranking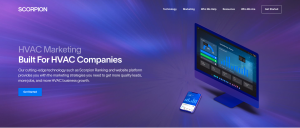 One HVAC company Scorpion worked with, A-TEMP Heating, Cooling, and Electrical reported the following:
50% more total leads
70% more advertising leads
540% more organic web traffic
Increasing organic web traffic appears to be Scorpion's strength, as it helped its clients get 15 million leads altogether in this area. The technology Scorpion uses, along with a personalized approach to your business goals, aims to keep you coming to the top of the search results.
10. Hook Agency
Hook Agency works directly with contractors and helps them gear their marketing techniques toward ranking higher on Google. The team is made up of Google specialists who review your account each month to gauge your success, see how you can build your brand, and generate new leads.
11. Straight North
Straight North has been assisting clients from various industries for 25 years. When it comes to working with HVAC contractors and companies, it recommends you take a multi-faceted approach that accounts for good timing and encourages customers to make smart investment decisions.
Straight North helps with:
Email marketing
SEO
Graphic design
Custom web design
Display advertising
PPC management
Link building
A team member discusses your business goals with you to see how you can generate leads and sales for your company.
12. LeadsNearby
LeadsNearby helps to give its HVAC clients an authoritative presence online. It assists with:
Choosing the proper keywords
Focusing on your SEO
Converting your leads into sales
Its aid goes beyond your website. Other ways the team can contribute to your brand include:
Social media advertising
Reputation management
Blogs
Maintaining your Google Business Profile
Email marketing
Content marketing
FAQ SERP enhancement
LeadsNearby also partners with companies that strengthen your website, boost user experience, and simplify the process of converting prospects to customers. These companies include ServiceTitan, ServiceTrade, Nearby Now, and FieldEdge.
13. Rizen
Rizen is a digital marketing agency located in Miami, FL.  Their goal is to provide their clients with the tools to build long-lasting, sustainable brand awareness and growth. They carry expertise in home services marketing, which can be to an HVAC contractor's advantage. With their help, a client may see:

A jump in leads within 30 days of signing on with them
An increase in rankings within the first 60 days
A boost in deal size within 90 days
Growing your business 20x your present status
This company has helped clients accomplish these goals by:
Developing a user-friendly and aesthetically-pleasing website
Customizing a marketing package that can help your HVAC business boom
Increasing brand awareness, your products, and services, thereby generating successful leads
Work with Propellant Media to Boost Your HVAC Brand Awareness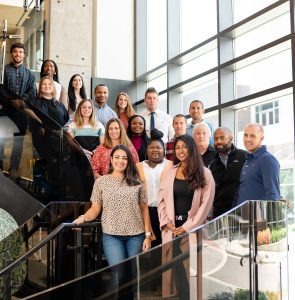 Propellant Media is a digital advertising technology company that helps HVAC clients with all their geofencing marketing and over-the-top (OTT) device advertising needs. We offer digital analysis, campaign building, creative ad design, analytics and reporting, and optimization, for various industries, from HVAC and health care to real estate and retail. To learn more, reach out to us today at +1 (877)-776-7358 and check out our website today, www.propellant.media.