Want a copy of our new PDF "21 Questions To Ask OTT Connected TV Advertising Providers Guide"  Just enter your email address for free access.  BELOW IS AN EXCERPT FROM THE LIST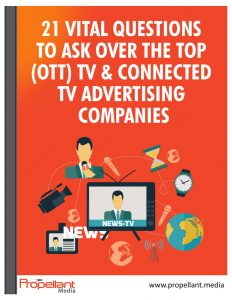 Navigating through the world of OTT and Connected TV Advertising providers can be daunting.  More cable stations, programmatic tv providers, and OTT Advertising companies are coming on the market, leveraging a captive audience that is typically more engaged than TV watchers.  CPM's are all over the place.  Not everyone utilizes the same streaming app inventory.   Some platforms are OTT Advertising specific and don't do anything else.
But with the space still being relatively new, it's important for companies who seek to utilize OTT Marketing to know what questions to ask in order to ascertain the right information and flush out those OTT providers who may not be the right fit for your enterprise.
So the 21 questions we devised below should provide you with proper context on what to ask OTT Advertising platforms and also give you even more background on the OTT Advertising space.
How would you define OTT (Connected TV) Advertising?
Asking this question of OTT Advertising Platforms at least gives you a sense of how experienced they are in this space because it's still relatively new and some people will have differing definitions of it.
We would define OTT Advertising as an emerging creative channel within digital advertising, allowing for the placement of video Ads on mobile Connected TV and big screen devices to reach TV viewers through emerging devices such as Roku, Amazon Prime, Sling TV, Direct TV Now, Twitch, and more.
The beauty with OTT and Connected TV advertising is it is Programmatic TV targeting and focused on reaching your core audience where they go to watch their streaming channels.  So for example, if you want to reach mothers between the ages of 35 and 40 who like avocado and could be driving a new vehicle, you can in fact reach that audience with OTT advertising, whereas with traditional TV, it may be a little more difficult to achieve that precise level of targeting.