Some researchers say that trade shows go as far back as medieval Europe. Since then, the concept has spread globally, and the levels of sophistication have skyrocketed. Every industry now has shows that offer enormous marketing potential for energized exhibitors. With a bit of creativity and planning, having a booth at these events can be enormously profitable.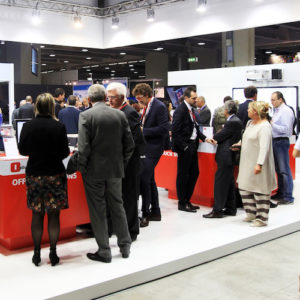 It's crucial to have an eye-catching display booth if you hope to stand out at an event. These days, booth vendors are doing innovative stuff to fan the flames of interest.
The Exhibit Company Offers Custom Modular Trade Show Displays
You already know that your booth has to get attention. The Exhibit Company understands this crucial requirement and offers a line of custom modular trade show displays that draw attention.
The displays are modular, meaning they come in component pieces that can "snap-together" to offer a cohesive, themed presentation. You can choose from a very diverse range of shapes, and then laminate print the images you want. That will help you design and implement the ultimate branded booth.
Where their offering stands out is for companies who attend multiple trade shows each year. Their team can help design your modular booth in a way that it will have the most impact at each event.
Go Big with Double Deck Displays
Absolute Exhibits designs and builds double deck exhibit booths that leave people with an unforgettable memory. The move is a response to increased venue costs and the desire for companies to have even large displays. If you desire more room for your next trade show, consider building vertical!
Not only do these more massive display booths naturally attract attention by towering over the competition, but they also offer privacy as an additional feature. You may decide to have a sales booth on the top floor, away from the crowds. You can take preferred clients there to close the sale. If you're looking to increase your presence and results from shows, a double-deck display offers a ton of potential.
Nothing Draws Attention Quite like a LightWall
Excellent lighting can make a display "pop" unlike anything else. Innovation Exhibits is a company that goes all out with the idea of its product called LightWalls. These eye-catching displays have LEDs in the right places to add appeal to your visual presentation.
These types of walls are particularly well-suited for displaying information about branded products.
The display walls have fully-wrapped images with integrated white LED lights that boost the impact of the graphics. These types of backing-walls are surprising and engaging, and attendees tend to love the experience.  When you're looking to unleash maximum emotional appeal, nothing beats perfect lighting techniques.
Consider the Benefits of Adding an Attraction
TradeShowAttractions.com offers a full range of attractions that will stop traffic in their tracks. Everyone who exhibits knows that the efforts are futile without a way to draw in people. That shouldn't be an issue when you add a popcorn dispenser. Imagine the lines of hungry people who will gladly stop by in exchange for a small gift of delicious snack food. Whether you rent or buy, you can gain access to branded attractions that will tilt popularity in your favor.
It may also be worthwhile to have a game of giveaway. It's a simple, effective way to get emails and phone numbers for interested parties. Not only that, your brand will spread quickly throughout the event. People tend to be bored at these shows, so a bit of fun will cheer them up.
What Happens When You Don't Want to Do It All Yourself?
There's a lot of work involved in attending trade shows. You may not have the staff to dedicate to a project of this scope. That's where a company like ELITeXPO Services comes into the picture. They're a full-service exhibition company that will do everything literally for customers. They'll handle every aspect of the experience from graphic design through handing out the swag bags.
Hundreds of details go into making a successful show. Organizations that aren't prepared to handle the rigorous work burden will feel relief when hiring an experienced solution provider. The extra service costs, but consider it an investment in having a successful event. The sole purpose of attending trade shows is to find qualified customers. If you don't plan on becoming experts in the subject, but want excellent results, hiring a service provider is a smart idea.
Portable Popup Stands Have Their Benefits
Metro Exhibits, a leader in the space, offers a diverse range of portable popup stands. For companies that want to handle setting up and installing things themselves, this option saves money and time. The fantastic thing about portables is they're ideal for corporate events or trade shows. With eye-popping graphics, they add just the proper amount "pizzazz."
Decide whether you want Hop-Ups or Popups and choose the custom graphic design needed to capture attention. Table Top displays also are a nice touch, and they don't take up too much excess space.
Unleash the Power of Award-Winning Designs
If you want to pull out all stops, consider hiring a company like ExpoMarketing. They're an award-winning exhibit firm that prides itself on designs that attract people and capture awards!
You may want to invest in a custom trade show booth that offers a distinctive appeal. Blending in with your competitors is a terrible idea at a trade show, so coming in with a head-turning design is a way to stand out. Whether you need hybrids, modular rentals, or portable displays, get ones that are high-quality and that do justice to your brand.
You have many options for your next trade show. The exhibit booth is the foundation of your success, so choose it wisely. Displaying at an event is always a costly proposition, so you need to consider which selection gets you the best bang for the buck.
Increase Foot Traffic At Your Booth
If you are searching for other innovative ways to boost foot traffic at your exhibition, be sure to check out the cutting edge solutions available at Propellant Media today!