So, you're planning on attending your industry's hottest trade show. Now you're trying to think of all the different ways you can stand out this time so you can bring home new business.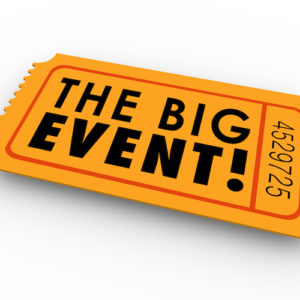 Make a Memorable Offer the Centerpiece of Your Marketing
Create a special offer that will energize people to visit your booth.
Having a "show-only" offer will pique curiosity and drive visits. Not only that, people will be ready to buy. That's the best of both worlds when it comes to trade show marketing. It's one thing to get visits, but it's even more exciting to boost revenue.
If you want energy levels to rise fast, make your offer enticing and compelling. You can spread the word of the special on your social media channels, which will increase interest. That's a way to persuade people to stop by your booth when they may otherwise decide to pass.
Host an Irresistible Giveaway
Nothing gets people running to an exhibit booth faster than a free giveaway. It's also a straightforward event to promote digitally. Free stuff answers the "what's in it for me" question directly, with a tangible benefit. That's a significant incentive for the fence-sitters in the audience who need a nudge in the right direction.
It's easier than ever to come up with giveaways. If you're not feeling creative, you can purchase an accessory kit that includes everything.
Don't Forget The Hype
Fewer people visit booths without a crowd. It's one of those typical situations that also happens with trendy nightclubs. People are more likely to want to go somewhere if they think everyone else is there already. It may be worth hyping-up things a bit by having extra employees and friends hang out near the booth in their street clothes.
This simple idea capitalizes on "social proof." If a few engaged people are already interacting, it will encourage others to do the same. You may even create the same effect by marketing the event outside of the venue. Either way, building momentum makes a massive difference.
Encourage Interactivity
If your product is one that people can interact with, make it a hallmark of your marketing efforts. Encourage people to have hands-on experience. Demos also excite prospects and are a straightforward way to encourage sales.
If you have digital products, use a touchscreen to bring people closer. They're more likely to buy if they enjoy their time at the booth and using the demo product.
Create a Thrilling Experience
Trade shows have tons of booths for people to visit. They are looking for companies who go all out and offer them an experience to remember. That's not always easy, but with the right plan in place, it can happen.
Setting up something will require a demonstration and using Event Marketing Services that tie into your product, in which prospects can participate. Your marketing team will have no issue coming up with a few slick concepts. The critical point to remember is getting them involved directly in a memorable way.
Incentivize Your Sales Staff
Why overlook the job your sales team can do for you? If you give them big incentives to help the trade show achieve more significant sales, they will push themselves to the limit. You can always give a bonus to the top seller of the day, or you may have quotas that trigger extra commissions.
You have many options, but the idea is to give your team something for their efforts, especially unusually-proficient ones. If they're going beyond their duties and putting in a stellar effort that gets sales, they deserve it. An incentive sales staff will keep the enthusiasm going.
Touch Base With Your Best Customers
If you have loyal customers, it may be worth inviting them to the show with the offer of a free ticket. For prospects, a simple invite will suffice. You may even consider re-engaging lost customers who haven't bought in a while with a direct marketing plan for the exhibit.
Let them know about the event and your new offerings. Invite them and make the offer sincere and meaningful. What's better than winning back a wandering client?
Friendliness Goes a Long Way
Despite the high costs associated with attending trade shows, some companies act as if they're barely interested in speaking with prospects. Don't even consider doing an event with a poor attitude. Only send your friendliest people who can thrive in a crowded environment.
Surly or disinterested booth workers will instantly turn off even the most devoted fan. Don't let someone with a sour mood spoil your day! Stay on the sunny side of the street, and people will flock to your booth.
Broadcast Your Brand Everywhere!
Promotional items and free swag will allow you to push your brand everywhere. Inexpensive merchandise will spread rapidly and is cheap enough to offer a high ROI. Consider items that hold value for attendees, like water bottles on a hot day. They'll appreciate the present and may even hang on to keepsakes.
When you follow up after the show, it's going to be more relaxed when you've already built up goodwill. There are lots of things you can give away, including wearables, light-up trinkets, and stickers. It's also worth giving people who wear your branded gifts to win a prize. That will encourage them to help advertise your message during the event.
Start marketing well below the event to assure the best results. It takes focus and commitment to pull off a success. Follow the current best practices and always put yourself in the shoes of your prospects. When you learn to think like an attendee, you become a successful exhibitor. There aren't too many secrets in this industry, but many people still miss out on the fundamentals.
It's probably worth following a blueprint or at least a checklist to ensure your efforts are making progress. The next event can be your best.
If you're interested in learning how you can make your next exhibit the most profitable one ever, visit Propellant Media for more information.