As SMB's and corporations work to locate and adopt new digital advertising platforms, Over The Top TV (OTT Advertising) and Connected TV Advertising is accelerating faster than any other digital marketing channel.  People are consuming more and more video content through their smart phone devices as well as through laptops and desktops.  YouTube began the trend of video adoption into smartphone and laptops.  But now that sense of comfort has proven consumers can watch longer form content.  So when you see trends of consumers adopting OTT Platforms at a higher rate, there presents the cost effective opportunity for advertisers to engage with customers in ways they may not have in the past.
With an estimated 155 million US adults now accessing streaming video with services like YouTube TV, Hulu, CBS All Access, Sling, and devices such as Roku, Amazon Fire TV, Apple TV — a new medium known as OTT (over-the-top) advertising has emerged, allowing brands to reach their audiences directly within their living rooms and on their mobile smartphone devices.
According to Justin Croxton at Propellant Media, "OTT Advertising presents a unique opportunity for businesses to reach consumers with direct precision tying audience data with those who are watching the same TV shows as broadcast on linear TV.  Couple that with the ability to scale your advertising efforts and measure walk-in and online conversions from those who have seen those ads, OTT Advertising is becoming the go-to for SMB's, agencies and brands."
In this guide, we walk through the wonderful world of OTT Advertising.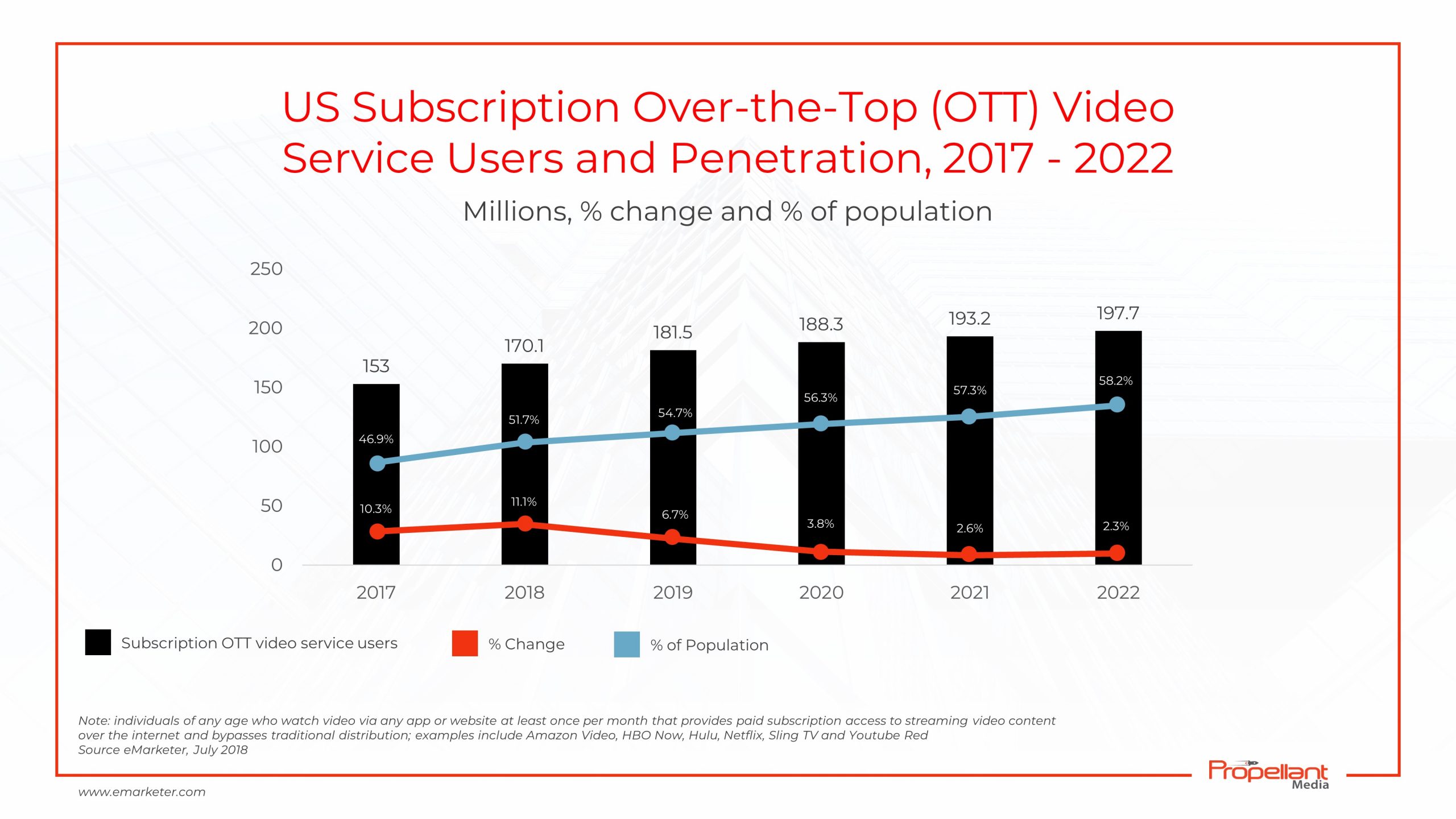 What Is OTT Advertising?
OTT (over-the-top) advertising allows marketers and brands to directly reach viewers over the internet through streaming video services or devices such as smartphones, laptops, and connected TV (CTV) devices.  The term "over-the-top" comes from the ability for viewers to bypass traditional TV providers such as Xfinity and DirecTV that control media distribution, thus giving advertisers the ability to reach their audiences directly.
This level of video advertising has presented incredible opportunities for brands in the sense that they no longer have to execute pre-planned broad media buys.  No more expensive broadcast tv advertising or an esoteric world around tv broadcast advertising that few SMB's can play in.  Instead, brands and advertisers can go direct to OTT Platforms and Media Companies, and buy OTT inventory space programmatically while coupling it with audience data to reach the ideal market.
There is a misnomer that platforms like Netflix constitute OTT Advertising.  But it is mainly those platforms that allows for 15, 30 second, and 60 seconds video spots where there is commercial inventory available via streaming apps, devices and websites.
Want A Free Copy Of Our New PDF "Localized Business Guide To Geofencing Marketing?"  Just Enter Your Email Address For Free Access.  BELOW IS AN EXCERPT FROM THE EBOOK.