You're running a display campaign. You'd like to see your ads as you surf the web. But the truth is, you probably shouldn't see your own display ad, because you're not the prospect.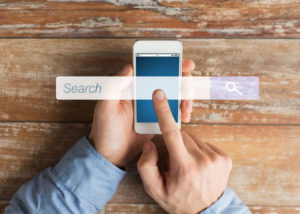 Here are seven reasons you shouldn't worry about seeing your own display ad.
ONE: THE WORLD WIDE WEB IS MASSIVE
Targeted display ads are served across thousands and thousands of websites. I often use this analogy to help advertisers understand: "Imagine a scenario where you're running a TV commercial across thousands of channels. I hand you the remote and challenge you to find your TV commercial. What are the chances you'll land on the right channel at exactly the right time?" Targeted display is similar in that there's just no way of ensuring that you'll land on the right website (out of thousands and thousands) at the right time of day and see your ad.
TWO: THE BUDGET IS TOO SMALL
Let's look at a 50K impression campaign. Over 30 days, that's about 1600 impressions per day. If your campaign shows each user your ad four times per day (a fairly common frequency cap) that's 400 people seeing the ads. In a 20 mile radius or a DMA, 400 people really isn't that many. It's not that 50K impressions "doesn't work", but it certainly isn't maximizing the capabilities of the strategy and it makes it even more difficult for you to run across your own ad.
THREE: YOU AREN'T YOUR TARGET MARKET
Your campaign should be targeting users who are searching for and reading content relevant to your products and services. So unless you are actively researching and shopping for what you offer, you're not supposed to see your ad. User data is collected from thousands of websites across the web so  doing a handful of Google searches for your keywords isn't going to fool most targeted display software into putting you into the audience.
FOUR: YOU'RE NOT ACTUALLY USING SITE RETARGETING
"But what if I'm using site retargeting? Shouldn't visiting my own site opt me into my audience?" Theoretically, yes. But what often happens is that when the campaign is being set up, the provider discovers that there isn't enough site traffic to warrant allotting very much of the budget to that tactic. When this happens, they may either allot a very small amount ($5/day?) to site retargeting, or divert all of the budget to other tactics that are aimed at driving new traffic to the site. Rather than waste budget on a tactic that is targeting only a few users, diverting funds to search retargeting and keyword contextual targeting can be more effective. It's worth noting that after running the campaign for several months, the campaign will build up enough site traffic that it often makes sense to do site retargeting at some point down the road.
FIVE: YOU'RE NOT ADVERTISING WHERE YOU SPEND YOUR TIME
So, you spend a lot of time on your smartphone or on Facebook? But you didn't provide creative for either. While you're surfing the web on your iPhone, your campaign is busy targeting users on their desktop computers. But you don't see that because you don't spend that much time surfing on your desktop computer. Or vice versa – maybe the campaign is delivering a lot of mobile and/or Facebook, while you are on your desktop computer.
SIX: YOUR BIDS ARE LOW
Bidding lower for ads gains more impressions on less popular sites. This gives you more impressions while following good prospects around the web, but doesn't necessarily show your ad on the sites that you personally frequent the most.
SEVEN: THERE'S SOMETHING WRONG WITH THE CODE
Whether you're using a pixel or some other HTML code for site retargeting, confirm that it has been placed and is working properly.
EIGHT: THE SYSTEM SIMPLY DIDN'T CAPTURE YOU
And this happens from time to time where the satellites don't capture your mobile device ID.
Just because you cannot see your own ads doesn't not mean your campaign isn't running or more importantly that it's not effective.  The biggest key is getting a report from your provider that shows what apps your ads are showing up on, where, etc…
Thanks for reading.
David McBee
ADDENDUM
If you're thinking, "But I see my ad when I run campaigns with [another targeted display provider].", please consider the following.
It's easy to create a campaign with the goal of making sure that YOU see your own ad.Some targeted display providers make this a priority, often to the detriment of your campaign's success. Here's how:
Shrink the geo-targeted area to serve a small radius around your business.
Divert more budget to site retargeting – even if that means targeting a very small amount of users.
Remove the frequency cap – ensuring that you deliver enough impressions to the small audience while showing the ad so often that they get sick of seeing it.
Target a specific group of sites. If the provider is aware that you spend time on certain sites, they may actually increase their bid on these sites to make sure you see the ad.
All of these tactics are are designed to make sure that you see your ad, but are they really the best thing for your business? Do you advertise so that you can see your own ad, or so that relevant new prospects can see your ad?
Don't worry so much about seeing your ad. And if you want the answer to the real question you should be asking, "Does my targeted display campaign work?", check out Using Google Analytics to Measure Display Campaign Performance.
https://www.linkedin.com/pulse/why-cant-i-see-my-display-ad-david-mcbee/