Who'd of imagined we'd have instant access to the World's knowledge in the palm of our hands? This is the revolution that is smartphones. As one can expect, we soon found great use of the tool with our consumer habits.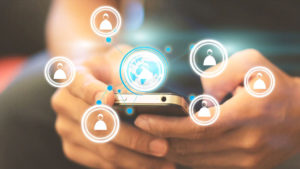 Mobile shopping has penetrated 86% of the smartphone userbase.
We use our phones for comparison shopping in-stores. We're constantly receiving marketing messages through online browsing and app use. This consumer adoption and shift are why businesses need a mobile marketing strategy.
The hot topic within the mobile industry is geofencing advertising & marketing.
Is this a new term for you? Want to know what it is, and how to use it? Keep reading. You're about to discover a powerful way to connect with audiences through smartphones.
What is Mobile Marketing?
Mobile marketers target users through their:
Smartphones
Tablets
Mobile-devices
The strategies target multi-channel opportunities, including:
Apps
Websites
Email
Texts
Social Media
Smartphone users consume 69% of their media through their devices. Mobile has overtaken desktop browsing as the #1 traffic source, too! Mobile marketing leverages traditional digital marketing strategies to reach this segmented market.
If you've received a promo text or seen a social media ad, then you've experienced geofarming mobile marketing. Businesses love mobile marketing because smartphone users tend to show more engagement. More engagement creates better sales opportunities!
Mobile Marketing Benefits
What makes mobile marketing so powerful?
Cost Effective. Mobile ads are a fractional cost compared to traditional pay-per-click and cost-per-acquisition strategies.
Access. There are some 2.1-billion smartphones creating greater access to consumers versus desktops.
Ease-of-Use. Mobile ads are easily made, giving businesses lean opportunities to test/roll-out campaigns.
Tracking. Mobile marketing platforms and third-party tools offer immense data for tracking and optimization.
Interactivity. Mobile ads leverage their social channels creating a rapport with their recipients.
Mobile Strategy Examples
How are businesses using mobile marketing?
Deals & Promotions
Booking & Appointments
Triggered Events & Activities
Personal & Dynamic Content
Social Sharing & Gamification
The "Triggered Events & Activities" is one most noteworthy.
Triggered events could include offers based on the smartphone user's actions. An example could include receiving a coupon upon entering a location. Or, receiving a retargeted ad when browsing a competitor's website or using their app.
This triggering is the basis for geofencing advertising and marketing…
…interested in what it is and how it works? So…
What is Geofencing & Geofarming?
Geofencing advertising and marketing use geographical locations to trigger an offer or content. The message sends upon entry/exit from a location. Geofencing marketing uses GPS and RFID tech to send these marketing messages.
Businesses may select locations within a geofencing application. The area can go as wide as needed or refined as desired. This creates a multitude of marketing opportunity for those creative and crafty.
What do businesses gain from geofencing?
Extreme Targeting. Many parameters from location and activities let businesses refine their audience selection.
End-Point Offers. Connect with shoppers after a local search, or while comparison shopping nearby.
Low Costs. Beacon technology gets removed letting a business advertise through GPS/RFID tech.
Personalization. Geo-fenced ads can use many triggers creating personalized interactions by user and activity.
Foot Traffic. Ping people as they stroll, promoting an offer when they show buying intent.
Geofencing Strategy Examples
How are businesses combining mobile marketing strategy with geofencing?
Account offers and gift card reminders
Displaying content/ads when users shop at competitors
Raising brand awareness in a crowded shopping space
Promoting products based on outings and events
Offering downloadables and freebies for on-site visits
Remember the thrill when first discovering apps like Foursquare? Foursquare let users claim spaces and get discounts for on-site activity. Imagine this interaction, but with unlimited flexibility when combining mobile marketing techniques.
Combining Geofencing with Mobile Marketing
Geofencing and mobile marketing offer an exciting opportunity not found in other strategies. Sending situational marketing messages can capture the 500% uptick in 'near me'-style searches.
Ready to explore this high-ROI opportunity?
Step 1: Find Your Geofencing Provider/Platform
Choose how you will conduct your geofencing:
There are two-dozen geofencing providers at the time of this writing. We offer great packages for small to mid-sized businesses.
Facebook for Business and Google AdWords are your two likely platforms. You may have PPC and display ads active on these platforms already. Both platforms include features during ad set up to target a geo-fenced location.
Step 2: Brainstorm Your Geofencing Ideas
It's important to answer these questions:
Who are your customers?
Where and why do they shop?
Pull customer data from prior research and marketing campaigns. Else, create lookalike audiences from data collected from your business and competitors. An avatar aids geofencing campaigns, identifying a customer type you want to attract.
Next, try understanding the buyer's intent with your targeted list. Discover what motivates their purchases whether it be price, location, and brand. This data should include if they're shopping online or prefer visiting shop locations.
With these two confirmed:
Brainstorm who's conducting the geofencing campaign
Budget for the campaign and resources
Study best practices and geofencing examples for inspiration
Step 3: Configure Copy, Creative, and Targeting
Mobile ads/marketing messages work best when they're short and punchy. You have limited attention when reaching people through geofencing. Create an ad policy moving forward in the geofencing ad design.
Develop several display ad variants to run/test
Tweak and rework copy, making it easy-to-understand and exciting
You may reuse successful PPC and display ad campaigns with geofencing. Use the data when aligning copy/creative decisions.
Think of where and how you'll target users, too:
Before or after a physical visit
Catching people in transit between point A and B
Including delayed retargeting triggered by searches/visits
Step 4: Run, Track, Test, and Optimize
It's time to pull the trigger: Run the campaign.
Like any good campaign:
Track results
Test ad variants
Optimize for results
Your geofencing tools and platforms include robust analytics providing insights for these improvements. Else, work with professionals providing guidance in improving campaign ROI.
Attention: Mobile Marketers, We Can Improve Your Mobile Marketing Strategy
Propellant media has worked with some of the biggest brands. Our client list includes GM, Motorola, Nestle, and other world-class names. But, don't take our word for it, read our case studies to see our quality work.
We'd love to add your brand and business to this list!
We welcome you to explore our geofencing costs and geofencing marketing packages. Else, get in touch by phone (877-776-7358) or through our contact form. We'd love to show how geofencing can revolutionize your mobile marketing strategy.